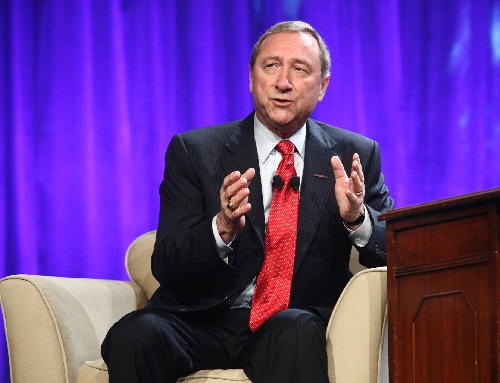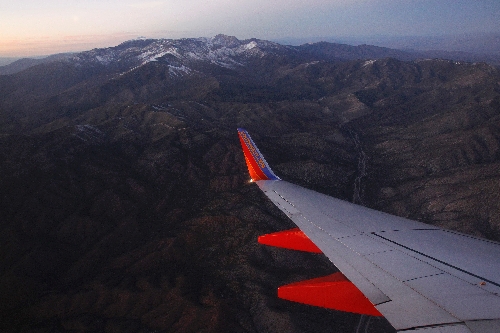 Things are looking up for Rossi Ralenkotter.
On Thursday, the president and chief executive officer of the Las Vegas Convention and Visitors Authority went before the travel board's compensation committee for his annual performance evaluation.
And it went well.
Ralenkotter was praised by the three members present, Clark County Commissioner Tom Collins, Charles Bowling and Kristin McMillan, who said they were "impressed" by his accomplishments in fiscal year 2010-11.
"I think you deserve a hell of a good increase," Collins told Ralenkotter.
"You're one of the most respected leaders in the industry, period," Bowling said.
Also up for his annual evaluation was the authority's legal counsel, Luke Puschnig. Both received unanimous approval to receive the standard benefit plan available to executive-level employees. The matter of a pay raise and bonus weren't as unanimous.
Collins and Bowling agreed that Ralenkotter and Puschnig should receive both a raise and bonus.
McMillan dissented, saying she wanted to follow Ralenkotter's own recommendation and approve only a bonus at this time.
In a 2-to-1 vote, the committee decided to recommend that Ralenkotter's base salary of $255,944 be increased 4 percent and that he receive a 12.5 percent bonus for fiscal year 2010-11. Likewise, the committee will recommend Puschnig's base salary of $132,454 be increased 4 percent and that he receive a 10 percent bonus. The recommendations go to the travel authority's board of directors on Nov. 17.
Ralenkotter also receives a car allowance of $9,000 and medical benefits worth $9,804. Puschnig's car allowance is $3,600 and his medical benefits are worth $9,804.
The performance management program, created in 2002, is a two-part system meant to encourage goal-setting and achievement among authority executives.
"I think it's important to recognize these accomplishments," Ralenkotter said at the meeting.
The program, though, hasn't been in use since July 2008 because of the recession.
In the past four years, the travel authority cut $147 million in spending through a hiring freeze, voluntary separation and employee furloughs. In March 2010, revenues started stabilizing.
"Our volume numbers have been very substantial as we come out of this recession," Ralenkotter said.
The average daily room rate is up, at $97.11 for August, as was visitor volume, which came in at 3.29 million visitors for August, a 2.8 percent increase over August 2010.
Revenue streams for the city are coming back, and Ralenkotter cited increased service by airline carriers, an uptick in convention attendance and new special events.
Even though the travel authority has seen increases in fiscal year 2010-11, Ralenkotter said, "We're not totally back yet."
An outline of Ralenkotter's fiscal year 2011-12 goals included developing and implementing a new vision plan for the travel authority that would address post-recession consumer changes within the trade show and convention industry and expectations of the business community.
Ralenkotter's fiscal year 2010-2011 achievements included:
■ Developing a quarterly report of Las Vegas market indicators.
■ Organizing a convention industry task force to develop best practices to deal with counterterrorism.
■ Booking the first-ever Gay Days Las Vegas, which is expected to attract more than 5,000 attendees in September.
The average base salary for a destination marketing organization CEO is $324,874, bringing Ralenkotter's pay in at 78.8 percent of the national average, according to a survey by Performance Solutions Group.
Contact reporter Laura Emerson at lemerson@review
journal.com or 702-380-4588.