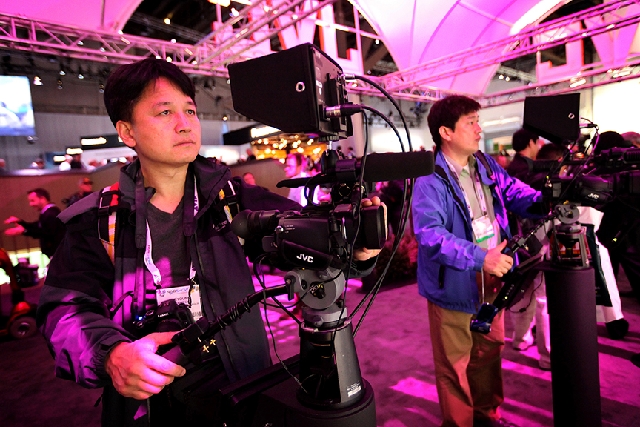 Inside the Las Vegas Convention Center, a sea of larger-than-life signs floats near the ceiling throughout the central hall, bearing the biggest names in electronics.
The words Sony, Panasonic, Verizon, Toshiba, Samsung and Canon rise above the exhibitor booths, the flags beckoning the masses at the 2013 National Association of Broadcasters Show.
At Panasonic's booth Monday, Andy Armstrong, sales director for Global Television Australia, was checking out the company's new studio cameras and remote production systems.
"All the latest products (the industry) puts out are showcased here," Armstrong said. "Hopefully we'll do some deals while we're here."
He said he also planned to chat with Sony and Canon about their cameras and lenses, respectively.
Armstrong is just one of thousands expected this week at the industry-only show, which has been coming to Las Vegas since 1991 and is contracted to return through 2015.
Association spokesman Dennis Wharton said: "Vegas always rolls out the red carpet for us. I can't really imagine the NAB Show being anywhere else."
Last year's show attracted 91,000 attendees.
"We're cautiously optimistic we'll hit that number and, fingers crossed, exceed it," Wharton said.
This year's show, in town through Thursday, will have an estimated nongaming economic impact of $122.2   million on the Las Vegas community, according to the Las Vegas Convention and Visitors Authority.
The 1,600 exhibiting companies take up 840,000 square feet of space, up from 765,000 square feet last year. Of those, 160 are first-time exhibitors.
About 30,000 attendees come from outside the United States, with 150 countries represented.
"There's just a good vibe you feel going into the show this year," Wharton said.
He said anybody in the communications industry who is a serious player in cable, broadcast or production attends the annual show, where about $20 billion in business is done.
"There's just a huge amount of purchasing power in those convention halls in Las Vegas," Wharton said. "You have to sort of be at the NAB Show if you're a serious player in media and entertainment, or people scratch you off the list."
Within the sea of exhibitors at NAB is a plethora of products to make production life easier, clearer and faster. The products include ultraHD televisions, cloud computing solutions and media storage devices.
Outside For-A's booth, the company's super slow-motion cameras were drawing a crowd of conventioneers, many them intent on peering through the lenses.
A similar scene took place at Sony's exhibit, where a couple of hundred people gathered in the mansion-sized booth at any given time. Many of them swarmed around Sony's 4K OLED television prototype, a type of organic light-emitting diode set.
"Everyone's really excited about the 4K LEDs," said Kendra Caballero, who was working at Sony's booth. "They say it's like looking through a window or that you're actually there."
Besides the action on the exhibit floor, NAB is filled with celebrity-endorsed seminars and classes.
Randy Jackson of "American Idol" fame is at NAB, musician and former "American Idol" contestant Chris Daughtry is headlining a luncheon, and entertainer-musician John Tesh is speaking.
Contact reporter Laura Carroll at lcarroll@reviewjournal.
com or 702-380-4588. Follow @lscvegas on Twitter.