Las Vegas sees another construction boom, but it's not like 2006
With builders putting up apartments, hotels, warehouses, a football stadium and more, Las Vegas is in the midst of another construction boom.
Plenty of people will cheer the real estate bonanza, given the billions of dollars being spent and the jobs being created. Others will worry we're in another bubble — a reasonable fear, given how Las Vegas crashed and burned after the last hot streak.
So how does the current building spree measure up to prior boom periods?
Overall, it's not even close.
An estimated 75,800 people worked in Southern Nevada's construction industry in December, comprising 7.2 percent of the total workforce. That's up from 34,800 people, or 4.3 percent of the labor pool, in early 2012, but still far below 112,000 people, or 12.1 percent of the workforce, in mid-2006, according to data from the Associated General Contractors of America.
Construction accounted for a bigger share of the workforce in the mid-1990s as well, a decade before Las Vegas' real estate market went into hyper-drive.
About 63,500 people worked in the industry in fall 1996, comprising 11.3 percent of the labor pool, AGC data show.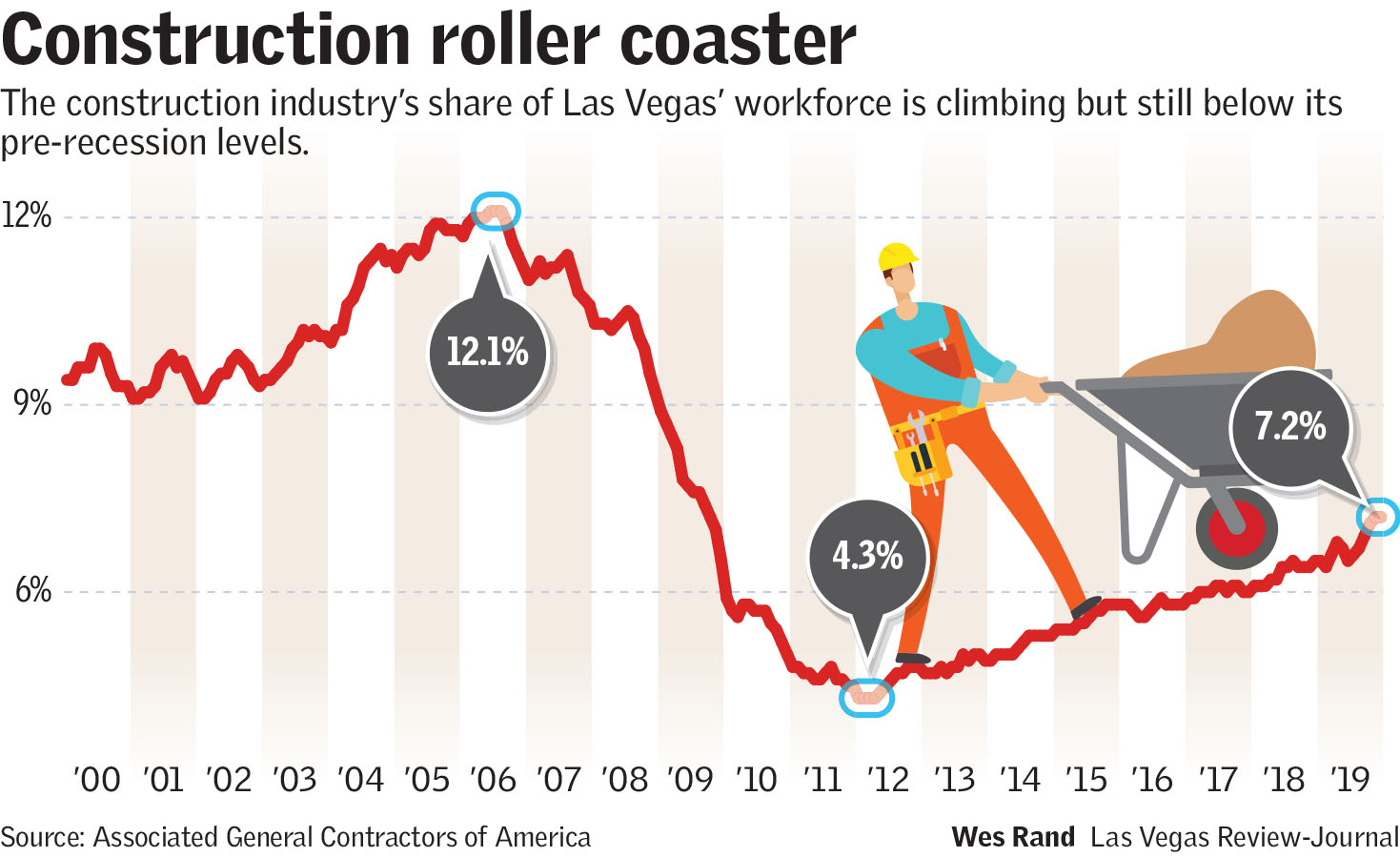 Las Vegas has come a long way since its bloated real estate bubble burst and the economy went into a tailspin a decade ago. Foreclosures keep fading away, and statewide, several industries' employment totals have shot past pre-recession peaks.
But, underscoring how high the development business soared during the easy-money mid-2000s, how far it plunged afterward and how long the slog back has been, construction employment still is well below what it used to be.
Despite the burst of projects, homebuilders still aren't selling nearly as many houses as they did before the crash, no one is constructing residential high-rises and megaresorts aren't sprouting all over the valley anymore.
The homebuilding market, for one, closely mirrors the broader construction business: It has recouped plenty of losses from the recession but remains a long way from its fat-and-happy days.
Builders closed almost 10,500 new-home sales in Southern Nevada last year, up from around 3,900 in 2011 but far below a peak of nearly 39,000 closings in 2005, according to Las Vegas-based Home Builders Research.
All told, Las Vegas' economy isn't as dependent on construction as it used to be, and that's probably a good thing. Southern Nevadans know all too well what can happen when a real estate frenzy gets out of hand.
Construction largely ground to a halt during the recession, the valley was littered with abandoned, partially built projects, and tens of thousands of jobs disappeared.
Are we headed down that path again? For now, it seems unlikely. But if people start joking again that the state bird should be the crane, as they did before the market collapsed, it might be time to take cover.
Contact Eli Segall at esegall@reviewjournal.com or 702-383-0342. Follow @eli_segall on Twitter.