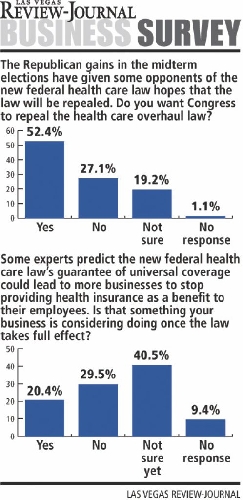 The nation's attempt to reform health insurance remains controversial nearly a year after it passed Congress, a recent Review-Journal survey of business owners and managers found.
More than half, or 52.4 percent, of participants in the survey, conducted online in December and January, said they want Congress to repeal the health-care law, while 27.1 percent said they don't want the law rescinded. Another 19.2 percent said they aren't sure what the law's fate should be.
Rod Leavitt, president of Leavitt Insurance Agency in Las Vegas, brokers health-insurance policies for a living. The law definitely has its positive attributes, such as extending insurance to cover more Americans, Leavitt said.
But the reform effort does bring problems, he added: The ban on denying coverage because of pre-existing conditions, for example, would be roughly equivalent to allowing homeowners to buy property insurance after their house burned down.
"That (ban) just violates the whole principle of insurance," Leavitt said. "I know people who couldn't get care for their child, and I know it's heart-wrenching, but at the same time, we're either talking about insurance, or we're talking about funding health care. We could decide everyone has the right to health care and fund it, but that's not what this is. Basically, we're talking about providing another entitlement, and if the government is going to do that, they ought to say that's what they're doing, rather than say the health insurers are acting irresponsibly."
So count Leavitt among the majority of respondents who'd like to see the law repealed. That's because striking down the legislation altogether would allow a "fresh start to rewrite it in a way that, No. 1, would be wiser, and No. 2, would be better accepted by the public," he said. "A lot of people are unhappy that the law passed without being read through."
Any attempt at starting over would ideally drop barriers to buying policies across state lines, Leavitt said. Nevadans can now buy coverage from just five insurers; upping that to a dozen carriers would likely bring better terms to policyholders here as companies compete for business, he said.
Expanding health savings accounts and other measures that boost cost awareness among patients would also help curb the rising price of care, Leavitt said.
For Charles Ware, executive director of the Professional Fitness Institute in Las Vegas, the reform law could work, with a little tinkering. He said he's not sure if Congress should peel back the law, but he does believe it would benefit from an added emphasis on preventive care.
Ware, whose company educates and certifies personal trainers, said he's also concerned that the law doesn't contain enough details regarding reimbursements for such trainers, as well as other members of the allied-heath field, including physical therapists, massage therapists and medical assistants.
"I think the law needs to define those areas a little more. We want to be sure the services we provide will be needed in the future, and we want to see if the people we work with will have a sustainable job 10 years from now," Ware said.
And Bob Burley, president and broker-owner of FMI Business and Real Estate Specialists in Las Vegas, said he thinks the law is a great idea — if only the country had the money to fund it. But the nation has $14 trillion in debt, and Burley, who helps people buy and sell small businesses, said he's concerned that such a fiscal situation will curb entrepreneurship and harm the economy in the long run.
"Absolutely, we should do health reform, but not right now," Burley said. "We should come back to it when we have money in the coffers, or at least some way to finance it."
Even if a majority of companies believe the reform law should be repealed, they're less unified on how they'll respond to the legislation.
The survey asked business owners and managers whether the law's guarantee of universal insurance coverage would encourage them to stop providing policies to their workers once the law takes full effect in 2014.
A plurality of 40.5 percent of respondents said they aren't sure if they'd drop their company's health insurance. Another 29.5 percent said they wouldn't eliminate coverage, and 20.4 percent said they would.
Leavitt said he's heard from a number of clients who said they'd rather pay the fine for not covering employees once the mandate kicks in, because the fee would be cheaper than the cost of a policy. Others have told him they'd drop coverage but offer a raise of, say, $300 a month, so that employees could buy their own coverage.
Leavitt added that he's not sure how coverage will look at his agency in three years, but he said as long as he's selling health insurance, it would be "hypocritical" not to buy coverage for his workers at the same time he's urging clients to purchase plans.
To help serve policy-buying needs, Leavitt said his agency is considering setting up its own insurance exchanges, similar to those the federal government has asked the states to establish, though he's not sure his company will be allowed to compete once the government publishes the final regulations.
Burley said he'd continue to offer health insurance to any employee who wants it.
And Ware sounded especially certain about the approach he'll take.
"We would keep health insurance. It's one of those added benefits that employees value," he said. "When we're interviewing people for full-time employment, our health-insurance coverage is always one of their first and foremost questions. As an organization, insurance coverage is important to building a positive culture."
Contact reporter Jennifer Robison at jrobison@reviewjournal.com or 702-380-4512.
About the survey
The Review-Journal asked local businesspeople to participate in a wide-ranging online survey in December and January. The questionnaire asked area professionals for their opinions on issues such as the local economy's prospects in 2011, expectations for the upcoming state legislative session and how to improve local schools. Nearly 1,000 people responded.
Las Vegas Business Press, Jan. 24: SURVEY: Diversity key to reviving state economy