Business uses its prime location as marketing tool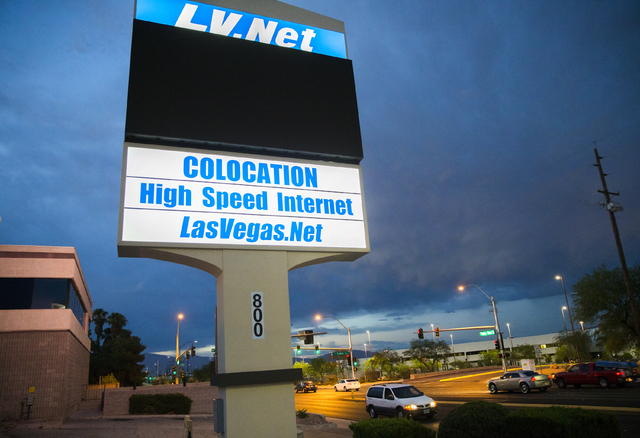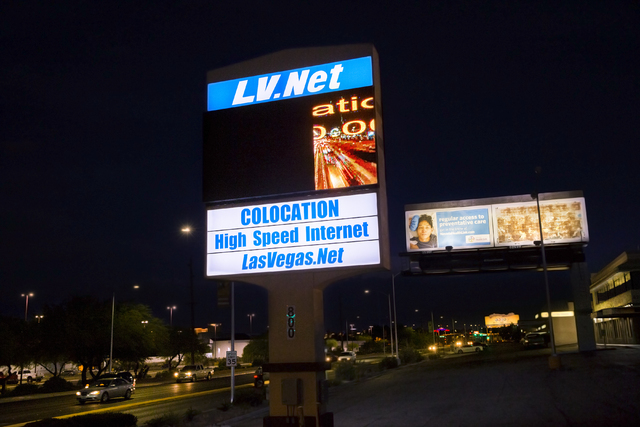 When is an office building not entirely an office building?
When it also serves as a marketing tool for a business.
That's what LV.Net, a Las Vegas-based high speed internet service provider counted on when it purchased the one-time Las Vegas Sun building at 800 S. Valley View Boulevard in late 2014.
LV.Net chose the location in part because of its high-visibility corridor. It tore down an existing sign and replaced it in late 2015 with a 45-foot tall digital LED billboard.
The building is the fourth acquired by LV.Net, which was founded in 1994. A data center occupies about 20 percent of the 19,000 square foot, two-story building, and a portion is used for storage.
When remodeling of the Valley View building is completed this year, it will house five to 10 of the company's 50 employees – the marketing staff specifically – and serve as a locale for future expansion. LV.Net's staffing has doubled over the last four years, and the other three buildings are full, said company president Marty Mizrahi.
"We bought it for the sign and for the advertising," Mizrahi said. "It was in a great location on a major street and happened to be for sale. It was a good deal on the building, and we were looking for buildings. It was all about price per square foot at the time."
LV.Net purchased the building for $1.02 million and built the sign for $200,000 million using a Small Business Administration 504 loan program that enables business to purchase or construct space for its own use. The company put down 10 percent or $122,500 as required. Meadows Bank and the SBA, whose loan was processed by TMC Financing, put up the remainder.
The other three buildings where servers and employees are located are 2595 Fremont St., 1221 Casino Center Blvd., and 2455 W. Cheyenne Blvd. Mizrahi said he's in the process of acquiring a fifth building.
"We're an internet company, and we need a lot of pops around town," Mizrahi said. "We use the rooftops (for advertising), and we have data centers for redundancy. We've been getting calls inquiring about service since we put up the sign (on Valley View)."
LV.Net serves not only businesses but residential customers in Las Vegas as well. It also serves Laughlin, Primm, Pahrump and parts of California.
LV.Net received a $50,000 redevelopment grant to upgrade the building's exterior and install the digital sign. The company is upgrading the stucco finish with a more modern flatter look, he said.