Businessman's fortunes rise, fall with air travel changes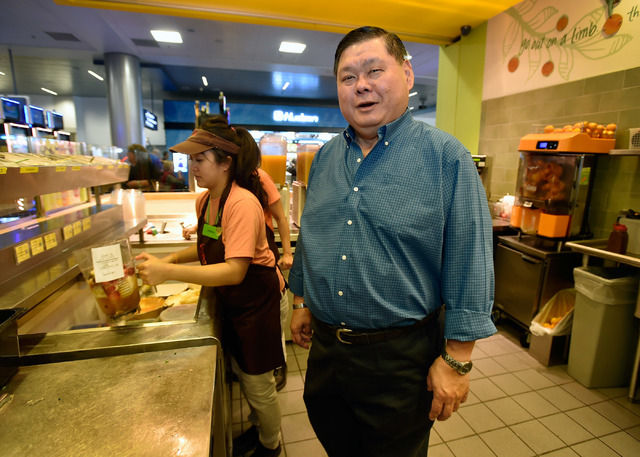 Want to check the pulse of air travel into Las Vegas?
Add Michael Ty's bottom line to those monthly enplanement statistics from McCarran International Airport.
Ty runs Hospitality Culinaire, a concession company with three airport food-and-beverage operations. The company operates a combined TCBY/Pretzel Maker location in the A and B gates, and a Jamba Juice store in the C gates.
Ty launched Hospitality Culinaire in 1993. He continued for the better part of a decade to work day jobs on and around the Strip, putting in 85 hours a week between both sides until his airport business became steady.
It's been a sometimes-turbulent ride for Ty, who emigrated from the Philippines to Connecticut with his family in 1966. Hospitality Culinaire has had to find its way around the realities of post-9-11 air travel, as well as maneuver almost constant change at a growing McCarran.
Question: What drew you into airport hospitality?
Answer: I'd be my own boss. When management changes, you don't know if you have a secure job. At the time, I was raising a young family. I didn't want to have to worry about how to put food on the table.
Question: How did you choose your concepts?
Answer: My initial concept was TCBY. It was doing well in 1994, and we almost tripled our business. But then in the late 1990s, yogurt went down. People wanted ice cream. We would tell them we have yogurt, and they would walk away. I told my landlord, HMS Host, that I wanted to build my business. They said we could go to TCBY's brand owner, Mrs. Field's, and if Mrs. Field's had something available for us to cobrand, we could do it. Pretzel Maker was the one we chose, and HMS Host approved it. We expanded in 2004 and 2005.
Jamba Juice opened in 2012. With the opening of the D Gates and Terminal 3, some of the airlines moved away from the A and B gates, where we were. My business was not sustaining. HMS Host offered me a spot in the C gates, and asked me to do some research and tell them what I wanted to put in.
Question: Does a captive audience mean steady sales?
Answer: It's all about traffic. If you have traffic coming through your front, you can capture business pretty well.
When the only gates were the A and B gates, every single airline was on this side. When the D gates opened, almost all of the airlines went there. The only airline that stayed was America West/US Air. Once upon a time, the A and B gates had more than 160 enplanements a day. Over time, that came down to 30 to 36 a day. Each flight averages 150 to 200 passengers each. Multiply that by 130 lost flights. Also, we're on the A side, so people going through the B side don't see us. Before the shift, between the cobrands, we were in their top five in the country.
Question: How did you survive the drop in business?
Answer: It was challenging. Overhead had to be adjusted. At the time, I was working two jobs still. You don't take anything out of the business. You have to make sure all of your bills are paid, and your employees are paid. Those are the important things when you own a business. If you don't pay your bills, your credibility goes down, and maybe people don't want to work with you. It was tough until 2012, when Jamba Juice came into play. The day we opened our doors at Jamba Juice, we were bursting out of the seams with volume business-wise. Our store is the brand's No. 2 store in the world in revenue. No. 1 is at the Downtown Disney District in Anaheim, Calif.
Question: Do you expect the A and B traffic to come back?
Answer: Yes. Planes are full going out, and some airlines have increased flights. It won't ever come back to 160 flights, but it will come back to where it can be profitable to be there. I don't have a crystal ball, but I think we're talking about two years down the line.
Question: How did 9-11 change things?
Answer: 9-11 changed the whole world in airport travel and concessions. Before 9-11 came, family and guests could walk with passengers to the gates, so we had additional traffic. We were concerned the business would not be there. But then they banned passengers from bringing in outside liquids. My beverage business grew from 15 percent of my business to 25 percent.
Also, airlines were not profitable, so they started to cut services. They cut food. People had to eat before they got on the plane. They would also come two hours ahead of time because of the security lines. We prospered because people were here, and they didn't have any food.
Question: What's the biggest difference in doing business at an airport?
Answer: Hiring employees — and for the right reason.The TSA has rules and regulations. They fingerprint your employees and, depending on the level of work, they do background checks.
My employees have gone through the proper checking, so I know it's a safe environment. But sometimes it takes three, four or five weeks until we can hire someone. By the time that happens, we may lose that employee, because they find somewhere else to go. I need at least two or three more full-time employees, but the time to do a check is very challenging.
Question: What are your growth plans?
Answer: I hope to buy an existing operation here that is not a national brand, and turn it into a Jamba Juice with name recognition, which would be able to do much better than the business currently operated there.
Then I'm looking to venture out of the airport, somewhere onto the Strip. There is a food court in a mall that I am looking to expand to. I'm also looking at going to food festivals to set up a concession stand and prepare smoothies. I'm going to work with my son, who's more technology-savvy, to look at online ordering at the airport, because sometimes people have only 15 or 20 minutes to get something to eat, and they might not come to us if we have a huge line. We're looking to work with some of the other companies at the airport to do catering — to set up a smoothie station for employees because they want to give them a treat, for example. Last but not least, I want to get into the Las Vegas Convention Center or maybe into the Las Vegas Motor Speedway when they have big events to promote.
Contact Jennifer Robison at jrobison@reviewjournal.com. Find @J_Robison1 on Twitter
Name: Michael Ty
Age: 61
Occupation: President, Hospitality Culinaire
Quotable: "You have to make sure all of your bills are paid, and your employees are paid. Those are the important things when you own a business."