Can drones make it rain? Nevada officials upbeat on cloud-seeding prospects
February 6, 2017 - 6:49 pm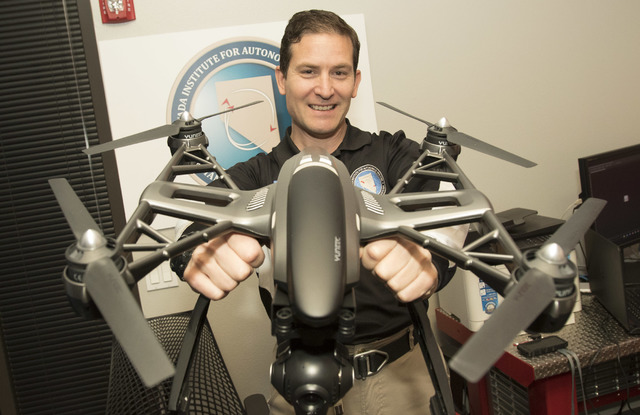 Local drone officials say they expect to make major strides with cloud-seeding operations within the next few weeks.
"I think that will be history making — at least it's going to extend cloud seeding further than anybody's ever imagined," said Chris Walach, director of operations for unmanned aviation at the Nevada Institute of Autonomous Systems, which works with the Governor's Office of Economic Development and acts as a clearinghouse for drone-related business opportunities.
Nevada made aviation history last April when a fixed-wing unmanned aircraft successfully tested a cloud-seeding payload during an experimental flight that reached an altitude of 400 feet and flew for about 18 minutes.
"After we did the first cloud-seeing operation last year, we started receiving calls from the Middle East, Sub-Saharan African nations said, 'Come now. We want to employ this cloud-seeding operation in our country to make rain.' So maybe we'll claim the title of rainmakers here in the near future here. Who knows?"
Walach gave an update on the local drone industry Monday at a quarterly board meeting, during which he also outlined the business opportunities that will likely carry the institute for the rest of the year. He believes there is high demand from companies to pursue testing with package delivery, agriculture research and drone-detection operations.
As a Federal Aviation Administration designated drone testing site, Nevada attracts companies looking to experiment with drone operations.
"A company can come here and they're not restricted to flying under FAA rules and regulations. They can kind of experiment in restricted airspace as long as it has an aeronautical designation."
Contact Nicole Raz at nraz@reviewjournal.com or 702-380-4512. Follow @JournalistNikki on Twitter.
RELATED
Drone cloud-seeding focus of Nevada project