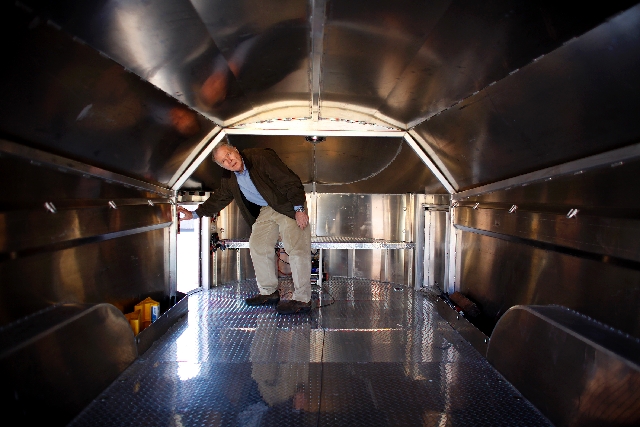 Peter Brock, famed designer of the 1963 Corvette Sting Ray, doesn't have enough fingers to count the reasons why he moved Brock Racing Enterprises from Seattle to Henderson in late 2011.
For one, he was having a hard time finding sheet-metal fabricators for production of his $24,000 aerodynamic car trailers. They were leaving Seattle for the oil slopes of Alaska, where the pay was three to four times more.
Another thing he likes about Southern Nevada is the property value, which allowed him to buy a home in Henderson to go with his spread in Redmond, Wash.
And the weather, for a 76-year-old hot-rodder who still likes to spin the wheels on the weekend, beats the living rain clouds out of Seattle.
"This is like California was 50 years ago," said Brock, who grew up in San Francisco and studied transportation design at Art Center School in Los Angeles. "Blue skies and fresh air every morning."
Of course, the main reason for opening a 5,300-square-foot shop at 342 SunPac Court, near Sunset Road and Boulder Highway, is the business benefit.
Brock's wife, Gayle, runs the business side of BRE and said one of the most exciting things about coming to Henderson was to ramp up manufacturing in a "pro-business state."
Washington focused on how to tax businesses in a "convoluted manner," she said.
"We needed to expand and the red tape on reporting business and occupation taxes — it's on gross revenue, which is just ridiculous," the business manager said. "If you sold something on the Internet, you had to read the tax code and tax them on where they live. It was too onerous, too much time."
BRE generates about half its revenue manufacturing trailers and the other half on memorabilia sales and restoration projects, Gayle Brock said. The husband and wife also cover and photograph races around the world, writing for automobile and racing magazines.
An article about BRE's move to Henderson published in Classic Motor Sports brought attention to the company at Mayor Andy Hafen's recent State of the City address.
"It's not just manufacturing," Gayle said. "We're a visible company for a lot of fans."
She told a story about a woman who had always wanted to visit Las Vegas, but her husband rejected the trip every year until he learned Brock Racing was here. The couple drove straight from the airport to the shop in Henderson, before checking into their hotel, Gayle said.
Another thing BRE wanted to accomplish with the move to Henderson was to have a showroom to display the history behind the company, which was founded in 1965, but goes back to the first drawings and models by Peter Brock in 1952.
The most distinguished piece of art is the black-and-white sketch that shows the earliest design of the classic Sting Ray model.
Brock, who took his first job sweeping floors in a garage, caught the eye of designers at General Motors, who brought him to Detroit when he was 19. He worked with GM's top designer, Harley Earl, in conceptualizing a rear-engine car produced as the Corvair in 1960, then with Earl's successor, Bill Mitchell, in designing the Sting Ray.
After a brief stint running Carroll Shelby's race-driving school at Riverside International Raceway, Brock founded his own company and became best known for designing the Cobra Daytona Coupe. He still owns the prototype model.
"It's really nice to design a car," Brock said as he sculpted a clay model of an AC Aceca for a customer in Gardnerville. "There's a way of moving your hand along the car and you see the design change in the light. It's very much an art form."
Perhaps the most prized project in his shop is Datzilla. Brock stuffed a Chevy V-8 crate motor into a Datsun 510 and created a monster of a "tuner."
"It's just a fun, old car. I'll take it to SEMA (Specialty Equipment Marketing Association) and car shows," Brock said.
He's also got a rusted 510 that he built for the Baja 1000 in Mexico in 1969. The car was found sitting in the desert in Arizona.
Brock brought a road-racing championship to Nissan Motor Co. with the Datsun 2000 roadster in 1969, and won back-to-back championships with the Datsun 240Z in 1970-71.
BRE employs anywhere from 10 to 25 people, depending on the trailer production schedule. They make about one a month and could easily increase to three a month, Brock said. The trailers are 30 percent to 50 percent more efficient for towing than square-box trailers, he said.
Contact reporter Hubble Smith at
hsmith@reviewjournal.com
or 702-383-0491.