Binion's in downtown Las Vegas celebrates 65th anniversary
August 12, 2016 - 4:24 pm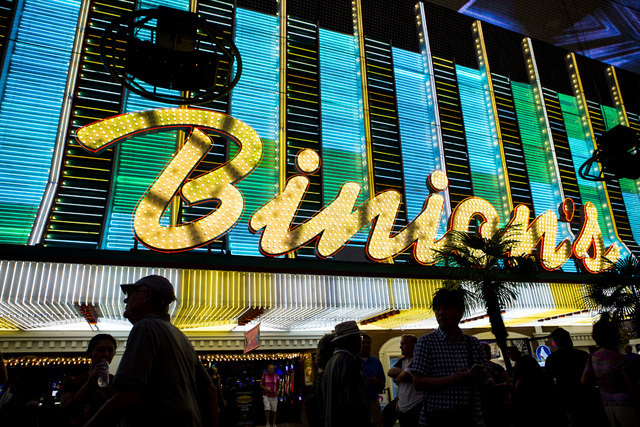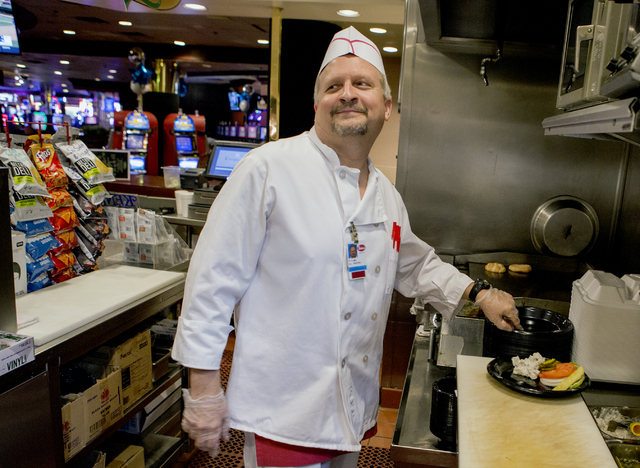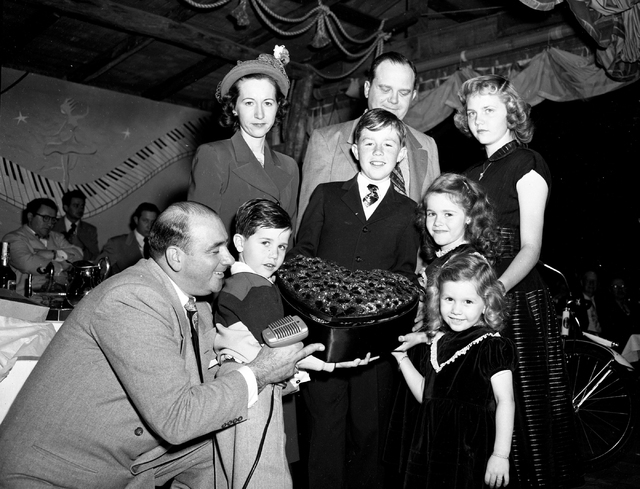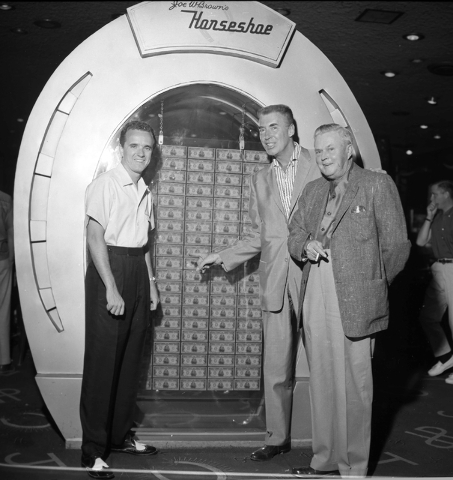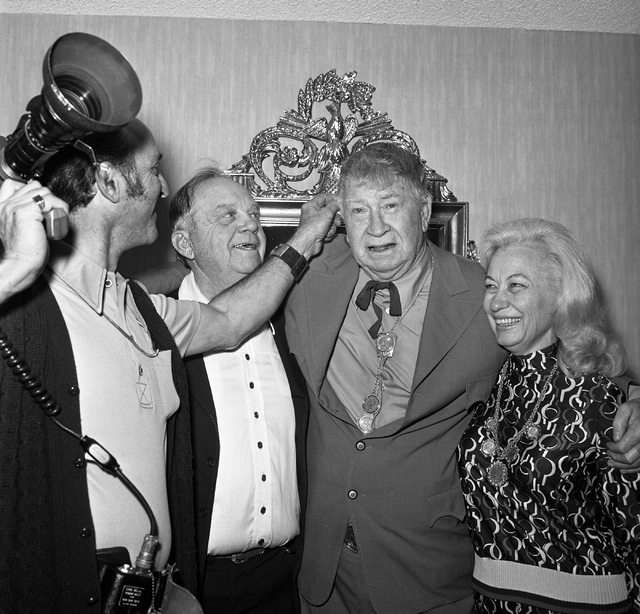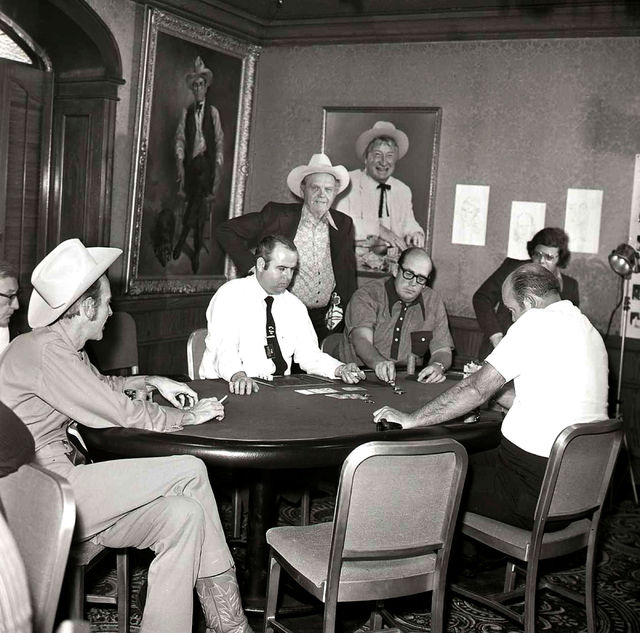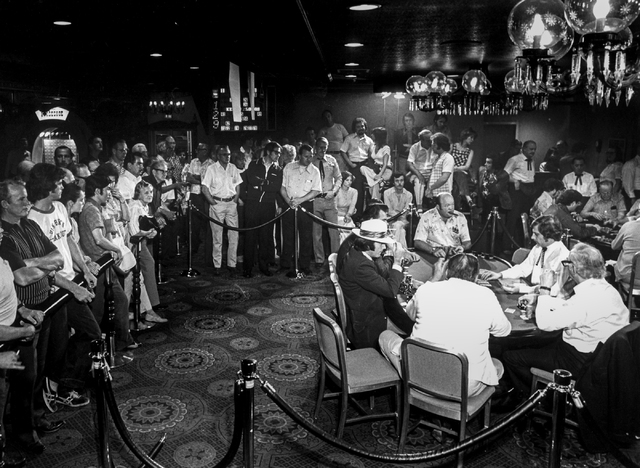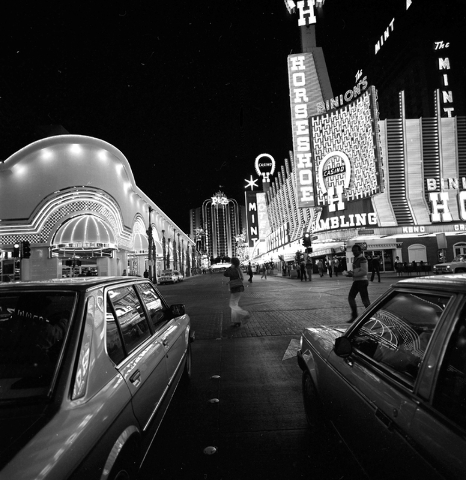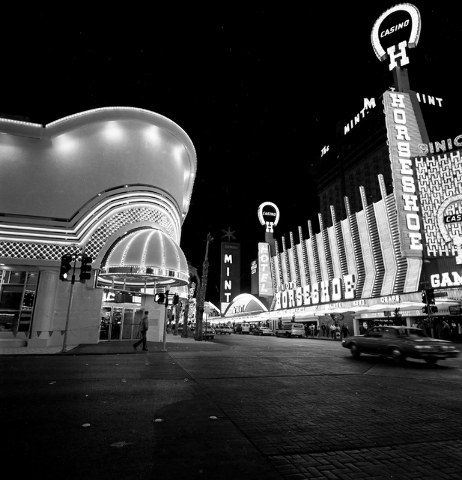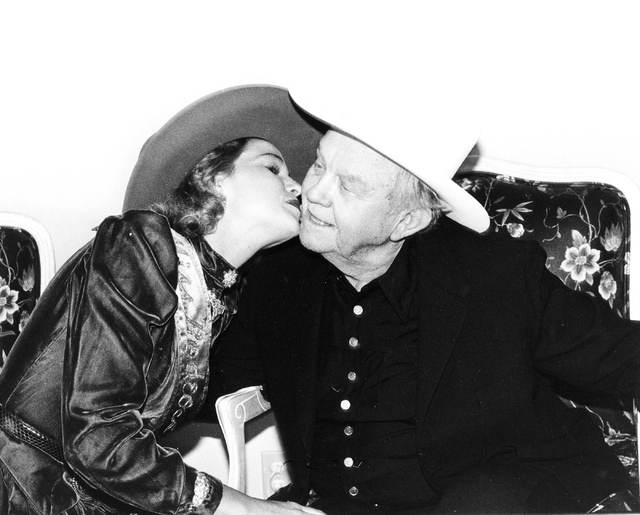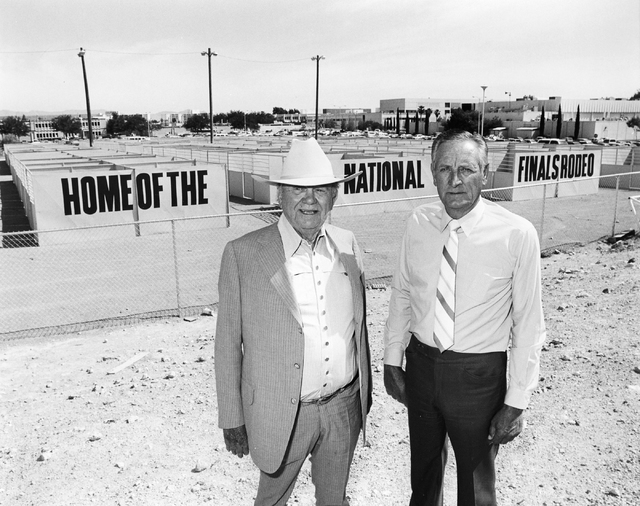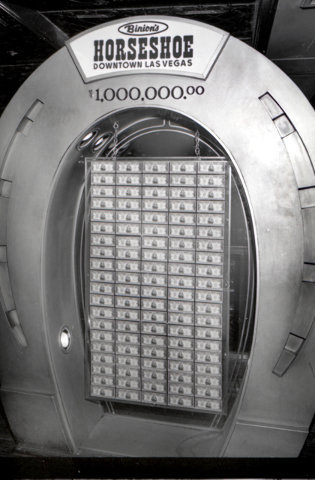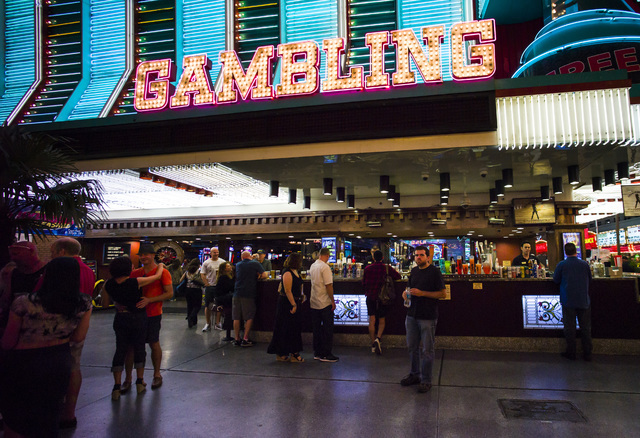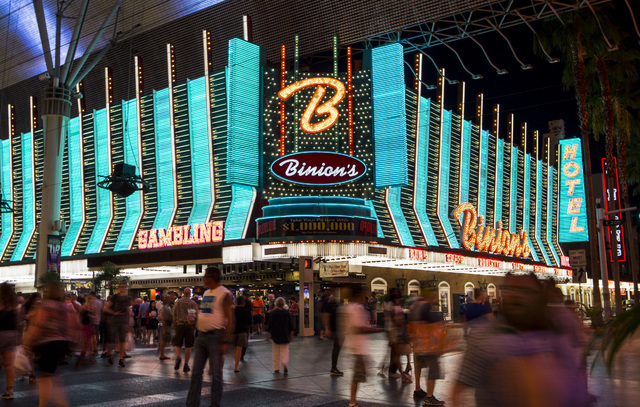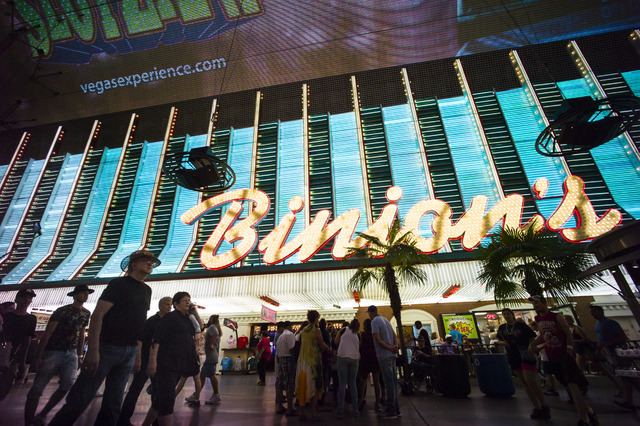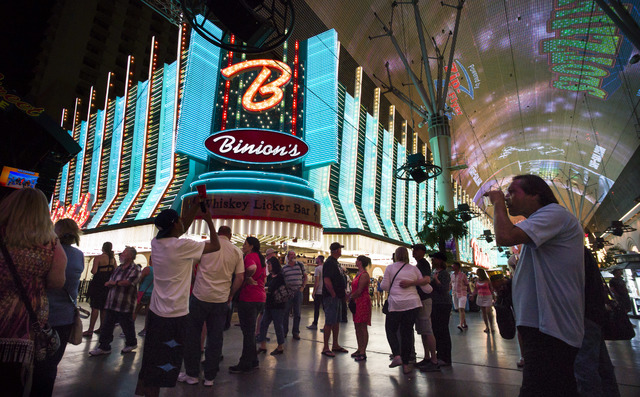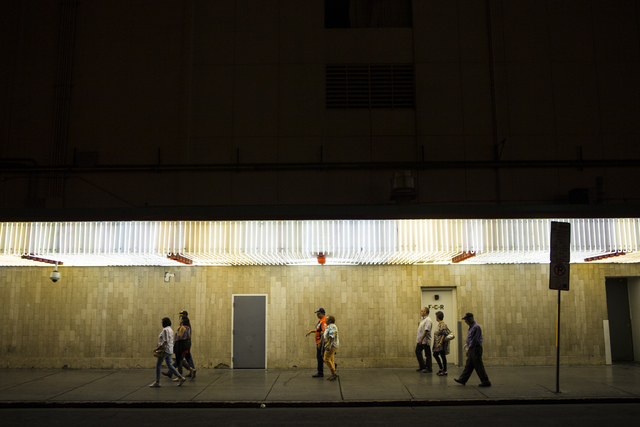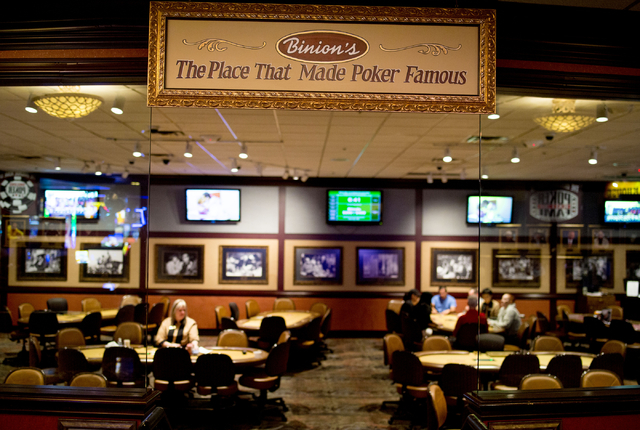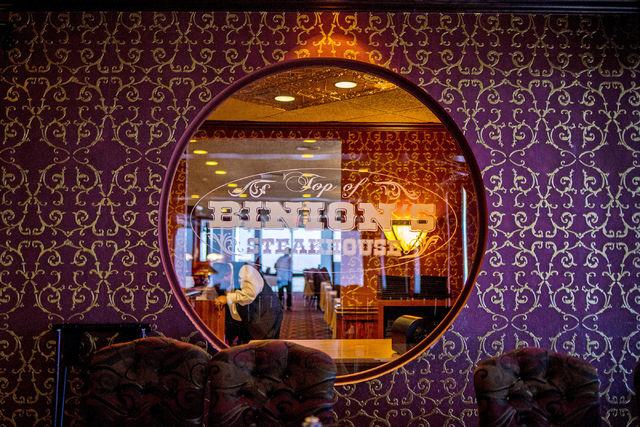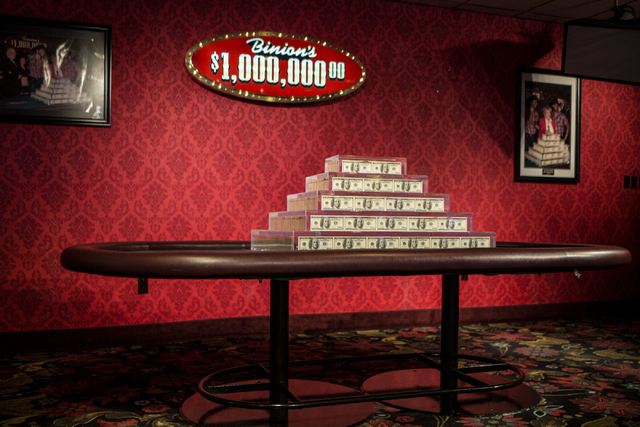 Binion's Gambling Hall can be described in one word — nostalgic.
In the 30 years that Mario Sandoval, a waiter for Top of Binion's Steakhouse, has worked in the casino, he has seen entire generations of families come to eat and gamble.
"I've seen the grandmother who brought the mother, who brought the daughter, who brought granddaughter," Sandoval said. "There's so much history here."
Binion's, one of Las Vegas' longest operating casinos at 128 Fremont St. in downtown Las Vegas, has withstood economic downturns and a turbulent history. It is celebrating its 65th anniversary this month and will have giveaways and food specials for guests throughout August.
Texas-native Benny Binion opened the Horseshoe Club, as it was originally called, on Aug. 14, 1951. Good food, good whiskey and a good gamble were the watchwords in Benny's casino.
Benny Binion managed his property alongside his wife, Teddy Jane, who handled bookkeeping, and his two sons, Ted and Jack, who supervised the games.
Jack Binion, who became president of Binion's in the 1960s, said Friday in an interview with the Review-Journal that his family treated the casino like their home and treated customers as they would any home guest.
"We always felt if you were going to have someone come into your home, you really wanted them to treat them special and in fact, all the employees were family members," he said. "It's impossible for a public company to duplicate that atmosphere."
In 1970, the Horseshoe Club hosted the first World Series of Poker.
UNLV Center for Gaming Research Director David Schwartz said that even before the tournament came to the casino, Binion's stood out on Fremont Street because of Benny's philosophy.
"He had a greater tolerance to risk," Schwartz said. "He would accept high bets."
"His philosophy was 'the sky's the limit,'" Schwartz said. "In the early 1950s, most downtown casinos had a $50 max bet on craps. Binion's was $500, but he'd even waive that if you asked."
Looking back, Jack Binion said he can't believe how conservative the gambling industry was at the time.
"My dad was always liberal and forced the town to become more liberal, and obviously created that much more demand for gambling," he said.
Benny Binion went to prison for tax evasion in 1953, and handed over his company to fellow gambler and friend Joe W. Brown. An article by Center for Gaming Research notes that Benny Binion was still acknowledged as the rightful owner and regained full ownership of the property in 1964.
Since then, the Horseshoe has passed through many hands including Becky Binion Behnen, Benny's daughter, who became owner after a drawn-out legal battle.
In 2008, TLC Casino Enterprises bought the casino and general manager Tim Lager said they've worked slowly to repair and renovated the historic property. TLC has installed new carpeting, redesigned the poker room, added two outdoor bars and a showroom for entertainment acts, and brought back the Million Dollar display that was originally introduced under Joe W. Brown's ownership.
However, long-time employee Mel Jones said that in his 35 years at Binion's, the biggest changes he has seen are not in the casino, but in the customers.
"Before, it was about the gambling," Jones said. "Now it's about the deal that people can get; they want the best deal."
"Back in the day, we had the $2 steaks and we could afford to lose money in the food because you were getting it in the gaming, but now everything has to justify its own existence because the customer has changed so much," he said.
Knowing this, Lager said that Binion's has worked on improving the quality and presentation of their food and adding more entertainment.
Lager said that TLC is looking add more amenities such as an outdoor restaurant with a view of the Fremont Experience in the near future — all while staying true to Binion's original rustic, Western theme.
He sees many more years ahead for Binion's.
"Truly, I think the brand is so powerful, that when other people would have maybe went under, I think that helped carry us because people are very loyal to the Binion brand," Lager said. "I think if we could survive the bad economy, we could survive anything."
Contact Rocio Hernandez at rhernandez@reviewjournal.com or call 702-387-5208. Follow @rociohdz19 on Twitter.
KEY DATES
1951: Benny Binion opens the Horseshoe Club.
1953: Benny Binion goes to prison and "sells" the Horseshoe to Joe W. Brown.
1964: Benny Binion regains 100 percent ownership of the Horseshoe.
1970: The Horseshoe Club hosts the first World Series of Poker.
1988: The Horseshoe buys next-door casino, the Mint and expands property size.
1989: Benny Binion passes away on Christmas Day.
1998: Jack Binion surrenders ownership to sister Becky Binion Behnen.
2004: The Horseshoe closes, later bought by Harrah's Entertainment, which changed the name to Binion's Gambling Hall and Hotel. Harrah's later sold the property to MTR Gaming but kept the rights to the Horseshoe and World Series of Poker names.
2008: TLC Casino Enterprises buys Binion's Gambling Hall & Hotel from MTR Gaming.