Caesars backs move for A's, remains confident in Vegas market
Updated May 2, 2023 - 8:19 pm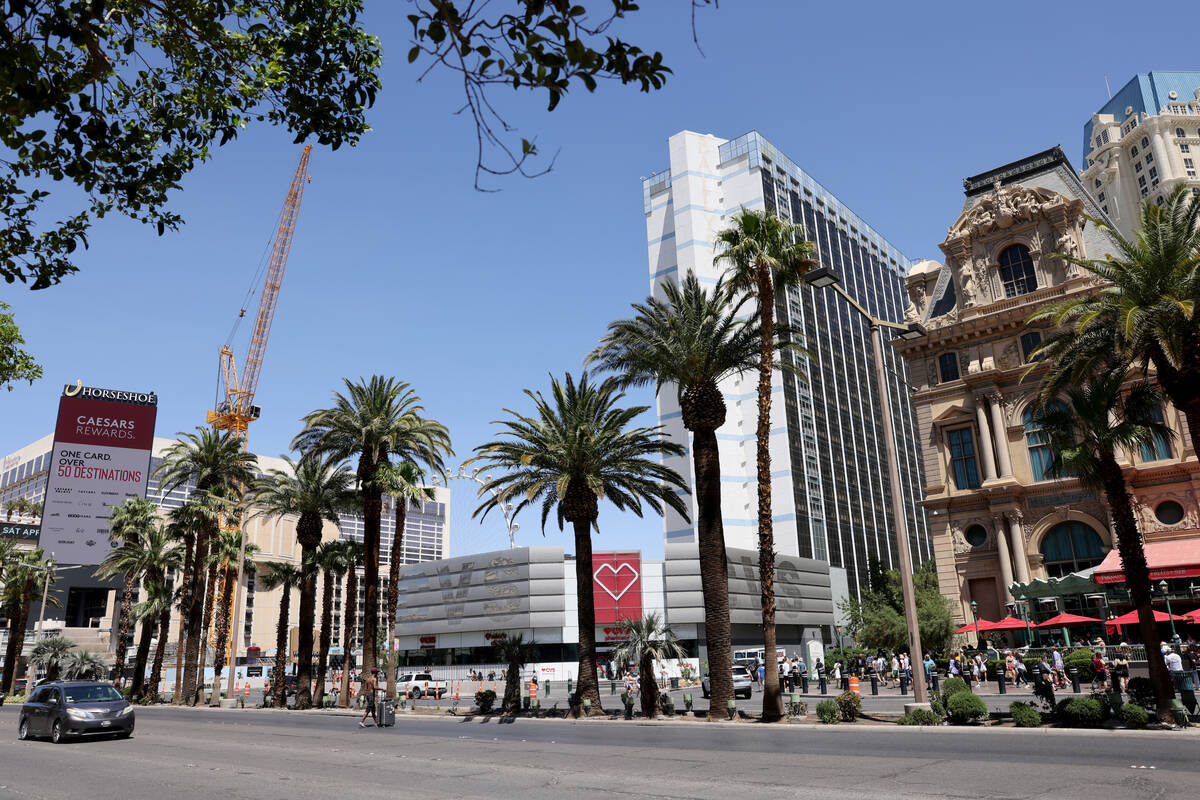 Caesars Entertainment Inc. and MGM Resorts International are on the same page when it comes to the Oakland Athletics and the team's potential plans for a Las Vegas ballpark.
Caesars CEO Tom Reeg said Tuesday, in response to an analyst's question, that the prospect of the A's in Las Vegas was exciting, but he didn't want to see tax hits that would "unnecessarily" impact Clark County or taxes that could affect customers — echoing a similar comment made by MGM Resorts CEO Bill Hornbuckle on Monday.
Analysts also asked Reeg whether Southern Nevada's recent string of successes — with its stacked events calendar that includes Formula One Las Vegas Grand Prix and Super Bowl LVIII — had an end date.
He said there's no reason to stop looking for ways to bring in a higher value customer. He credited competitors in the market and the Las Vegas Convention and Visitors Authority for pushing to bring high-spend, market-wide events.
"We all like to stand back-to-back and see who's the tallest in this market, but we do work together well to make sure this market continues to expand," Reeg said. "I think it's foolish to bet that the 30-year cycle is all of a sudden going to be over in a quarter."
During the company's first quarter earnings call, Reeg also noted customer demand was still high in Las Vegas. The segment reported a net income of $293 million for the period ended March 31, up 74.4 percent year over year, and revenue of $1.13 billion, a 23.7 percent increase compared with the same quarter a year ago.
Group and convention-related hotel demand was 21 percent for the quarter, up from 14 percent compared with the same period last year, executives said. Hotel occupancy was 95 percent, signaling continued strength in the Las Vegas market despite concerns about an economic slowdown.
"What you're seeing through Vegas is not only just extraordinary demand that continues," Reeg said. "(But) as we look through each month, you're seeing the average customer in our property continuing to (rise). We're getting group business that is higher dollar, comes with banquet business attached and replaces our least profitable players."
Up-tiering customers
The recently announced changes at Horseshoe Las Vegas and Paris Las Vegas also illustrate the company's commitment to up-tiering. On Monday, the company announced plans to spend more than $100 million to transform Horseshoe's Jubilee Tower into a "premium" hotel tower that connects to Paris, with larger rooms and balconies for guest rooms that face the Strip.
Executives said Paris' room rate and average nongaming spend per room is "significantly ahead" of Horseshoe, meaning the company could earn more from the tower once it integrates with Paris.
"What we can do here is a simple upgrade in terms of the rate that those rooms will get," Reeg said. "And then create, on that side facing the Strip, some of our most attractive non-villa products in the market."
On the digital side, the Reno-based company announced plans to release a standalone iCasino app this year, as its digital business pushes toward breaking even.
The company said the iGaming app will launch in the third quarter, and it will have increased game content, new proprietary offerings and real-time marketing capabilities. A title for the new program was not shared, and company officials said it would be separate from its Caesars Sportsbook app.
It decided to create a separate app to attract the core slot-playing customer.
"We'll be able to provide them with something that's more in line with what they're expecting from their experience (at the casino), and I think it's going to attract a higher percentage of the slot customer," Eric Hession, president of Caesars Sports and Online Gaming, said during the call.
Adjusted pre-tax earnings for Caesars Digital was a loss of $4 million in the first quarter, compared with a year-over-year loss of $554 million.
Caesars reported a net loss of $136 million, $0.63 a share, on revenue of $2.83 billion for the first quarter. That compared with a net loss of $680 million, or $3.18 per share, on revenue of $2.29 billion.
Shares fell 4.15 percent to $44.58 on Tuesday, and rose 1.28 percent to $45.15 in after hours trading.
McKenna Ross is a corps member with Report for America, a national service program that places journalists into local newsrooms. Contact her at mross@reviewjournal.com. Follow @mckenna_ross_ on Twitter.
Caesars Entertainment Inc.
First-quarter revenue and earnings for Reno-based Caesars Entertainment Inc., operators of Caesars Palace, Flamingo, Harrah's and The Linq Hotel, among other Strip properties. (Nasdaq: CZR)
Revenue
2023: $2.83 billion
2022: $2.29 billion
Change: 23.7%
Net income/(loss)
2023: ($136 million)
2022: ($680 million)
Change: 69.8%
Earnings/(Loss) per share
2023: ($0.63)
2022: ($2.11)