Casino net losses reduced by 11 percent in fiscal 2015
January 7, 2016 - 2:00 pm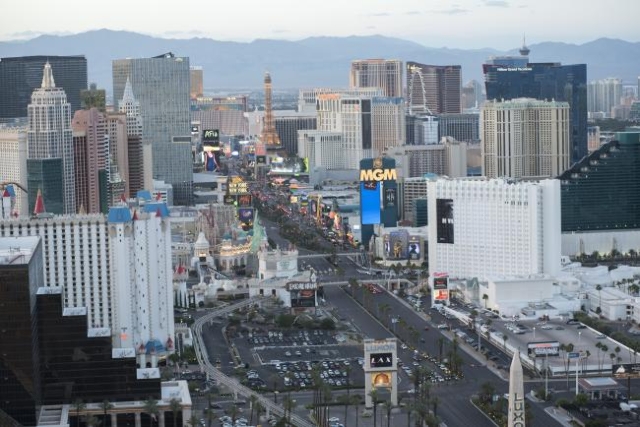 Nevada's largest casinos reduced their combined net losses by 11 percent in the 2015 fiscal year but several areas of Clark County — not including the Strip — reported profits based on their total revenue, state gaming regulators said Thursday.
Statewide, the 271 casinos that grossed more than $1 million or more in gaming revenue combined for a net loss of almost $661.8 million, compared with a net loss of $743.7 million for the same 12-month period a year earlier.
Strip casinos lost $923.3 million, a 2.2 percent reduction compared to a loss of $943.6 million in fiscal year 2014.
The figures were part of the annual Nevada Gaming Abstract, published by the Gaming Control Board.
Total revenue statewide was almost $24.6 billion, a 2.9 percent increase over 2014 but 2.6 percent below the 2007 all-time record.
The total revenue figure accounts for the money casino patrons spend on gaming, hotel room, food, beverage and other attractions. The net income figure reflects the money retained by casino after expenses are paid but before deducting federal income taxes and the accounting of extraordinary expenses.
The Strip's 2015 fiscal year numbers, which ended June 30, reflect the resort industry's growing dependence on nongaming attractions. Nongaming revenue surpassed gaming revenue totals in fiscal year 1998.
In 2015 Strip casino set an all-time total revenue record of more than $16.7 billion. However, gaming revenue of $5.8 billion, was just 34.9 percent of the overall total and declined 2.5 percent over the previous year. The gaming revenue figure was 10 percent below 2007's all-time high.
"It's the same trend we've been seeing where gaming revenue is not driving the overall figure," said Control Board Senior Research analyst Michael Lawton.
He added the Strip's casinos were hurt by "very high general administrative expenses." On the nongaming side, Strip casinos saw all-time records for hotel, food and beverage revenue during the fiscal year.
Statewide, gaming revenue of $10.6 billion accounted for 43.2 percent of the overall revenue.
Clark County has 155 casinos included in the abstract and the region's net loss was reduced by 22.9 percent to $575.5 million. Meanwhile, the balance of Clark County reporting area and the Boulder Strip reported their second straight years of a net profit. The Clark County increased net income by 66.4 percent to $204.4 million. The Boulder Strip was up 1 percent to $89.9 million.
Meanwhile, downtown Las Vegas reversed a net loss during fiscal 2015. The market reported net income of almost $68 million, up from a net loss of $35.2 million.
Lawton pointed out that 68 casinos owned by publicly traded gaming companies accounted for 78.1 percent of the statewide gaming revenue in fiscal 2015.
Contact reporter Howard Stutz at hstutz@reviewjournal.com or 702-477-3871. Find @howardstutz on Twitter.