Convicted felon added to list of people banned from state's casinos
Updated November 17, 2022 - 6:07 pm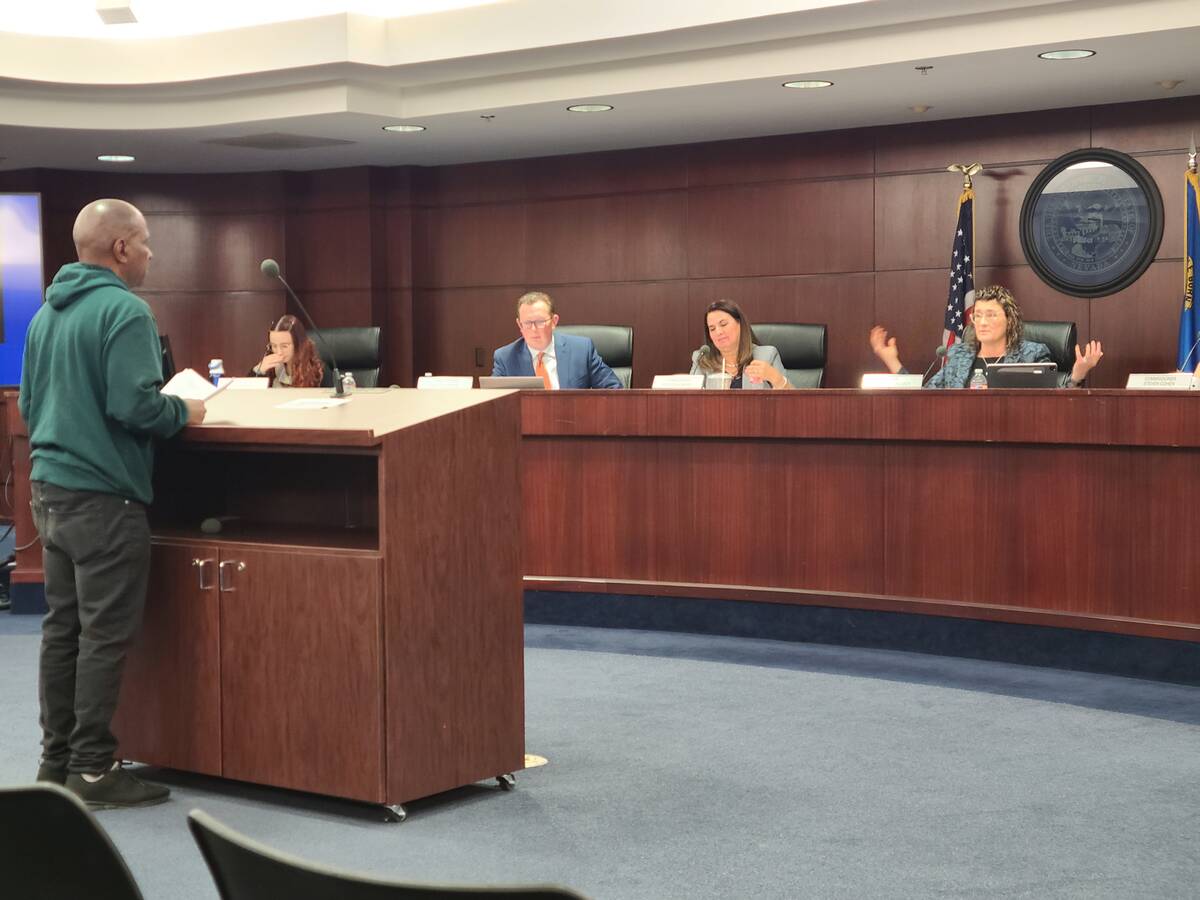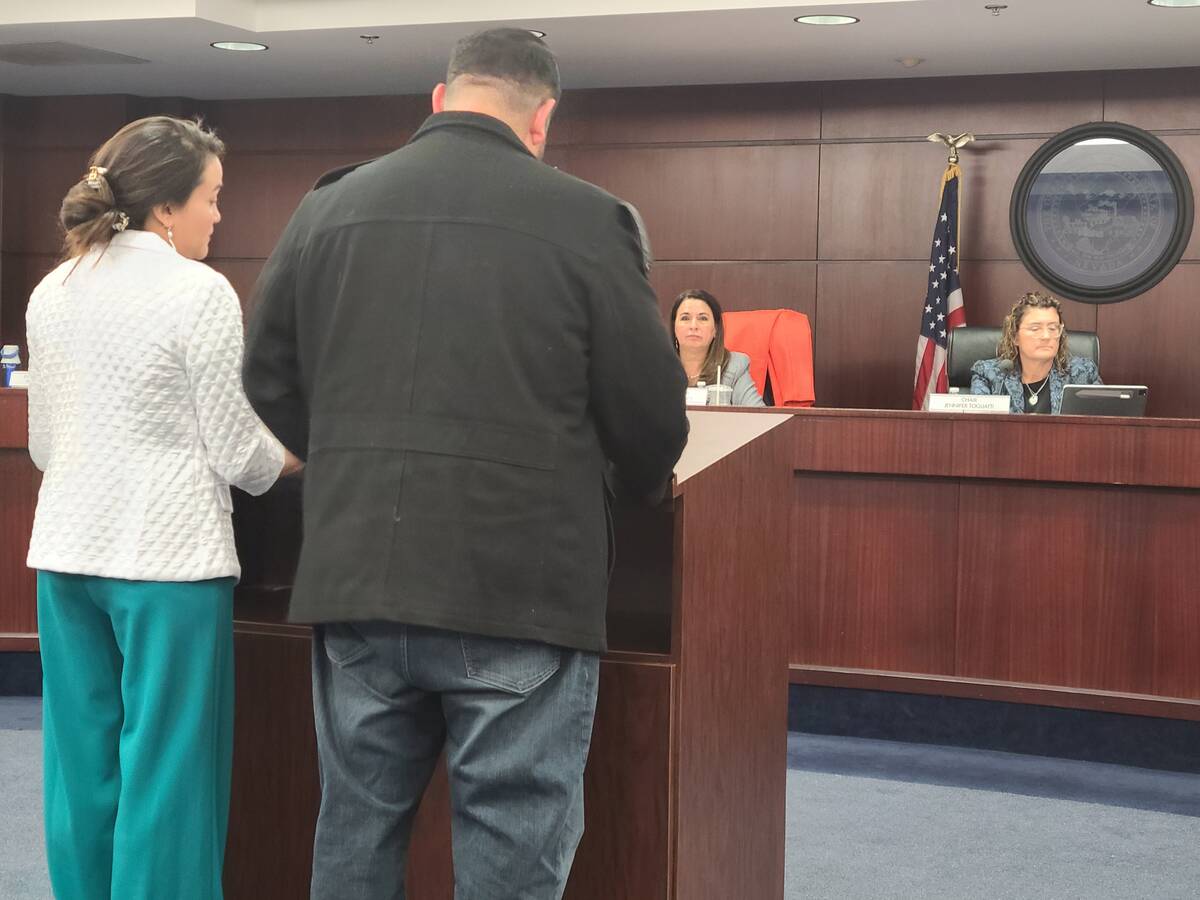 The Nevada Gaming Commission on Thursday unanimously placed Leonard Morgan Hairston on the Nevada Gaming Control Board's list of excluded persons, despite his attempt to convince commissioners to keep him off the list.
Persons on the list of excluded persons are not permitted to enter Nevada gaming establishments and it's the responsibility of casino operators to keep them out.
Hairston, who has been arrested 34 times for crimes in casinos over the past 31 years, represented himself in a nearly two-hour hearing and told commissioners he wasn't properly served of accusations against him and that crimes he committed in casinos were property crimes and not gaming crimes.
He was the first person in 3 1/2 years to seek a hearing to oppose an induction to the list, known as Nevada's "black book." He can appeal the commission's decision in Clark County District Court.
Hairston became the 35th person added to the list. Earlier in the meeting, commissioners without discussion unanimously removed Tommy Glenn Carmichael and Alvin George Kaohu from the list after Control Board research determined that they had died since the last time agents reviewed the list and the status of its members.
Carmichael, who was placed on the list in February 2003, was last known to have lived in Tulsa, Oklahoma.
Kaohu, who lived in Alea, Hawaii, along with fellow Hawaiian Wilford Kalaauala Pulawa, have been on the list longer than any other current member, placed there Jan. 23, 1975.
'Serial gaming offender'
Hairston attempted to convince commissioners that he shouldn't have been placed on the list because many of the crimes for which he was arrested and convicted were against casino patrons and not the casinos themselves. He also said he was not formally presented with a "bill of particulars" when Control Board agent Edward Farrell served notice of the hearing.
Deputy Attorney General John Michela, in a presentation to the commission, said Hairston was a "serial gaming offender incapable of staying out of trouble."
According to a 2004 police report, Hairston passed two counterfeit $25 Palms chips at the Fremont on Dec. 30 that year. A cage cashier who was preparing to send chips from other casinos back to their respective properties noticed the fakes the next day. The edges were peeling off, and when the cashier peeled back the Palms logo, he found a Dunes logo underneath. The Dunes closed in 1993.
Hairston allegedly tried to pass another counterfeit $25 Palms chip Dec. 31 at what was then Fitzgerald's, but a cashier noticed it was fake and called casino security.
As security officers approached him, Hairston turned and ran but was caught. Officers found him with two fake $100 Hard Rock chips and three bogus $100 chips bearing Bellagio, Mandalay Bay and Luxor logos.
During the hearing, Michela presented Farrell as his lone witness and also detailed how Hairston tried to pass counterfeit casino chips, stole casino chips from patrons and took chips from roulette tables when he thought dealers were distracted.
During his testimony, Farrell, relying on other Control Board agents' reports and his own dealings with Hairston, said crimes were committed at Wynn Las Vegas, Bellagio, Caesars Palace and other resorts.
Multiple convictions
Michela said Hairston had three felony convictions, five crimes of moral turpitude and two written orders from judges warning him not to gamble and to stay out of casinos as a condition of his probation, any one of which qualified him for inclusion on the list.
Hairston, wearing a green hooded sweatshirt and black jeans at the hearing, offered his own claims countering Farrell's testimony and Michela's assertions.
Gaming Commission Chairwoman Jennifer Togliatti, who formerly served as a Clark County Superior Court judge, patiently coached Hairston through the hearing process, instructing him on his rights to cross-examine Farrell and present opening and closing arguments.
But in the end, Togliatti's four commission colleagues determined that Hairston qualified for inclusion on the list and voted that way.
La Jolla hearing
Meanwhile in an earlier hearing, commissioners voted to approve a stipulation of settlement with a Las Vegas Latin nightclub and ordered its owners to pay a $7,500 fine for failing to properly pay a live entertainment tax on club admissions.
La Jolla nightclub co-owner Cynthia Yvette Rios told commissioners she failed to prioritize the importance of receiving letters of violation when Control Board auditors inquired about the accounting of taxes on club admissions.
According to a complaint drafted by Senior Deputy Attorney General Michael Somps, La Jolla, billed as the No. 1 Latin nightclub in Las Vegas, didn't properly account for admissions and cover charges to the club from May 11, 2020, to Sept. 30, 2021.
La Jolla is a restricted gaming licensee, meaning it has 15 or fewer slot machines on-site. All licensees are required to assess a 9 percent live entertainment tax on patrons at any entertainment event, including the cover charge.
According to the one-count Control Board complaint, the board's Tax and License Division performed a scheduled live entertainment tax review, but found the company's internal control structures did not meet regulatory requirements.
La Jolla and its parent company, River Plate LLC, did not respond to the three violation notification letters sent in 2017, 2020 and 2022.
When the company failed to respond to the most recent letter, dated April 11, the board issued an order to show cause in June, to which the company responded.
Contact Richard N. Velotta at rvelotta@reviewjournal.com or 702-477-3893. Follow @RickVelotta on Twitter.