Don Laughlin helps Riverside mark 50th anniversary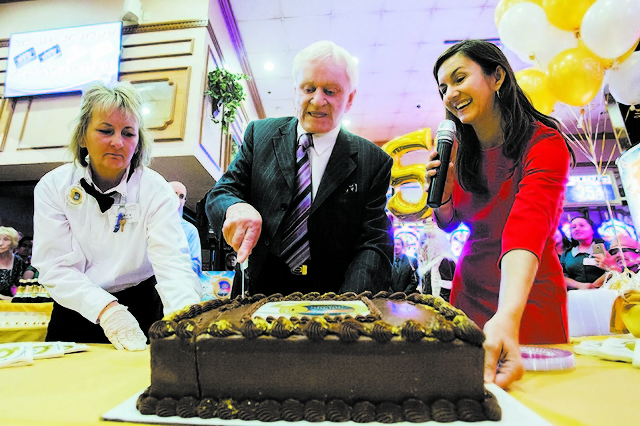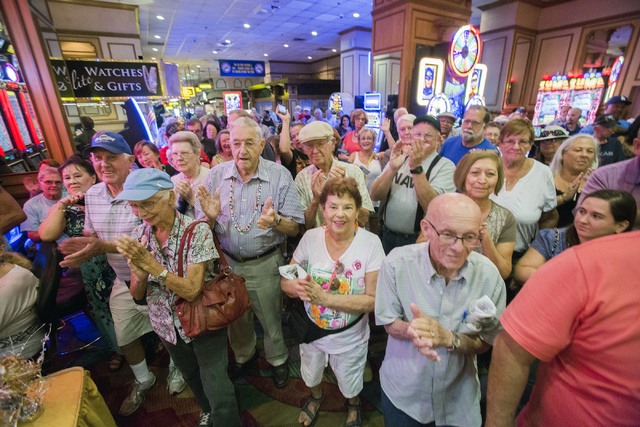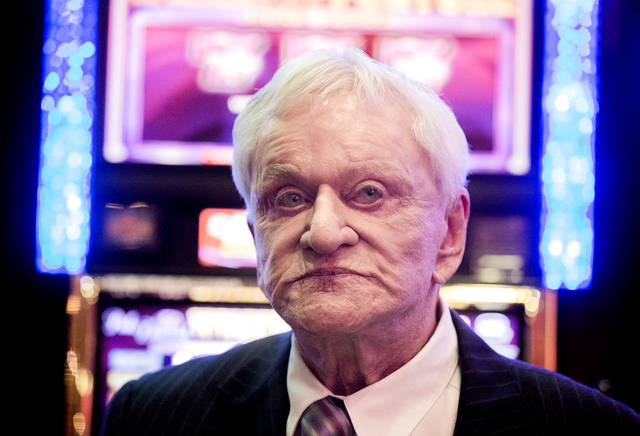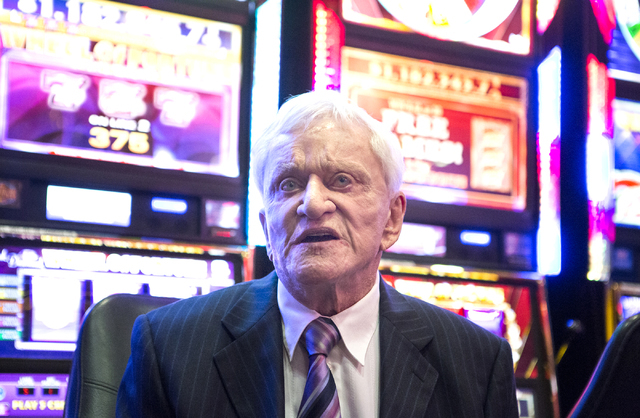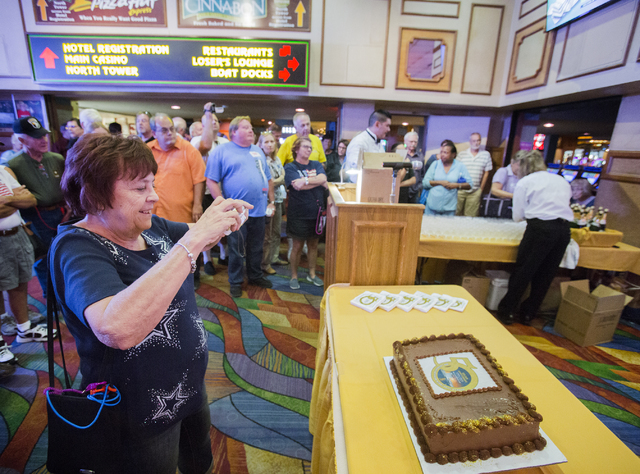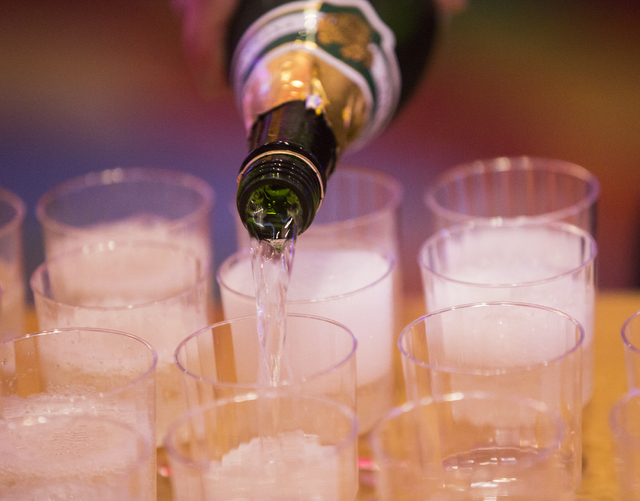 Don Laughlin still regularly works a 14-hour day.
He may slip away to his penthouse suite atop the Riverside at about 5 or 6 p.m. to rest, but at 85, who can blame him?
"And then he's right back at it," said Don Nelson, Riverside slot manager.
But Laughlin took a few minutes off to celebrate the 50th anniversary of the Riverside on Tuesday afternoon.
The celebration looked pretty standard: A pair of Mylar balloons made out a "50" that hovered above the casino floor, resort staff popped five cases of bubbly and served it in plastic glasses, and casino visitors swiped up 800 cupcakes about as fast as staff could put them out. Laughlin himself cut the chocolate cake.
Laughlin spoke to the crowd for about five minutes, thanking them for their business over the years.
"It's a memory I'll never forget, to see all of you here," he told the audience, who herded around him like an A-list celebrity but kept a respectful distance.
The party was as much a celebration of Laughlin himself as it was a celebration of a half-century of good business.
Laughlin opened the property on Aug. 2, 1966. At the time, there wasn't much to the area.
"When we came here there was a dirt road in here and you had to come in by way of the dam," Laughlin said. "If it rained, you couldn't get here."
The U.S. Postal Service named its operation at the resort "Laughlin substation" in 1968, leading the area around the resort to be called Laughlin.
In the early days, Laughlin would fly into North Las Vegas up to three times a day to get food and drinks for his resort.
His investment in the Riverside was responsible for the Laughlin boom. Now, about a dozen resorts line the lower Colorado River. He even built a bridge in the mid-'80s to span the river.
The Riverside still very much echoes the business model of old Vegas, strongly emphasizing hospitality. Laughlin roams the property all day to check on guests.
Laughlin's devotion to giving customers his full attention is the first thing most people note when they talk about the casino.
Sam Clemens recalled an encounter he had with Laughlin in the early '90s when he presented Laughlin a business idea. Instead of shooing him away, Laughlin tried to to help him develop the idea, Clemens said. Clemens, who lives in Fort Mohave, Arizona, visits the casino at least a dozen times per month.
"I'm really kind of loyal to this place because of that man," Clemens said.
Cliff Dent met Laughlin in 1980, and has been a loyal high roller ever since. He said he makes it out to the resort about every six weeks to spend the weekend.
Dent, a Buckeye, Arizona, resident, said Laughlin used to take him flying in a helicopter every day, something Laughlin frequently offered players.
"When we flew, he narrated to everyone where we went," Dent said.
Laughlin said he notched 12,000 hours in the cockpit before giving up his license last year.
The customer service approach isn't the only thing that oozes old school at the Riverside. Laughlin still throws a company picnic for his 1,900 employees every August — bounce houses included.
Employees who have been with the company for more than 10 years get invited to an employee appreciation dinner every year.
"And you wouldn't believe how big of a room is filled with that many people," Nelson, the slot manager, said.
Laughlin's grandson, Matt Laughlin, is next in line to lead the family business.
But on the other side of his resort's 50th birthday, Don Laughlin didn't have all that much to say. He still has a pile of papers on his desk upstairs to go through. He still has a glass of wine every night at the dance studio.
"It sure did go awful fast," he said.
Contact Blake Apgar at bapgar@reviewjournal.com or 702-383-0342. Find @BlakeApgarLV on Twitter.