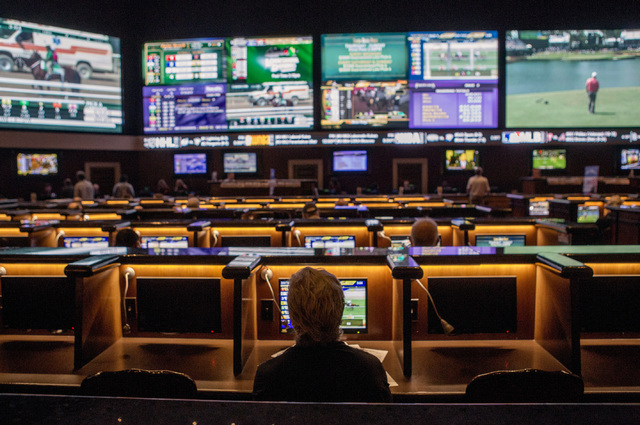 A new concept that allows businesses to place wagers on behalf of passive investors is failing to gain much traction with Nevada's sports books.
Since the so-called sports-entity betting took effect in November, the only sports book participating is CG Technology, the company that lobbied the Nevada Legislature for its adoption in the 2015 session. Seven business entities have registered with CG Technology's sports books to make bets, but no other sports books appear willing to join in and accept the betting.
That lack of participation makes it more difficult for the entities to be successful long term because they're limited to one line on games and limited in how much of their funds they can bet.
Some have touted entity betting as the next big wave in sports wagering that totaled $4.2 billion in Nevada in 2015 and was expected to approach $5 billion in 2016. The Nevada-based businesses can accept investments from around the world similar to a mutual fund, and participants share in the wins and losses without any involvement in the wagers.
"It's been more hype than reality," said Daniel Wallach, a gaming and sports law attorney with the South Florida firm Becker & Poliakoff. "You need two to tango, and without a second party to the transaction, its growth potential is limited at the present time because there aren't many operators of sports books that are willing to accept those wagers."
Backers of the concept hope the launch of football season will generate interest in more entities forming, investors pooling their money with the concept and sports books deciding to take the wagers.
"I don't think the football season will be a dynamic event for that concept," Wallach said, speculating sports books are afraid of big action from professional sports bettors that might be involved with the groups. "If these funds have acuity for gambling and choosing the right games and they have a high success rate, it would just be intuitive that the books wouldn't want that business. They're not in it to be on the losing side of a wager."
Karl Bennison, chief of the enforcement division for the Nevada Gaming Control Board, said some sports books are "sitting on the sidelines and waiting to see how it evolves."
CG Technology officials declined to return repeated phone calls to discuss the issue. Among other sports books, William Hill had no comment on entity betting. MGM Resorts Internationals said it's reviewing it and it's "too premature" to say if they will accept it.
Jay Kornegay, vice president of race and sports operations for the Westgate, said his sports book has no plans to accept entity betting. He cited the expense in complying with regulations requiring sports books be responsible for background checks and maintaining those checks for the entities and their investors.
That's one of the control board's regulations to prevent money laundering and unsavory people from being involved.
"That's very costly and time-consuming and never-ending responsibility," Kornegay said. "I don't know what that number is but our compliance came back and said that the expenses outweigh the benefits in taking that wagering. You can't check it one time and set it off to the side. It's something you would have to continue to monitor. If one of the group members happens to be involved in illegal activity, you better be well aware of that."
Kornegay said he's spoken to many of his colleagues in the industry, and they have no interest in taking the wagers for the same reason. He said he doesn't know the reasoning behind CG's support of entity wagering.
As for sharp players being involved in the entities, Kornegay said that's likely the case, but that's not the reason for declining to accept wagers. Every book takes bets from sharp players, but they don't extend limits to them, he said. Westgate has a limit of $10,000 for NFL game wagers and $5,000 for college.
Kornegay said the lack of interest from sports books makes it difficult for the entity groups to be successful.
"One of the biggest challenges a sharp player has is getting enough money down to make it worth it at the number they want. If you do analytics and have a number, it's just like a stock. You buy it at a certain point and you don't keep buying it," Kornegay said. "And if they were actually sharp enough to beat the book on a continuous basis, I am not sure how long the book would be willing to accept those wagers."
The lack of sports book involvement isn't dampening interest among founders of sports betting entities. Chris Connelly runs Contrarian Investments LLC, one of the first in the state. He started placing wagers in April on NBA playoff games where he went 5-1 and returned 19.5 percent for investors. Contrarian Investments gained an additional 10 percent returns for investors over last weekend by investing in Virginia +24 and Chiefs -6 2nd half, putting investors up 15 percent for the season and 34.5 percent year to date.
Connelly improved that to 24.5 percent after winning his one bet on Michigan covering 38.5 points against Hawaii in college football last weekend. Email update here: That percentage increased again, to 34.5 percent …(I just wanted to follow up wit ha brief update.
He declined to say how large his pool is except that it's six figures, and that he bets 5.5 percent of it on each game he plays.
Connelly, who said he has his own money in the pool, requires investors put in at least $5,000 and his biggest investment so far is $60,000. Initially, the interest was among sports bettors, but that has grown to include people who invest in mutual funds and Wall Street investments, he said.
While he bets with CG Technology, Connelly said it's incorrect to say no other sports books are interested. He said he's in discussions with one, who he declined to name, about accepting wagers. He admits, however, the sports books are "risk averse" and even has a limit imposed on him by the ones with whom he makes his personal bets.
"So very few would be open to potentially exposing themselves to sharp action," Connelly said. "We're still in the infancy stage of entity wagering. Most books and investors are still in the wait-and-see stage. So while it's not ideal having one set of numbers it in no way restricts Contrarian Investments from being able to produce a profit for investors. While having one book may limit entity wagering in the near short term, there's widespread opportunity with it to grow tremendously in the upcoming years, if handled correctly. "
Connelly said it's possible he could get cut off in the future. He said he's depending on the word of CG Technology officials that he would not have his limits reduced. They said his limits would only increase instead.
"That was one of my main concerns when I started this," Connelly said.
Football season should grow the interest and bring about more entities and people who want to invest in them, said Katherine Hoffman, a gaming attorney with Fennemore Craig in Reno.
"I doubt we will see hundreds of these, but it's early," Hoffman said. "We will see how these initial ones out front do and whether they can draw enough interest in Nevada and nationwide. The market will dictate if they have good people and tools and analytical skills and the ones that have the best returns will rise to the top."
Bennison said it's hard to tell how many entities will be formed. People aren't making their own wagers but relying on someone else, and he's not sure how popular that will be.
Wallach said the concept must be viewed in relation to the national debate on expanding sports wagering. It only works in an environment where Nevada has a monopoly on single-game wagering, he said.
If the courts or Congress permits such sports wagers in other states, entity wagering won't be as appealing if people can place their own bets, he said.
COKIN: RISK VS. REWARD ISN'T THERE RIGHT NOW
Las Vegas sports bettor and radio analyst Dave Cokin said the concept won't work for the entities with only one sports book accepting the action but suggested it may be a wait-and-see attitude on their part to see how it works at CG Technology. He said there may be concerns among sports books on whether it passes legal muster in other states if their residents invest in these Las Vegas entities.
Cokin said the risk versus the reward isn't there for the sports books at this time. There's no guarantee, however, that these betting entities are going to be successful, and more sports books may jump in later, he said.
"It really is an extension of the sports service business and even though I'm in it I can comment honestly that most sports services don't win out there either," Cokin said. "I think eventually it might be something where (the sports books) do get involved. If nothing else, it's going to increase the volume."