Hearing set for Wynn Resorts' $2.6B casino near Boston
Updated March 27, 2019 - 4:21 pm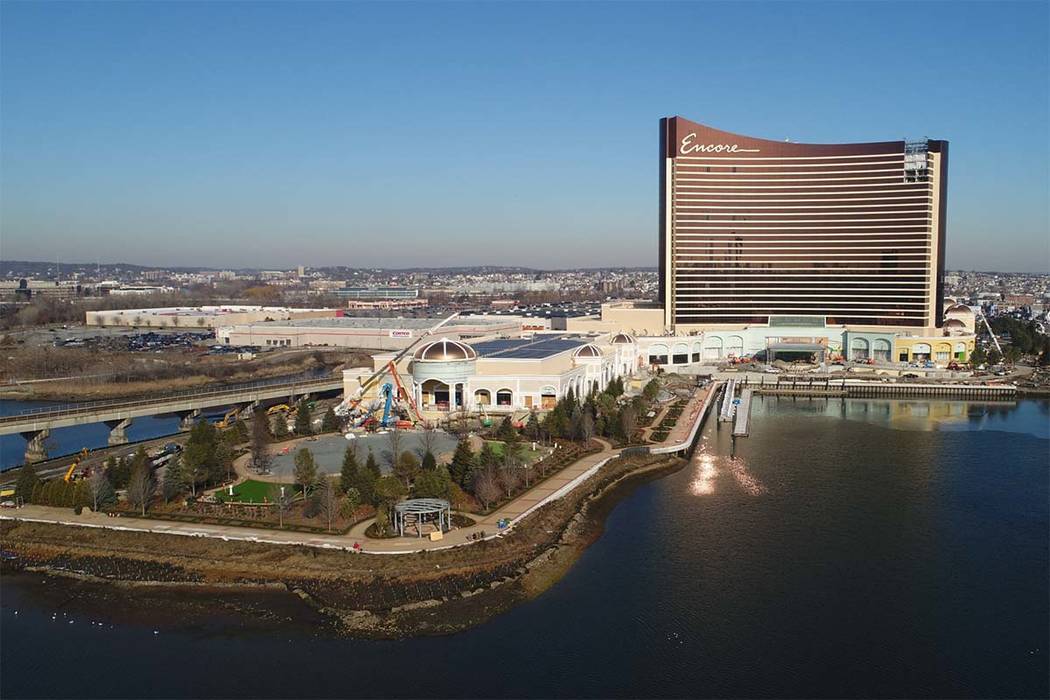 The question of whether Encore Boston Harbor will open on time in June — and even who will open it and at what cost — will start to be answered next week.
The long-awaited adjudicatory hearing to determine the suitability of Wynn Resorts Ltd. to operate the $2.6 billion casino in Everett, Massachusetts, is scheduled Tuesday, Wednesday and Thursday at 10 a.m. in Boston (7 a.m. PDT). The resort is expected to open in June.
The five-member Massachusetts Gaming Commission has been considering the hearing since fall. The hearing was precipitated by reports of sexual harassment by former Chairman and CEO Steve Wynn.
Wynn, who denies all harassment allegations, filed a lawsuit in November that blocked the commission from conducting a hearing sooner. The lawsuit was settled earlier this month setting the stage for next week's hearing.
Wynn Resorts has taken several measures to distance itself from Steve Wynn since harassment reports first surfaced in January 2018.
In the past year, the company separated itself from its former CEO without paying any severance; remade the company's board of directors with nearly 50 percent women; and recruited three new executives, all of them women.
In addition, the company launched sexual harassment training for all employees with a new independent compliance committee to oversee it. The company also launched a "Women Who Thrive" speaker series for employees and a new parental leave program that provides six weeks of paid time off for all new parents.
Wynn Resorts also initiated new policies forbidding executives and their families from using spa services, including massages, at company hotels and eliminated manicures and haircuts from a list of in-room guest services.
All salon and housekeeping staff also have been issued electronic "panic buttons" to call for help if they are harassed or attacked.
The hearing is expected to focus on when existing executives learned of the accusations against Steve Wynn and what they did or didn't do to investigate. Questions also are expected to be raised on Steve Wynn's 2005 payment of a $7.5 million settlement to a Wynn Resorts manicurist who accused him of forcing her to have sex with him. Commissioners are expected to question why that information wasn't reported to the commission when the company was in the midst of its initial suitability hearing for the company in 2014.
An agenda and list of possible witnesses are expected to be posted on the Massachusetts Gaming Commission's website by Thursday.
A Wynn Resorts spokesman said Wednesday that the company is planning an affirmative presentation to the commission with CEO Matt Maddox, board chairman Philip Satre and Wynn Resorts general counsel Ellen Whittemore. Other Wynn board members are expected to attend the hearing and answer questions if asked by commissioners.
Once the commission has heard all testimony it will go behind closed doors to deliberate, a process officials said could take several days, then issue a written decision at an undetermined date.
The commission only recently added a fifth member, chairwoman Cathy Judd-Stein, after former chairman Stephen Crosby resigned from the board in September.
The board has the authority to revoke or suspend the Wynn casino license or impose other penalties, including a fine.
In February, the Nevada Gaming Commission, acting on a 10-count complaint from the state Gaming Control Board, fined Wynn Resorts a record $20 million for violating Nevada statutes and gaming regulations, but didn't suspend or revoke the company's license.
"I think we all know that the company has engaged in a lot of introspection since everything came to light and they have taken enormous steps towards rehabilitating its corporate culture and the individuals that are there," said Kate Lowenhar-Fisher, a partner in the Dickinson Wright law firm said at the time of the Nevada hearing.
"However, at the end of the day, our Nevada gaming regulators are responsible for maintaining integrity of gaming in Nevada, and that includes corporate responsibility and the treatment of employees," she said.
Contact Richard N. Velotta at rvelotta@reviewjournal.com or 702-477-3893. Follow @RickVelotta on Twitter.