Keep distance from pot industry, Nevada gaming regulators advise licensees
November 17, 2016 - 3:20 pm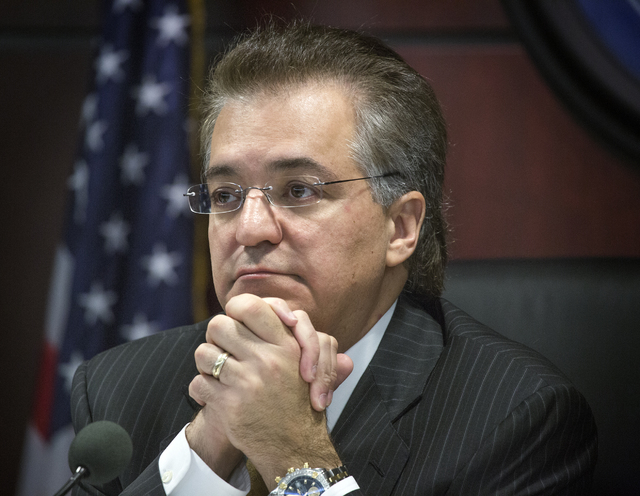 The Nevada Gaming Commission will continue to require gaming licensees to maintain distance from the marijuana industry that is expanding in the state and will address specific issues on recreational use as they occur.
The commission and the state Gaming Control Board on Thursday spent more than two hours addressing issues associated with the Jan. 1 startup of the legalization of recreational marijuana use approved by voters with the passage of Question 2 in the Nov. 8 election.
Gaming Commission Chairman Tony Alamo said regulators would continue to adhere to the same policies established when medical marijuana was approved in the state. No additional policies or guidelines are planned, but Alamo said the matter is "a work in progress" that could be revisited by the commission in the months ahead.
Regulators' views were outlined in a May 6, 2014, memorandum to gaming licensees written by Gaming Control Board member Terry Johnson.
The memo essentially says that because the federal government views marijuana distribution, possession, use and sale as illegal that allowing or promoting consumption in casino resorts would be viewed as detrimental to the state's regulatory reputation.
"The federal government has also reiterated that the illegal distribution, possession and sale of marijuana are serious crimes that provide a significant source of revenue to criminal enterprises, and that there is an expectation that states with some form of legalized marijuana will have strong regulatory practices that are strictly enforced," Johnson's memo says.
"… Unless the federal law is changed, the board does not believe investment or any other involvement in a medical marijuana facility or establishment by a person who has received a gaming approval or has applied for a gaming approval is consistent with the effective regulation of gaming. Further, the board believes that any such investment or involvement by gaming licensees or applicants would tend to reflect discredit upon gaming in the state of Nevada."
Alamo said a clear message has now been sent to the industry how regulators feel about the addition of recreational marijuana to the landscape.
"Our goal today was accomplished," Alamo said after the meeting. "The industry is looking to see what our general direction is. There was a tilt here. The tilt was that there's a federal law and we expect people to follow the federal law. I think that really gives a direction to licensees of the brick-and-mortar locations to do the right thing. If you knowingly break the federal law or if you're aware of someone breaking federal law, you should do something towards that. I think the board was clear on that."
But a few questions still remain.
Alamo said there aren't any hearings or workshops planned for now, but as the recreational marijuana rollout unfolds, questions could arise.
Among the issues discussed in Thursday's two hearings:
— Can marijuana be smoked or otherwise consumed in hotel rooms? Gaming licensees certainly won't be able to promote that or otherwise encourage it. Former Clark County Sheriff Bill Young, now the head of security for Station Casinos, said it may be difficult to enforce policies against the consumption of marijuana, particularly if it's in edible forms. He said his team gets complaints all the time about marijuana smoke odors wafting into hotel halls and industry officials are wary that odors often permeate drapes and carpets.
— Young also said he is concerned about recent trends in Colorado in which people park their cars or recreational vehicles near bars and taverns and then "rent" space in them for people to smoke after they've left the bars. Young said it would be difficult to monitor pot-smoking in cars in casino resort parking garages.
— Questions emerged on smoking in private locations within resorts. Could a customer smoke in a private gaming salon? If a conference or trade show on property is closed to the public, could a client offer a marijuana smoking lounge for attendees?
— Virginia Valentine, president of the Nevada Resort Association, said the industry wanted direction on the sticky topic of employee drug testing now that recreational marijuana will be allowed in the state. How will the Control Board and Gaming Commission react to appeals from employees who lose their work cards over drug issues since regulators consider the federal standard?
— Gaming Commissioner John Moran said he regrets having the marijuana political football tossed into regulators' laps, adding that he wonders why federal authorities generally don't enforce their own drug laws. He added this philosophical question: How can the lawful passage of an initiative by Nevada voters lead to bringing discredit to the state's gaming policies?
Alamo said details could be addressed as implementation occurs.
"The fine details? It's still a work in progress," he said.
Contact Richard N. Velotta at rvelotta@reviewjournal.com or 702-477-3893. Follow @RickVelotta on Twitter.