Kim Sinatra stepping down from role at Wynn Resorts
Updated July 5, 2018 - 11:59 pm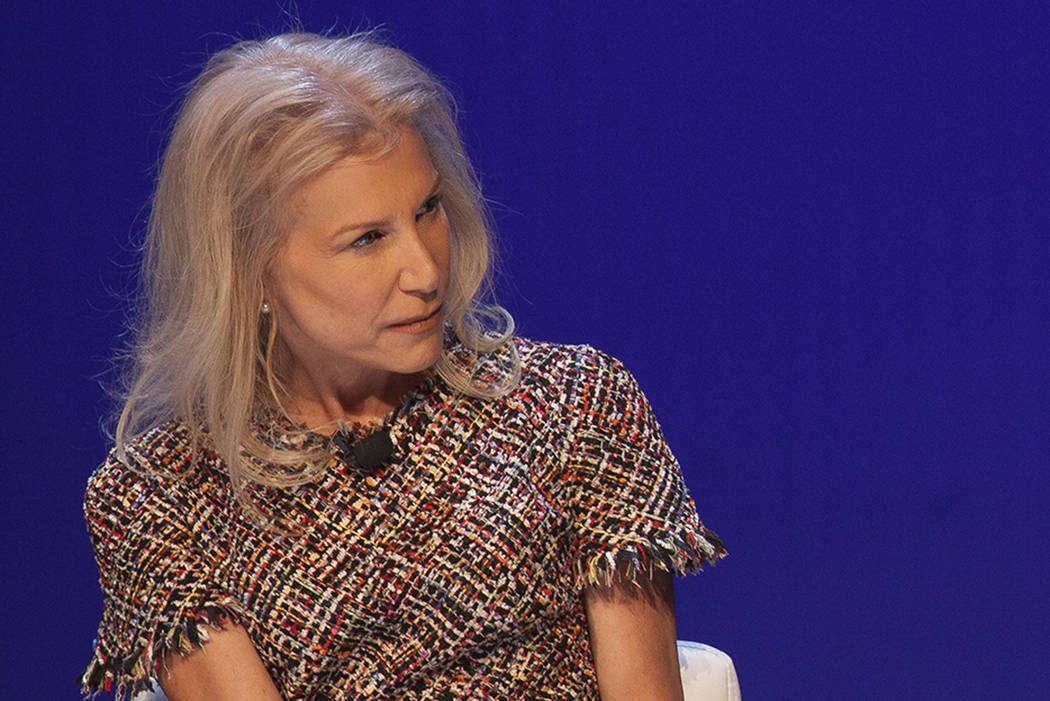 The top lawyer for Wynn Resorts Ltd., is stepping down as regulators continue to investigate the company's handling of sexual harassment claims.
Kim Sinatra, considered Wynn Resorts' No. 2 after CEO Matt Maddox, will leave her position as general counsel and corporate secretary effective July 15, the company said Thursday in a two-sentence filing with the Securities and Exchange Commission.
Wynn Resorts did not give a reason for her departure nor say whether she would continue to hold her other positions at the company. Sinatra is assistant secretary at Wynn MA, the company's Boston unit, and a director at Wynn Macau.
"Ms. Sinatra and the Company have not finalized the terms of her transition and departure," Wynn Resorts said in the filing.
Sinatra, 58, joined Wynn Resorts in 2004, becoming the company's general counsel and corporate secretary in 2006. She attended board meetings as corporate secretary.
Sinatra held considerable influence at the company and surpassed her peers in pay. Last year she earned $13.3 million, more than some top gaming CEOs, according to Equilar, a compensation data compiler.
Key witness
Wynn Resorts has been under pressure to purge some of its senior ranks since allegations emerged in late January that Steve Wynn had sexually harassed employees for decades. Wynn has denied the allegations.
The allegations prompted the Massachusetts Gaming Commission and Nevada Gaming Control Board to launch investigations in January that are ongoing.
Steve Wynn stepped down as company CEO and chairman in February. Four other directors have since left the board.
The allegations of sexual harassment emerged as Steve Wynn was entangled in a bitter six-year legal fight with ex-wife Elaine Wynn that eventually ensnared Sinatra.
Elaine Wynn told a court in March she informed Sinatra in 2009 that Steve Wynn had settled a sexual harassment lawsuit with a female employee in 2005. Elaine Wynn said Sinatra, after consulting with lawyers, informed her that the settlement was not an issue of concern for the company.
Sinatra later issued a news release stating that Elaine Wynn only "made an oblique reference to a settlement" during their 2009 conversation.
Image overhaul
As general counsel and corporate secretary, Sinatra may have breached her fiduciary duty by not informing directors of the issue, said Jeffrey Sonnenfeld of the Yale School of Management.
"She was obligated to share with the full board and outside auditors the allegations over Steve Wynn's gross misconduct,'' he said.
The advent of the #MeToo movement has changed the way people view such actions today compared with just a few years ago, said Rebecca Gill, the director of Women's Research Institute of Nevada at UNLV.
Keeping quiet about the settlement may not have been "nearly as big of a deal" in 2009.
Sinatra's departure comes before the Massachusetts Gaming Commission announces the results of its investigation into the company. Its report is due this summer, though a date has not been set.
Wynn Resorts, which is expected to open its $2.4 billion Boston-area casino next June, could potentially lose its Massachusetts gaming license. Elaine Driscoll, a spokeswoman for the commission, declined to comment on Sinatra's departure.
"Kim Sinatra is a brilliant executive with entrepreneurial triumphs from Macau to Massachusetts," but her "removal is critical to that image overhaul before regulators, investors and customers," Sonnenfeld said.
Sinatra also has an adversarial relationship with Elaine Wynn, now the company's largest shareholder with more than 8 percent.
"Elaine Wynn has repeatedly used the broad protection of the litigation privilege to unjustly smear my reputation," Sinatra said in a news release in March. A spokeswoman for Elaine Wynn declined to comment on Sinatra's exit.
David Katz, a gaming analyst for Jefferies in New York, said more executive changes could be forthcoming at Wynn Resorts.
"There is pressure on all of them because of the way things unfolded," said Katz. "I don't think anyone will be surprised if we see more changes on the board and among executives in the interest of alleviating that pressure from regulators and activist shareholders."
Letter to Steve Wynn
Sinatra moved from the East Coast to Las Vegas in 2002 to work for Park Place Entertainment Corp, which was later renamed Caesars Entertainment Corp.
She left the company in 2003 following a change in management and reached out to Steve Wynn.
The casino mogul was in the midst of building Wynn Las Vegas, and Sinatra inquired to see if he needed legal counsel, according to a 2013 Massachusetts Gaming Commission suitability study.
Wynn hired her as an outside consultant in summer 2003 before offering her a top-level position in 2004.
Sinatra worked closely with Steve Wynn and Matt Maddox over the years to study expansion opportunities in the U.S. and abroad.
"We work as partners, but [Maddox] is the finance guy and I am the lawyer," she told Massachusetts Gaming Commission officials in July 2013, according to a transcript. "He finds the opportunities and I am in charge of helping bring them to a conclusion."
A 2013 background check by the Massachusetts Gaming Commission described Sinatra as an "incredibly smart and loyal person."
The Review-Journal is owned by the family of Las Vegas Sands Corp. Chairman and CEO Sheldon Adelson.
Contact Todd Prince at 702-383-0386 or tprince@reviewjournal.com. Follow @toddprincetv on Twitter.
New York to Vegas
Kim Sinatra grew up in Jamestown, New York, a manufacturing town located roughly 100 miles south of Niagara Falls.
Sinatra enrolled in Wellesley College, a private women's liberal arts school located near Boston, graduating in 1982 with a degree in economics. She jumped right into the University of Chicago's law school, receiving her degree in 1985.
She landed a job in New York at the law firm of Gibson, Dunn and Crutcher in 1987 and focused on the gaming industry. One of her first major cases was Merv Griffin's battle with Donald Trump over casino assets.
Sinatra later joined Merv Griffin's holding company The Griffin Group. She left in April 2001 to help former colleague Tom Gallagher, who was hired as CEO of Park Place Entertainment Corp.
Gallagher eventually enticed Sinatra to move in 2002 to Las Vegas, where she has lived since.