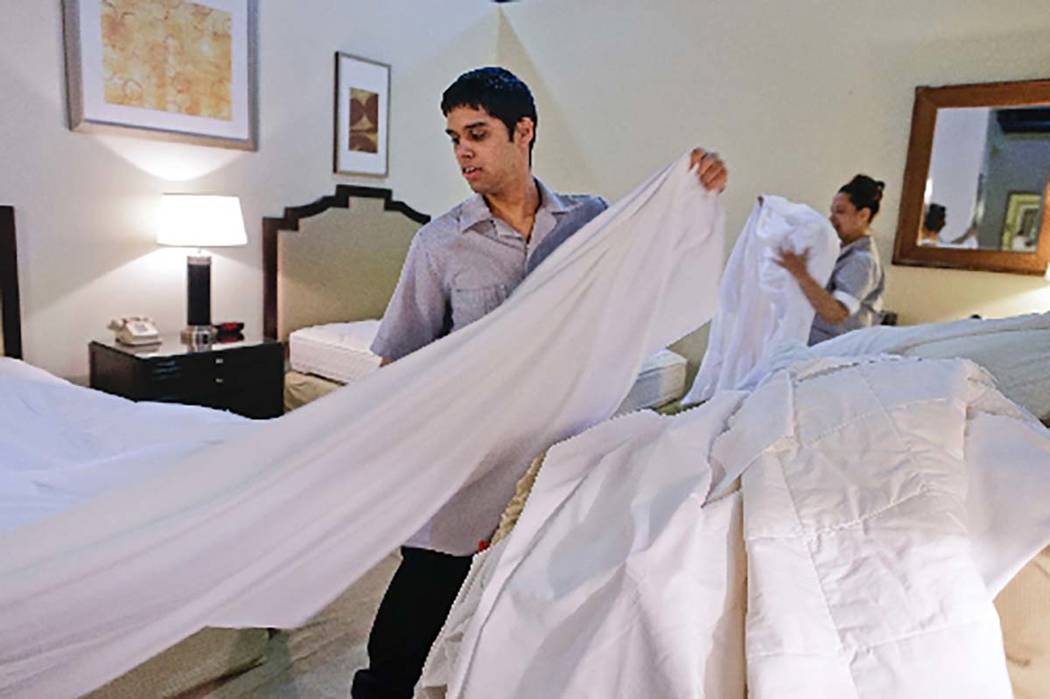 The Culinary union will ask Las Vegas casinos and hotels to supply guest room attendants with panic buttons amid national attention to the issue of workplace sexual harassment.
The proposal is part of the union's demands as it readies for talks for 50,000 of its 57,000 employees on a five-year contract with casinos next month, said Bethany Khan, a spokeswoman for Culinary Local 226. The demands also include wage increases and the protection of benefits.
Panic buttons would allow guest room attendants to notify security if they are in an uncomfortable or threatening situation.
Investigative reports published last year accusing film producer Harvey Weinstein of sexual harassment emboldened women to come forth with their own stories. In a few weeks a nationwide movement has taken down many prominent businessmen, government officials and journalists.
The movement, sometimes referenced by its social media hashtag "MeToo," has forced companies and organizations to rethink how they handle and prevent sexual misconduct. Khan said the panic buttons are in the best interest of companies to protect their employees.
"We are working with our union partners to develop pilot programs that explore how technology can enhance employee safety," Caesars Entertainment Corp. spokeswoman Jennifer Forkish said in statement.
The union will be renegotiating contracts with Caesars, MGM Resorts International and several downtown casinos starting in mid February.
"We are working in conjunction with the Culinary union to equip the housekeeping staff at all our Las Vegas resorts with panic buttons in the coming months," MGM said in a statement.
Union workers currently earn an average wage of $23 per hour, including benefits. The current contract was reached at a time when casinos were recovering from the financial crisis, Khan said. The companies are in a different position today, she added.
The casinos and the union will have until May 31 to reach a deal or face a strike.
Contact Todd Prince at tprince@reviewjournal.com or 702-383-0386. Follow @toddprincetv on Twitter.