Las Vegas Sands reports tourism rebound underway in Macao
Updated January 25, 2023 - 6:14 pm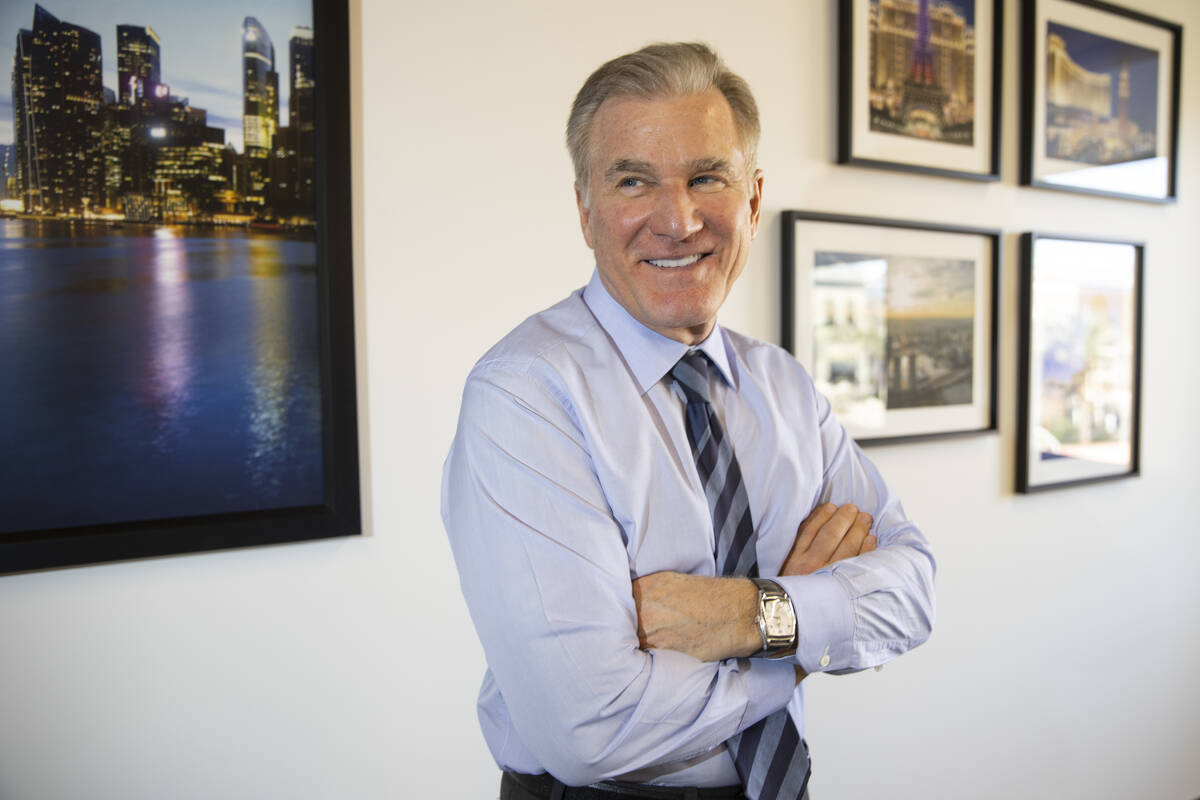 Las Vegas Sands Corp. Chairman and CEO Rob Goldstein said Wednesday that business is returning to Macao, the Asian gaming hub battered for years by the pandemic and China's zero-COVID policies and travel restrictions.
Goldstein added that its Marina Bay Sands resort in Singapore just hit an all-time property record for mass gaming revenue.
"If you're looking for a negative comment on the Macao market, you're on the wrong earnings call," Goldstein quipped.
Goldstein told investors the company was "deeply enthusiastic about the opportunity to welcome more guests back to our properties throughout 2023 and in the years ahead.
"While travel restrictions and reduced visitation continued to impact our financial performance during the [fourth] quarter, we remain confident in a robust recovery in travel and tourism spending across our markets," Goldstein said.
Sands reported a net loss for the fourth quarter of 2022, resulting from travel restrictions and reduced visitation to the Chinese enclave.
Eased travel restrictions and the start of Lunar New Year celebrations on Sunday have been a boost for Macao, where Sands is the market leader.
For the fourth quarter ended Dec. 31, Sands reported a loss of $274 million, 22 cents a share, on revenue of $1.1 billion. That compares with a loss of $197 million, 19 cents a share, on revenue of $1 billion in the same period a year earlier.
New York proposal
Goldstein also told investors the company is anxious to participate in the process to develop a resort in upstate New York through the New York Gaming Facility Board.
The first phase of that process ends Feb. 3 with the board responding to questions from prospective investors. A second round of questions is expected to begin a month after the first questions are answered.
"New York is an extraordinary and unique opportunity," Goldstein said in the call. "The winning bidder or bidders will have an amazing opportunity because of the very simple dynamic of a huge market with limited capacity with only two casinos there. It's probably the only place in the U.S. where you'd have millions and millions of people and yet there probably will be just a handful of casinos total. The win per unit there will be exceptional. The lucky winners will do very, very well. The evidence of the market is clear by just looking at the three operating properties."
Those properties, which operate as racinos at existing horse racing tracks, have slot machines only, yet generate $2 billion revenue annually.
Sands indicated earlier this month it would develop an integrated resort at the Nassau Veterans Memorial Coliseum site on Long Island.
Goldstein said Sands would go "all in" on providing a resort with a casino, spa, at least 400,000 square feet of convention space, restaurants, a new theater and "huge entertainment features, a transformational product which will positively impact the community in tourism."
"We're trying very hard," he said. "We've been trying to do New York for a number of years. It looks like this is someone's opportunity. Hopefully it's ours."
Thailand a possibility
Asked by gaming analysts about other resort opportunities in Asia, Goldstein replied that the company has interest in developing in Thailand, but it no longer has interest in Japan or South Korea.
For now, Macao and Singapore are the focus.
Sands has indicated under its new 10-year gaming concession agreement in Macao, which began Jan. 1, that it would invest $3.9 billion through 2032, mostly in nongaming tourism amenities.
It plans to add nearly 200,000 square feet of convention space to the existing Cotai Expo Center. It will redevelop the existing Le Jardin "tropical garden," with more than 500,000 square feet of green space with a conservatory on the south side of its Londoner property.
The expansion of entertainment, sporting events and other offerings will support an upgrade of the Cotai Arena, coupled with new restaurants and culinary concepts to attract international tourism.
In a recent report, gaming industry analyst Joe Greff of J.P. Morgan told investors he expects Macao's gaming market to rebound in the same way Las Vegas markets have following the coronavirus pandemic.
Greff cited recovery in share prices and "upside for Las Vegas Sands, Wynn Resorts Ltd. and Melco Resorts and Entertainment," operator of the City of Dreams resort.
"While LVS/WYNN/MLCO have appreciated 55 percent, 69 percent, and 116 percent off of recent bottoms in October 2022, respectively, we still see upside, as this move is not as stark as the move in domestic gaming and lodging equities following their initial reopening related share price moves," Greff's report said.
Shares of Sands, traded on the New York Stock Exchange, closed Wednesday at $55.02, down 0.81 percent, and rose 4.51 percent to $57.50 in after hours trading.
The Review-Journal is owned by the Adelson family, including Dr. Miriam Adelson, majority shareholder of Las Vegas Sands Corp., and Las Vegas Sands President and COO Patrick Dumont.
Contact Richard N. Velotta at rvelotta@reviewjournal.com or 702-477-3893. Follow @RickVelotta on Twitter.
Las Vegas Sands Corp.
Fourth-quarter revenue and earnings for Las Vegas-based Las Vegas Sands Corp., operators of resorts in Macao and Singapore. (NYSE: LVS)
Revenue
4Q 2022: $1.117 billion
4Q 2021: $1.008 billion
Change: +10.8%
Net loss
4Q 2022: ($274 million)
4Q 2021: ($197 million)
Loss per share
4Q 2022: ($0.22)
4Q 2021: ($0.17)