Laughlin's abandoned Emerald River resort remains an eyesore
December 18, 2016 - 11:29 am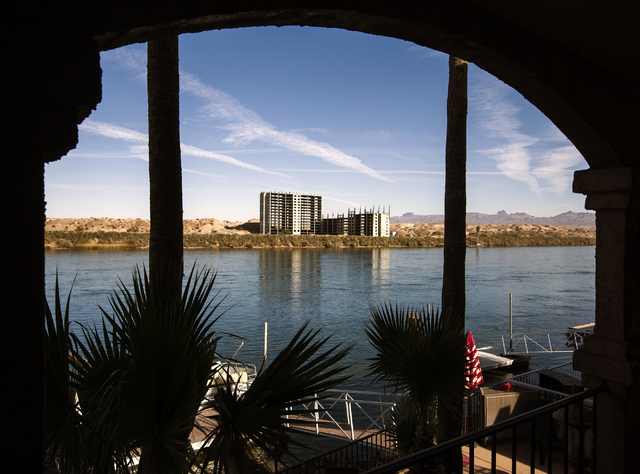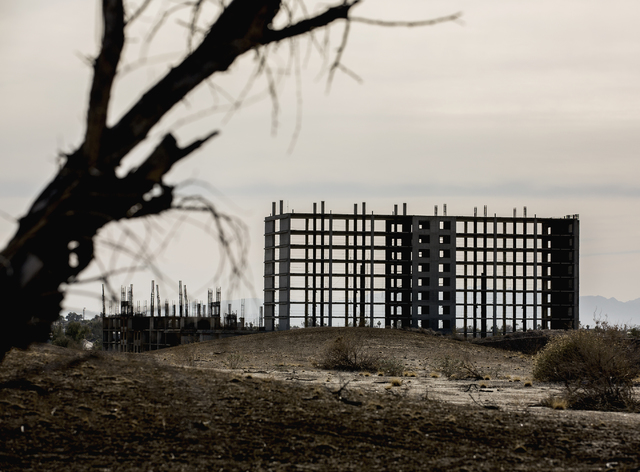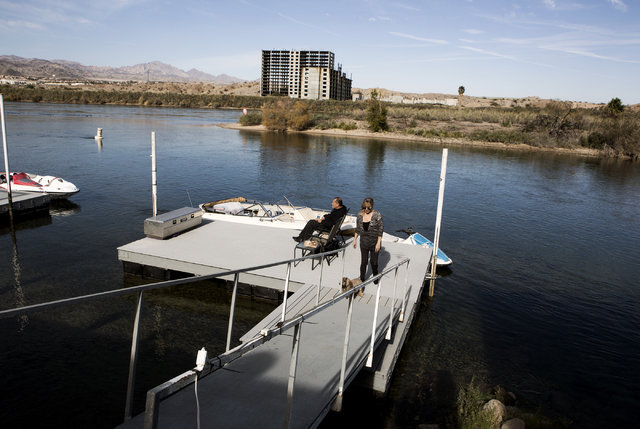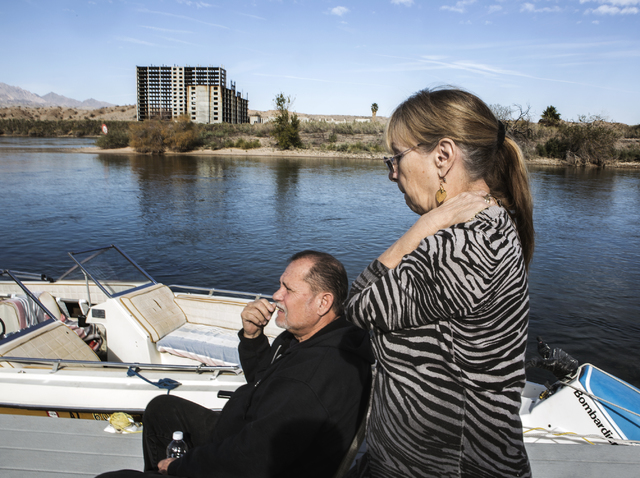 LAUGHLIN — With the Colorado River steps from her house, and with panoramic views of mountain-framed desert, Susan Martinolich can soak up a serene landscape from her back patio.
There's so much beauty outside, she says, she isn't bothered much by the abandoned, rust-streaked, concrete towers standing right across the water in Laughlin — leftovers of the failed Emerald River resort.
"It just blends into the landscape," she says.
Gaylor Cope also lives along the river in Bullhead City, Arizona, not far from Martinolich, and says residents were "absolutely ecstatic" when the waterfront resort got started in the 1980s. Now, more than 25 years after it went bust, he says people have looked at the partially built project for so long that they almost "don't notice it anymore."
"We've just learned to live with it," he says.
In Las Vegas, residents have dealt with a towering eyesore on the Strip since 2009, the unfinished Fontainebleau. But 100 miles southeast of Las Vegas, residents of Laughlin and neighboring Bullhead City have dealt with their own abandoned megaresort — also a failed relic of a past boom period — for much, much longer.
"We're all used to it," says Marie Santa-La Fond of Bullhead City, who lives right across the river from the project. "But nobody likes it being there. It's an eyesore."
THE BROKEN BUILDING
Her family even has a nickname for it, coined by her granddaughter: "the broken building."
Planned during a roaring growth spurt in Laughlin, Emerald River was supposed to be the most expensive casino-resort in Nevada for its time, with four hotels, a golf course and a 1 million-square-foot shopping mall, one report said — all told, an $800 million tab in 1988, or more than $1.6 billion today.
But the project quickly derailed, and after bankruptcies, litigation and fizzled sales efforts, the site today has little more than two unfinished, adjacent towers — shaped like an upside-down "L" — sprouting rebar, as well as a closed, dirt-covered golf course.
Nearby residents don't know who owns the property, and not everyone in Las Vegas has heard of the post-apocalyptic-looking project.
"There's a tower down there?" said Las Vegas real estate broker Michael Parks of CBRE Group's global gaming group.
Some people call it "the birdcage," Laughlin Town Manager Brian Paulson said — the 14- and 7½-story buildings are see-through, due to a lack of walls – and rumors have swirled about the property for years. People have heard the buildings are being sold, imploded, condemned, even eyed for purchase by Donald Trump.
"I don't believe any of it," says one Bullhead City resident. "Nothing's ever happened."
In many ways, Emerald River's saga is not unique to Southern Nevada's anything-goes real estate market: developers launched a supersized project, funding dried up, court cases ensued and the property sat idle.
Las Vegas, a poster child for America's real estate boom and bust, had plenty of abandoned, partially built projects after the economy crashed last decade. But several of those mothballed projects were completed in the past few years, often after investors bought them for cents on the dollar.
Like the Fontainebleau, however, Emerald River is still in limbo. Arkansas lawyer Kenneth Mourton lives part-time in Laughlin, about a mile from Emerald River, and says the abandoned resort doesn't bother him, though "it's probably an eyesore for the community."
"I think most of us just get used to it," he said. "It's been there forever."
PROUD HISTORY AS BOOM TOWN
An unincorporated town of 7,300, Laughlin has a string of casinos along the banks of the Colorado a few miles from Emerald River. Many visitors are retirees who drive here in RVs; the town's tourism industry is a fraction of the size of Las Vegas', and a new resort hasn't been built in the main corridor, Casino Drive, in more than 20 years.
The 1980s was a different story.
"To call this a boom town is an outrageous understatement," the Los Angeles Times reported in 1985.
According to the report, Laughlin had grown the past two years from 450 hotel rooms and upward of 2,000 employees to 1,600 rooms and 6,000 employees. The population was rising fast, gambling revenue was soaring and more growth was on the way.
One proposed project was bigger than the rest.
In 1988, the Reno Gazette-Journal reported that Southern Nevada developer John Midby announced plans for an $800 million resort called Emerald River. Calling it "the most expensive hotel-casino project in Nevada," the newspaper said the 400-acre project would be built in phases over the next 10 years and include 6,000 hotel rooms, a 1 million-square-foot mall and Laughlin's first golf course.
Midby, who died last year at age 73, was using so-called junk bonds, or high-interest loans, to help finance the development. But the junk-bond market collapsed around 1990, and Midby's project went bankrupt not long after he broke ground.
According to a project timeline provided by Jim Shaw, representative for the site's current ownership, the golf course opened in 1991 but construction of Emerald River's first hotel-casino tower stopped in 1990 due to the bankruptcy.
Midby Cos. CEO Eric Midby did not respond to requests for comment.
According to a 1991 report by the Arizona Republic, Emerald River lost its financing just six months into its first phase. And in summer 1991, the Los Angeles Times Magazine called the hotel tower "nothing more than a depressing shell."
DUKING IT OUT IN COURT
Former stock brokerage PaineWebber took ownership of the site in 1993, but in 2001, Las Vegas developer Nissim "Nick" Azouz acquired the property.
He had a rocky time with it.
In summer 2005, around the time the golf course closed, he reached a deal to sell the entire Emerald River site but the buyer backed out, according to Shaw's timeline.
Azouz sold a 7.6-acre portion of his waterfront holdings in 2006 for almost $4 million, property records show. He also reached a deal that year to sell about 17 acres, including the abandoned buildings, for $10.14 million. But the sale didn't close, and Azouz and the buyers tangled in court.
He then reached a deal in 2007 to sell that parcel for $10.5 million. But the buyer filed for bankruptcy protection the day before the sale's closing deadline, according to court filings.
Shaw told the Review-Journal that Azouz is no longer part of the property's ownership. He confirmed the "primary people" now are investors Jacob Tal and Yizhaq Levy, but declined to give other details on the group.
In a phone interview, Azouz said he was bought out in January and that he didn't build anything at Emerald River, adding he put "everything on hold" when the economy soured.
He also said the golf course closed because the operators' lease expired and they wanted his group to spend $5 million on upgrades before they renewed. But, he says, that "didn't make sense for us" because he wanted to build homes on the course anyway.
According to Shaw, the Emerald River buildings are "structurally sound" and have not been condemned. Paulson, the town manager, also dismissed the rumor that the site had been condemned.
As Azouz sees it, his former waterfront property is a "beautiful" site, though he doesn't expect anything to get built soon.
"The market is not there," he said.
LEARNING TO LIVE WITH THEIR NEIGHBOR
It's highly unlikely that someone today would build a project in Laughlin as big and expensive as Emerald River. The town "has not rebounded" from the recession as well as Las Vegas, Paulson says, and hotel rooms often sit empty.
Laughlin's hotel occupancy rate through October was 65 percent, compared with almost 80 percent in Mesquite and about 92 percent on the Las Vegas Strip, according to the Las Vegas Convention and Visitors Authority.
Across the river in Bullhead City, people have learned to live with the hulking, unsightly neighbor – and they're not letting it ruin their waterfront lifestyle.
Martinolich has lived on Riverfront Drive for almost 20 years. The "skeleton" across the water "kind of becomes invisible" after a while, she says, and living along the Colorado is the nicest place in town.
"Once you're on the river," she said, "you don't want to be anywhere else."
Contact Eli Segall at esegall@reviewjournal.com or 702-383-0342. Follow @eli_segall on Twitter.