Lucky Dragon project moving forward on north Strip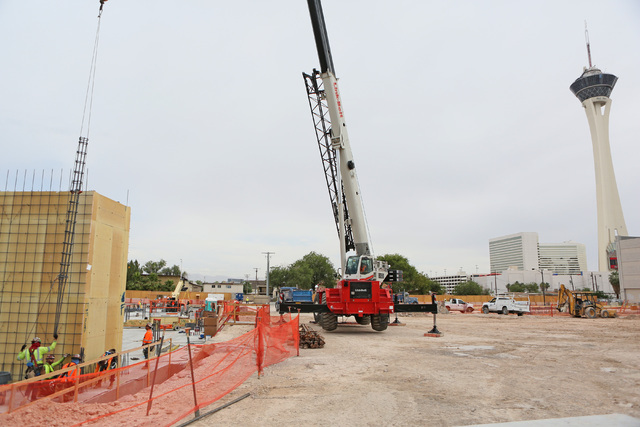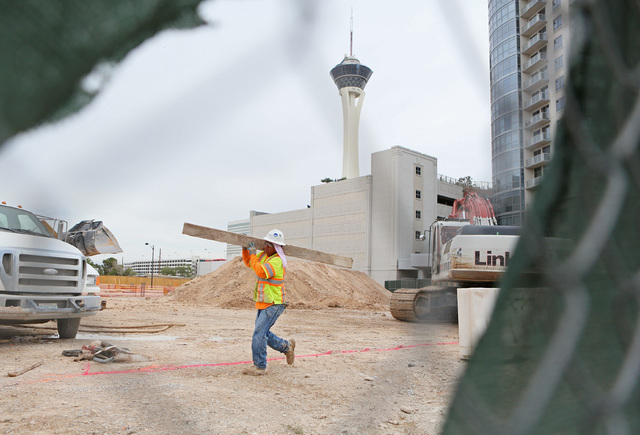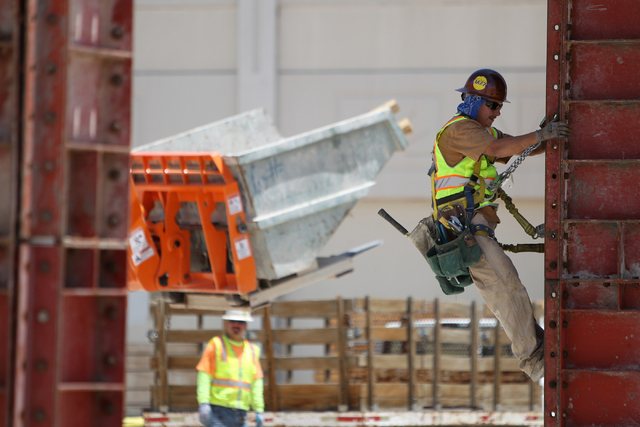 The Lucky Dragon continues to target a 2016 opening, but the resort isn't receiving tax increment financing from Las Vegas to help it get there.
Las Vegas City Council members during a redevelopment agency meeting in November rejected a request by the hotel's developers for such financing for the Asian-focused boutique casino going up at Sahara Avenue and Las Vegas Boulevard, less than a half-mile south of the Stratosphere.
Tax increment financing is a public financing method of spurring and providing incentives for developments in the form of expected future property tax revenue. The Las Vegas Redevelopment Agency grants rebates for retail, hotel and residential projects within the city's redevelopment areas to defray costs for items such as water lines, traffic signals, sidewalks and flood control improvements.
Lucky Dragon was the first casino project request for direct financing in more than 20 years, city officials said in November. For some, this particular proposal, which the City Council acting as the agency voted down 6-1, raised a broader question of whether casinos should benefit from such subsidies.
"Had we gotten approval in November in front of the council at that time, we would have been approved to discuss a framework to allow TIF financing to be accepted for all casinos throughout our city. Which, frankly, I think, would be a good thing," said David Jacoby, Lucky Dragon chief operating officer. "Other states and cities have used TIF for casino properties, and it's worked out well for them. It seems to me that we should support our largest industry here, which is casinos, with the same sort of assistance other states have been providing the gaming industry."
For instance, Rock Island, Illinois, situated along the Mississippi River, has a redevelopment agreement with Jumer's Casino and Hotel. That redevelopment plan requires Rock Island to return three-quarters of the tax increment financing revenue generated by the casino.
Developers told city officials before the vote there was a $25 million funding gap for the project, caused by the unavailability of funds through the federal EB-5 program, which aims to stimulate the U.S. economy through investments and job creation by foreign investors.
The intent behind the Lucky Dragon request was to help develop a framework that would have allowed casinos to benefit from tax increment financing in Las Vegas in general, Jacoby said.
That would have allowed the developers to work with city staff on a more specific proposal.
But the agency's decision isn't holding up the project, backed by real estate developer Andrew Fonfa and gaming executive William Weidner.
"That really had no effect on the development schedule," Jacoby said. "We didn't change around the project for it; it didn't speed up or slow down the project."
The EB-5 program grants green cards to investors if they make a minimum investment in a business resulting in the creation or preservation of at least 10 jobs for U.S. workers. The program was renewed late last year, after the vote, allowing the developers to continue to pursue those funds.
City Councilman Bob Coffin, who cast the lone vote in favor of the Lucky Dragon last year, said casinos shouldn't be precluded from tax increment financing if a particular project will benefit the neighborhood around it.
"After all, it's a legal business, it's not something you should discriminate against. … I don't see any reason to exclude a particular type of business," Coffin said.
Leading up to the vote, there was pressure by other casino owners who hadn't received city subsidies, said Coffin, who called the Lucky Dragon "a great addition in a blighted area."
New property tax revenue to the Las Vegas Redevelopment Agency declined rapidly during the recession, and Councilman Bob Beers voted against the Lucky Dragon because he didn't think the agency was in the position to promise future expected revenue to the project, he said.
Beers questioned whether the resort, which already had started construction, would meet all requirements to qualify for TIF, he said.
"Ultimately, the city decided to stick with the existing precedent, not offering TIF to casinos," Jacoby said. "And that's OK."
Jacoby declined to specify an opening date, but said the project's debut is planned for the fourth quarter of this year.
The Lucky Dragon will have table games, slot machines, five restaurants, a spa, pool and indoor/outdoor tea garden.
The project boasts 204 rooms, a 27,500-square-foot gaming area, three bar/lounges and a 1¼-ton glass dragon sculpture, which is under production. Jacoby estimated the hotel will employ just under 1,000 people.
The site was chosen in part because of access — it's steps away from the Strip and accessible from Interstate 15.
There was also recognition that "momentum is shifting" toward the northern part of the Strip, Jacoby said.
Not far from the Lucky Dragon, Malaysia-based Genting Berhad has broken ground on the $4 billion Resorts World Las Vegas, a Chinese-themed project that promises four hotel towers with 7,000 rooms, suites and villas, a 175,000-square-foot casino, an arena/conference center and a 29,350-square-foot lake that would be part of a Chinese garden, and other features, including a Panda exhibit. Its first phase is slated to open in 2019.
Contact Jamie Munks at jmunks@reviewjournal.com or 702-383-0340. Follow @JamieMunksRJ on Twitter.