Macau sends Las Vegas Sands revenue, profit down in '15
January 27, 2016 - 6:17 pm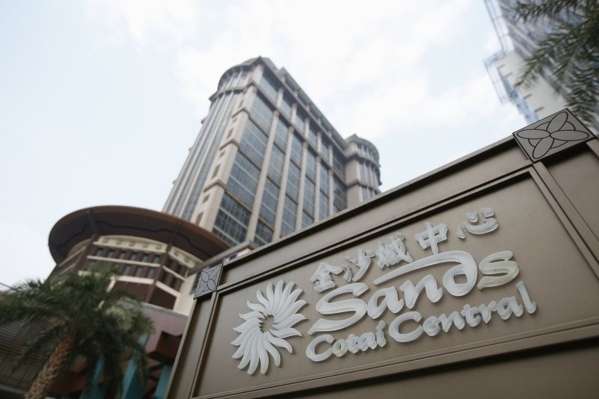 Macau's "challenging" casino market drove Las Vegas Sands Corp. to marked declines in the gaming company's profits and revenue in 2015.
The figures were not unexpected with Macau's overall gaming industry falling to a five-year low in 2015 and suffering through 19 straight months of declining gaming revenue. Las Vegas Sands operates four destination resorts in Macau and is opening the $2.7 billion Parisian later this year.
Despite the headwinds, Las Vegas Sands Chairman Sheldon Adelson remains positive on the market's turnaround.
During a conference call Wednesday with analysts to discuss the company's fourth quarter and year-end results, the 82-year-old billionaire said a focus on the "higher margin" mass-market gambling business and customer spending in nongaming areas helped shore up results.
Las Vegas Sands said its overall net income for 2015 fell 30.8 percent to $1.97 billion. Overall revenue for the year declined 19.9 percent to $11.69 billion. The company earned $2.47 per share in 2015, compared to $3.52 a share a year earlier.
The company's Macau casinos saw net revenue decrease 28.3 percent in 2015 to $6.86 billion.
Adelson pointed toward the company's overall cash flow of $1.05 billion during the year as a positive mark.
Also, he said the company would pay a 65 cents per share quarterly dividend for the fourth quarter and the company's board agreed to a 10.8 percent increase for 2016. Shareholders will be paid a 72 cents per share dividend in each quarter. Adelson controls more than 53 percent of Las Vegas Sands.
"We continued to execute our strategic objectives during the quarter, and despite the continuing challenges in the Macau market, we again delivered a strong set of financial results," Adelson said.
In the fourth quarter, which ended Dec. 31, Las Vegas Sands said its net revenue declined 16.2 percent to $2.86 billion while net income was off 35.4 percent to $465.8 million, or 59 cents per share. In Las Vegas, Las Vegas Sands grew net revenue 10.3 percent in the fourth quarter to $400.1 million.
During the conference call, Las Vegas Sands President Rob Goldstein said the company has a positive outlook toward Las Vegas, where it operates 7,000 hotel rooms between The Venetian and Palazzo resorts. He said the growth, however, will come from higher average daily room rates (ADR) and increases to revenue per available room (RevPar), a nontraditional measure that analysts use to gauge profitability.
"All those segments are performing well but it looks like 2016 will be an ADR and RevPar story, rather than a gaming story," Goldstein said.
A day before the earnings report, Union Gaming Group analyst Christopher Jones said the expectation investors have for Macau are at their lowest levels. The market's monthly revenue declines have caused stock prices for Las Vegas Sands and Wynn Resorts Ltd. to tumble.
"Chinese economic gyrations and uncertainty … provide a challenging macro backdrop," Jones said. "Investors have been unwilling to step into the names, even as shares across the group reach multi-year lows."
Las Vegas Sands plans to open the Parisian in September, but Adelson hinted the resort might have an earlier partial opening. He said the Venetian Macau annually draws 30 million visitors a year and termed the property "the greatest return on invested capital in this industry." Adelson said he expects a similar performance from the Parisian.
"I'd be surprised if the Parisian doesn't do well out the gate," Adelson said.
In the U.S., Adelson said Las Vegas Sands is watching for casino expansion opportunities in Atlanta and possibly Texas.
"Wherever there is opportunity, we look at everything," Adelson said.
Company officials said they would bid on building a hotel-casino complex in Northern New Jersey if Atlantic City casinos, which would have first crack at the possible market, turn down the opportunity.
"We're only interested if they want a real destination resort," Goldstein said.
The Review-Journal is owned by a limited liability company controlled by the Adelson family, majority owners of Las Vegas Sands.
Contact reporter Howard Stutz at hstutz@reviewjournal.com or 702-477-3871. Find @howardstutz on Twitter.