Many casino game builders still recovering from pandemic
Updated April 11, 2023 - 10:43 am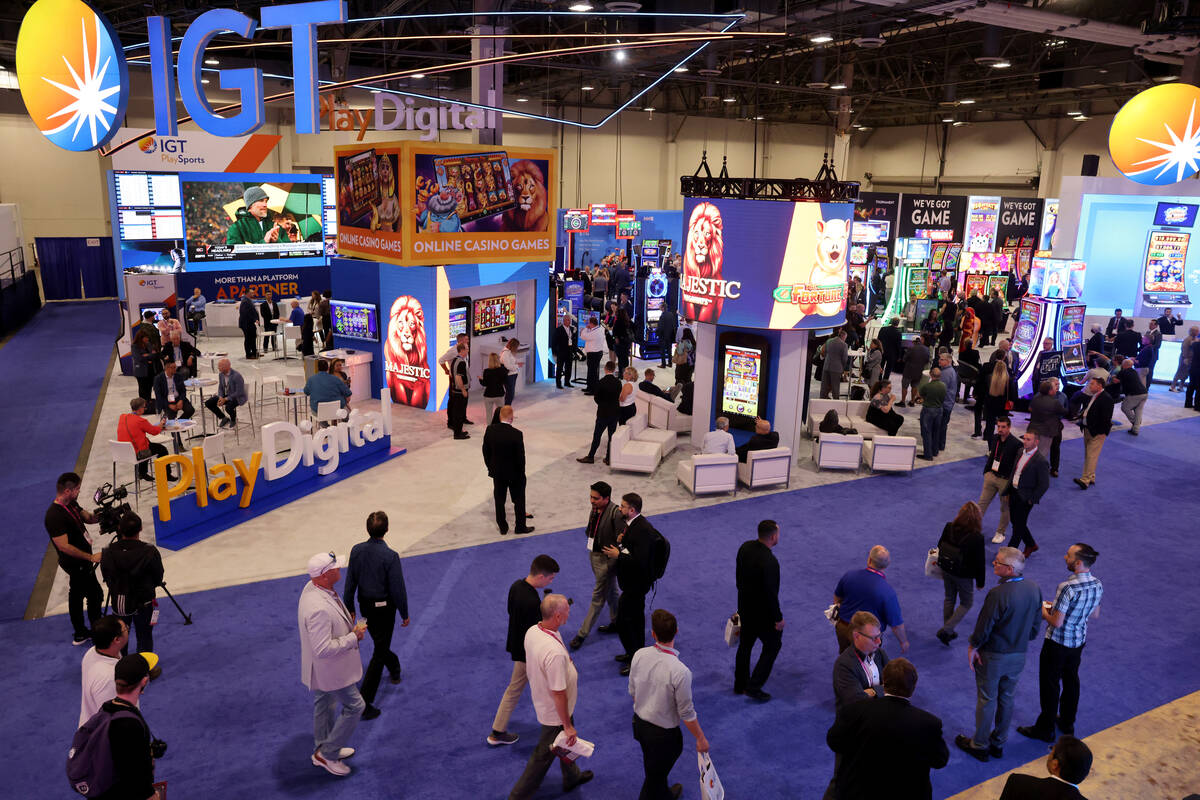 The global gaming industry's suppliers are rebounding from the effects of the pandemic, according to a new study.
The Association of Gaming Equipment Manufacturers reported last week that the economic impact of suppliers was $44.4 billion in 2021, up 14.9 percent from 2020, though the industry still falls short from several pre-pandemic figures.
The global industry had a direct economic output of $17 billion in 2021, with an additional $11.4 billion in indirect output through supplier purchases and $16.1 billion of induced economic output from employee spending, according to the report. The global industry also paid $8 billion in direct wages to the 68,000 jobs at gaming suppliers.
In its first impact analysis since the COVID-19 pandemic, the AGEM found companies with Nevada operations generated $8.3 billion in direct global economic output, an estimated 24 percent increase over 2020 but a nearly 28 percent decrease from 2019, when the global economic input from Nevada-related companies was $11.5 billion.
Companies with operations in Nevada paid about $2.8 billion in wages in 2021, an increase of 15.6 percent compared to 2020, according to the report. Supplier-related employment reached 23,648 in 2021 — an 8.4 percent year-over-year increase and a decline of 18.3 percent since 2019.
The report, by Nevada-based research firm Applied Analysis, also included an economic sentiment survey of its 150 members, which include Aristocrat Technologies, Novomatic Group, Light &Wonder and Aruze Gaming America. The survey was taken between October and December 2022.
Nine out of 10 respondents said they felt an impact in the business from COVID-19, but half of respondents said they were partially recovered from COVID-19 with 46.2 percent saying they were fully recovered.
Two-thirds of respondents said they expected economic conditions to worsen slightly or significantly over the next 12 months. But they remained bullish about their products — 46.4 percent said they expect demand to improve in the next year while another 46.4 percent said they expect demand to stay the same.
The survey results are in line with some of the largest companies' public comments. London-based slot manufacturer IGT said in its fourth-quarter earnings report that its 2022 revenue of $4.2 billion was up 3 percent. IGT CEO Vince Sadusky said the company entered 2023 "from a position of strength with good momentum across business segments," according to the report.
Tom Jingoli, executive vice president and chief operating officer at Konami Gaming, said the growth of its workforce and revenue in 2021 was significant compared with 2020, but historically lower than the years before the pandemic. In 2022, the company saw growth through new gaming sectors.
"Similarly, the start of 2023 has been strong, despite economic challenges such as increasing costs and competitive hiring and recruitment," Jingoli, an officer and secretary at AGEM, said in a statement to the Review-Journal. "Whatever the economic environment, Konami Gaming is committed to investment in new technology and the Nevada workforce that helps innovate the future of gaming."
Aristocrat said it had a successful recovery from the pandemic in 2021, citing a strong performance in North American gaming and its "robust growth strategy."
"While we continue to monitor the macroeconomic environment and consumer trends, our major customers' capital commitments remain supportive, and we feel confident in the strength and resiliency of our gaming business," Aristocrat Gaming CEO Hector Fernandez said in a statement to the Review-Journal.
McKenna Ross is a corps member with Report for America, a national service program that places journalists into local newsrooms. Contact her at mross@reviewjournal.com. Follow @mckenna_ross_ on Twitter.