MGM dreams of luxury shopping in wake of Harmon 'nightmare'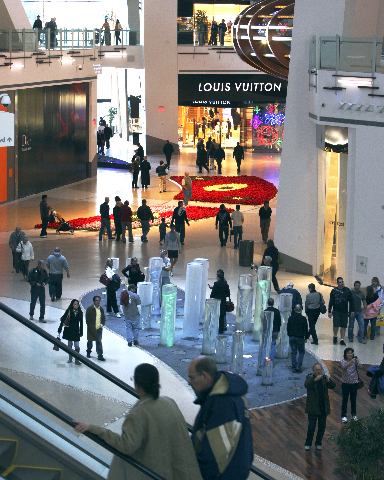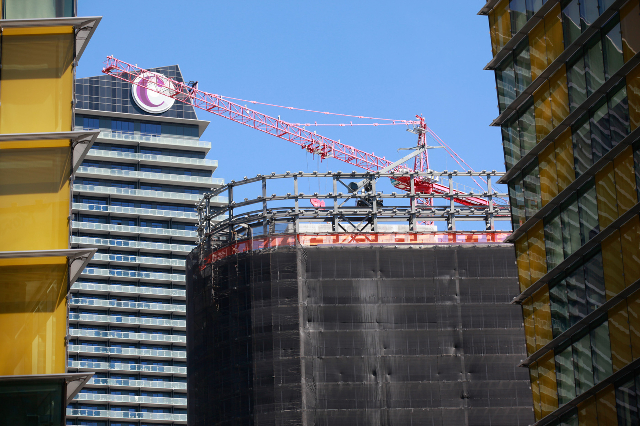 So what does a company do with a 2.5-acre hole-in-the-ground on the Strip after years of an expensive and contentious construction defect lawsuit?
Answer: It won't be another high-rise building.
The never-finished Harmon, plagued by structural problems and the subject of a now-concluded massive legal fight over responsibility for construction defects, has been torn down. Filling the resulting gap in the CityCenter complex may mean more acres of high-end retail space with expansion of the adjoining Crystals mall and its luxury shops.
During MGM's second-quarter earnings conference call this week, Chairman Jim Murren was asked about the company's various joint ventures. MGM owns CityCenter in partnership with Dubai World, the investment arm of the Persian Gulf emirate.
"(CityCenter CEO) Bobby Baldwin has finished deconstructing the nightmare that was the Harmon," Murren said. "That allows us to spend really constructive time to develop ideas of what would maximize that two-plus acres parcel run on the corner of the Strip."
Murren said an expansion of Crystals "is the overarching use of that property, and there could be others. We are having that discussion at the CityCenter board level."
MGM and its CityCenter partners are seeking ways to generate more cash from the various components of the 67-acre development. In addition to Crystals, CityCenter includes the centerpiece Aria hotel-casino, the non-gaming Vdara Hotel, the non-gaming Mandarin Oriental and the all-residential Veer Towers.
More than a year ago MGM considered selling Crystals, but on Tuesday Murren called Crystals "an extraordinary, valuable asset."
The 500,000-square-foot retail, dining and entertainment district has 40 luxury shops. In the quarter that ended June 30, Crystals accounted for $5 million of CityCenter's $22.2 million operating income. Crystals had $17.5 million in net revenue during the quarter.
"We believe that not only it's more valuable today than it was even last quarter, but we believe with the growth plan it would be more valuable still going forward," Murren said.
Wells Fargo Securities gaming analyst Cameron McKnight told investors that Crystals could fetch $1 billion or more if it were sold. McKnight, however, thought a sale was unlikely.
"MGM also likes the direct access the mall provides into Aria," McKnight said in a research report.
Macquarie Securities gaming analyst Chad Beynon told investors MGM has several options on the table as the company considers aspects of an initiative to grow annual cash flow by $300 million. Spinning off pieces of the company into a real estate investment trust is under consideration.
"We believe monetization at Crystals is the closest to fruition," Beynon said.
Before the December settlement of the construction defect lawsuit with CityCenter general contractor Tudor Perini, MGM received permission from a judge to tear down the Harmon. The building was being built as a 47-story hotel and condominium development when building inspectors found defects in the tower's steel reinforcement. Construction was halted in 2008 at 26 floors, and only the glass shell completed, given the structure the appearance of a finished building.
For years the nice-looking but uninhabited structure was used only as a billboard advertising CityCenter attractions.
Rather than imploding the structure, the building was brought down piece-by-piece, leaving a void in a one-of-a-kind business district that abhors a void.
Contact reporter Howard Stutz at hstutz@reviewjournal.com or 702-477-3871. Follow @howardstutz on Twitter.