MGM Resorts doubles down on commitment to art in Las Vegas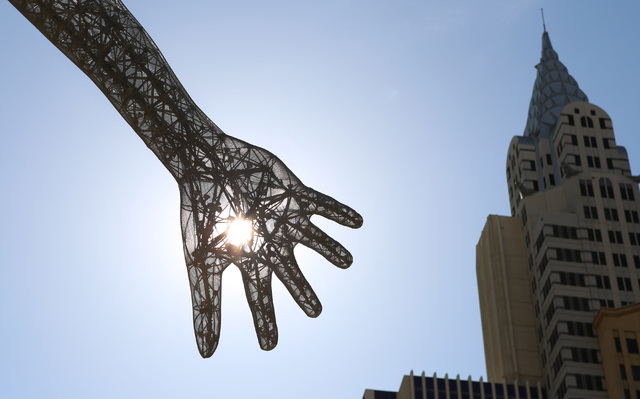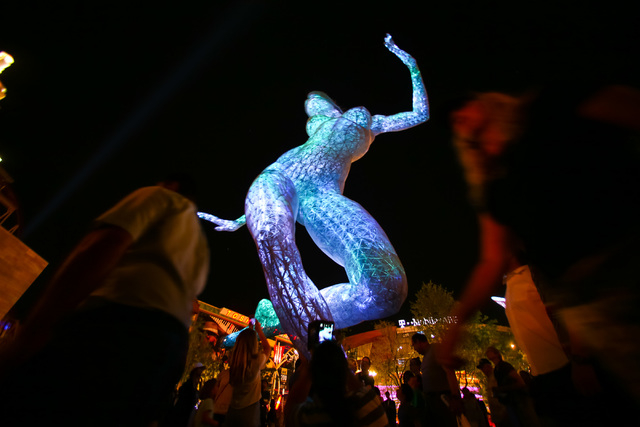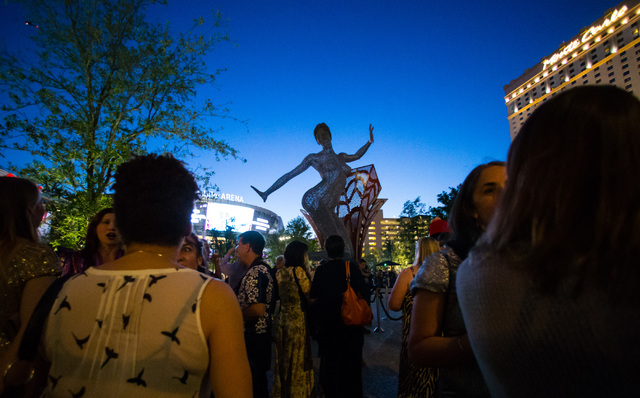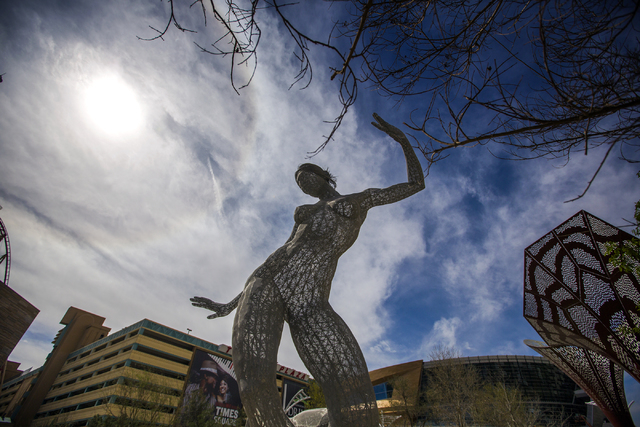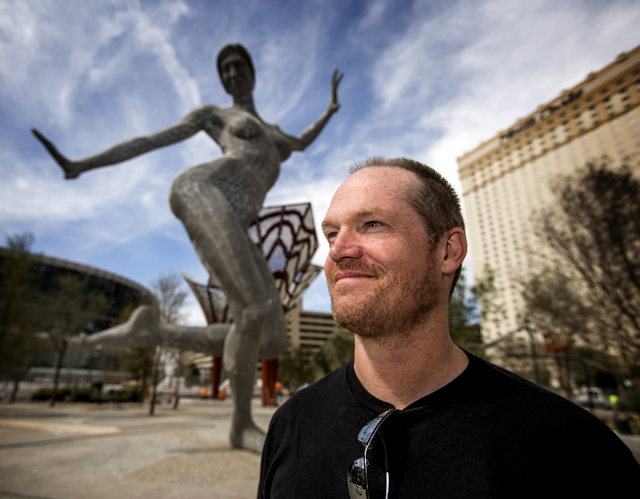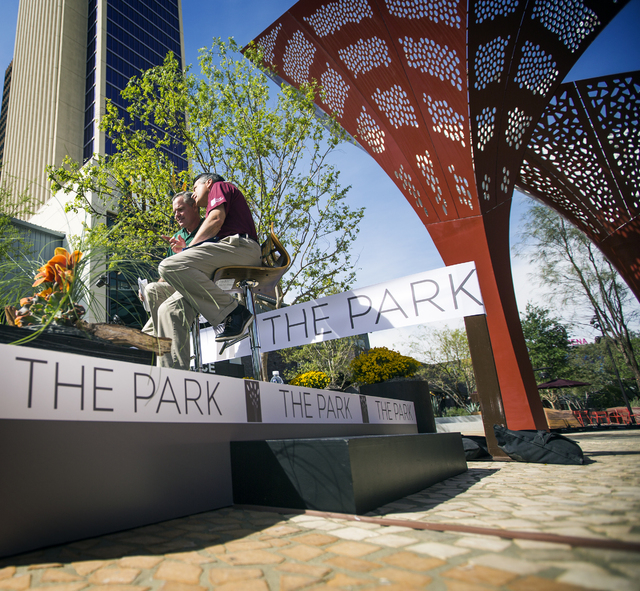 The magic behind Las Vegas and getting visitors to return again and again is creating experiences with gaming, entertainment, shopping, and dining.
For MGM Resorts International Chairman and CEO Jim Murren, include public art as one of those experiences that can create magical moments that people won't forget.
That's the expectation behind "Bliss Dance," a 40-foot-tall sculpture of a dancing woman in MGM's The Park, the new dining and entertainment district that links New York-New York and Monte Carlo resorts and T-Mobile Arena.
The creation of artist Marco Cochrane, the sculpture weighs more than 7,500 pounds and is illuminated at night by 3,000 colored LED lights.
The piece cost MGM Resorts more than $2 million and is part of an overall art collection valued at more than $200 million spread out among its properties. No other gaming company has made such an extensive commitment to art.
That art strategy has worked, according to Murren. "Bliss Dance" has gotten a lot of attention on social media, and visitors to the property are making it a location to meet, he said.
"It's absolutely an asset we have that's attracting more customers to our resorts, and that's getting us more corporate business and creating more local awareness," Murren said. "It dates back to the philosophy that we all have here in Las Vegas — that it's our duty to create experiences, to create provocative new ideas and to create moments for visitors so that they come back again and again."
Murren, an art history major in college who studied art in Europe and was inspired to paint by his artist mother, said a view emerged in the hospitality industry about 20 years ago that art "should be in the conversation" when talking about the overall aesthetic experience of hospitality. It's a concept he said he's fully embraced.
"The founding fathers and mothers of this town always had, even if it was whimsical, an interest in the arts," said Murren. "We're just elevating it and amplifying it to a way that has attracted an increasingly a discerning global customer."
When the Bellagio opened in 1998 under Steve Wynn and before it became an MGM property in 2000, it featured a Gallery of Fine Art. The Mansion at MGM that opened in 1999 has an eclectic art collection from 14th century manuscripts, tapestries and contemporary artists, but that's seen only by invited guests, Murren said.
The push for art on a public scale started in 2004 and 2005 when Murren said he pitched the idea of CityCenter to the board of directors. CityCenter was designed with art and fine architecture in mind, he said.
"Even during the dark days of 2008 and 2009 (with the recession) we continued to emphasize the role of art in public spaces," Murren said.
CityCenter's is considered the first major permanent collection of art in Las Vegas integrated into a public space and one of the world's largest and most ambitious corporate art collections. That includes works by acclaimed artists sand sculptors such as Maya Lin, who created the Vietnam Veterans Memorial in Washington, D.C. Lin's "Silver River" sculptor inspired by the Colorado River is suspended above Aria's registration desk.
CityCenter's collection has included works from Jenny Holzer, Nancy Rubins, Claes Oldenburg, Coosje van Bruggen, Frank Stella, Henry Moore, Richard Long and James Turrell.
The art collection at CityCenter has doubled or in some cases tripled in value since it opened in late 2009, Murren said. Some of the most extraordinary works by renowned artists have increased as much as four to five times what it was acquired for or commissioned. A sculpture by English artist Henry Moore in the park between Aria and The Shops at Crystals is probably worth eight figures, he added.
Overall, Murren said MGM has at least 15 pieces of art worth more than $1 million. The Picasso restaurant at the Bellagio has more than $30 million in art alone, he said. It includes a collection of original Picasso paintings, silkscreens, tapestries, pottery and ceramics.
Much of the Las Vegas artwork has focused on sculptures and large format paintings where the maximum amount of people can enjoy them. When the company opens MGM National Harbor in Maryland later this year, the art will focus on collection of historic importance to the Mid-Atlantic region, Murren said.
Art not only has to make sense for the space it fills but also fit the company's core values in terms of diversity and inclusion, which are valued by corporate guests and other visitors when they book rooms, Murren said. "Bliss Dance," one of his favorites along with Lin's sculpture, would be an example of that value and importance of empowering women and creating safe environments for all people, he said, adding it's beautiful, fun and uplifting.
"I believe that art is an essential element of quality of life," Murren said. "I believe that all people regardless of their level of interest, education in the arts or even inclination has a visceral positive experience when they are enriched visually. That visual experience could be a desert park that we built between New York-New York and Monte Carlo or it could be a statue or oil painting.. It's a great feeling that our customers are seeking out these selfie moments and one-of-a kind experiences not on the traditional type of itinerary."
Murren said he would like to commission art by James Turrell, who he calls the greatest living American artist whose work deals with light and space, for placement on the Strip. He would like it to mix ambient light with artificial light to create a three-dimensional image of the stars and sky.
"If I accomplished this over the next several years, I would be over the moon," Murren said. "People are very spontaneous and experimental and searching social channels to find the next great fun or pop-up moment. It's our responsibility to answer that call. Art really works. Art is a rallying point, particularly for our international customers, but also everyone that visits Las Vegas. The feedback of when we do take some chances like build The Park or install a 40-foot tall woman sculpture, the feedback has been so positive that it encourages us to do it again and again. And we will."
RELATED
Watch 'Bliss Dance' go up in The Park: VIDEO
Japanese artist unveils 'circle of life' sculpture at CityCenter: VIDEO