MGM Resorts to increase resort fees on Thursday
February 28, 2018 - 7:00 am
Updated February 28, 2018 - 6:08 pm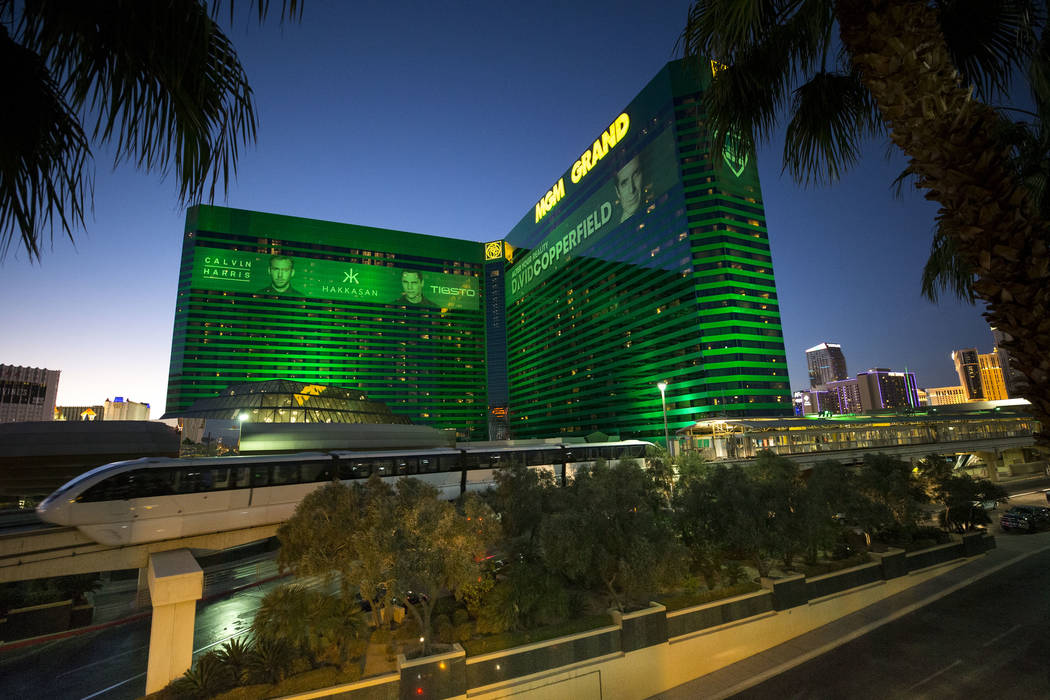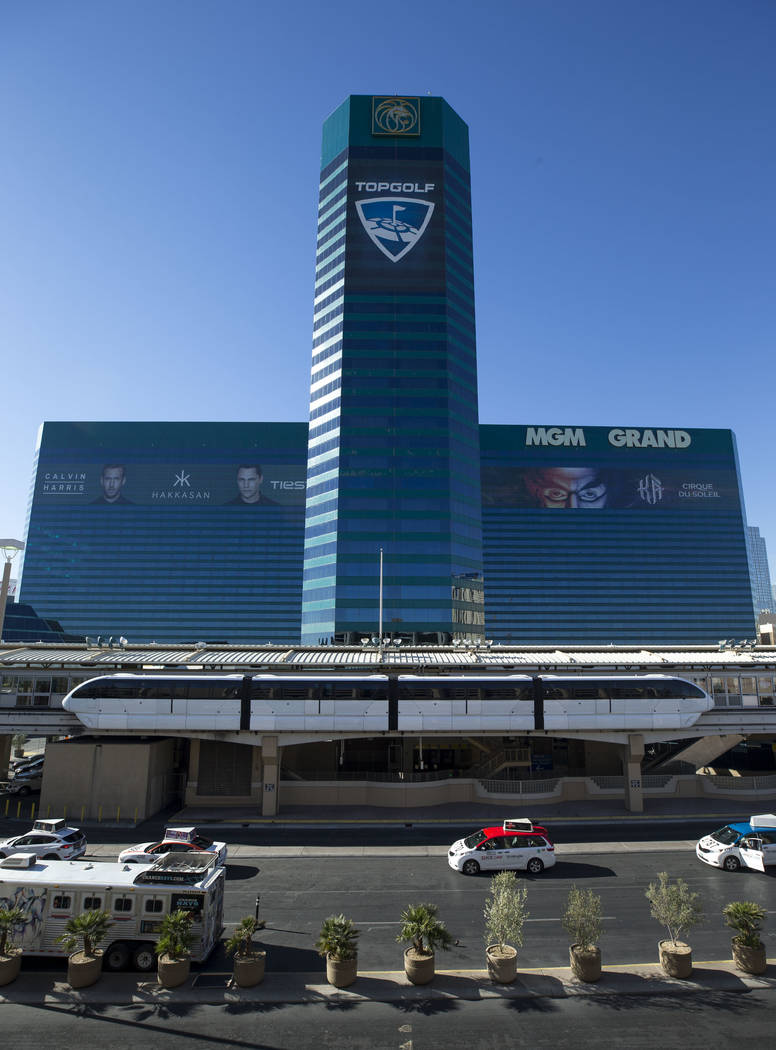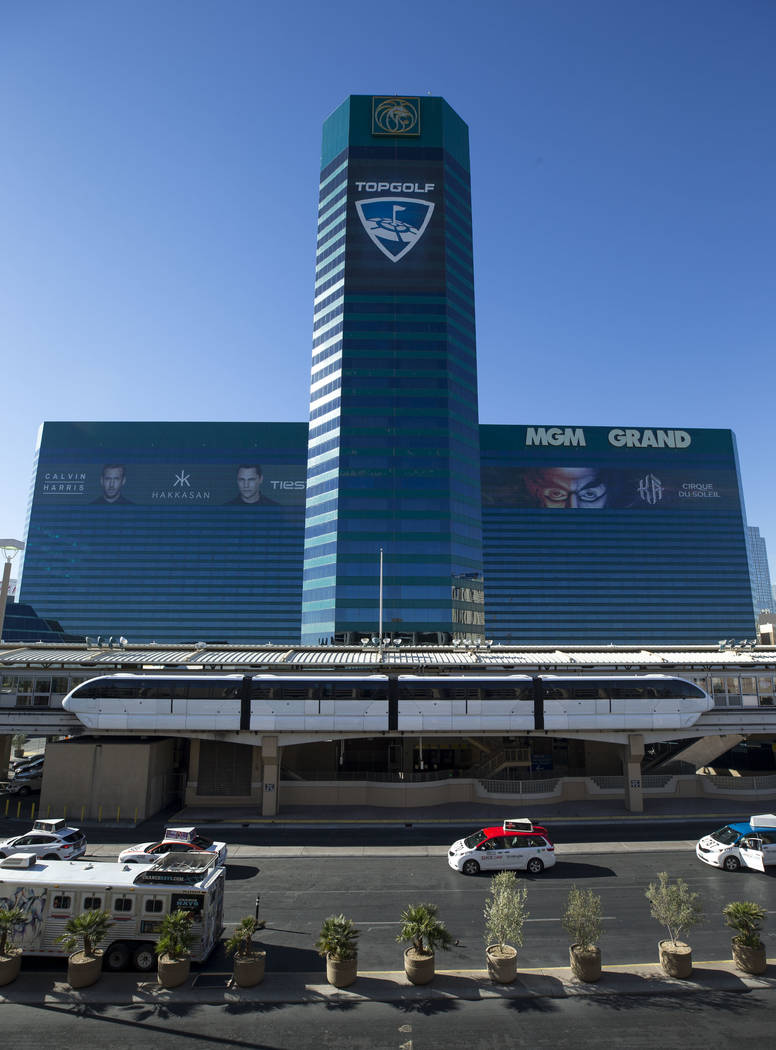 Starting Thursday, MGM Resorts International will raise resort fees at 10 of its 13 properties.
Fees will go up by $2 to $37 at seven mid-range properties, including MGM Grand, The Mirage and Mandalay Bay, and by $5 to $35 at lower-end properties Luxor and Excalibur. Fees at Circus Circus on the north end of the Strip will increase by $2 to $30.
The MGM increases nearly match those implemented by Caesars at the beginning of the month at their mid-range and lower-end Strip properties. Caesars also raised fees at their luxury properties Caesars Palace and Nobu to match MGM fees at Vdara, Bellagio and Aria. MGM did not raise fees on those three properties.
"We are lagging the market — Caesars properties have higher resort fees, which is a great change since they started with no resort fees not long ago, but welcome to the party," MGM Chief Executive Officer Jim Murren told analysts last Thursday, foreshadowing the increase. "It is helping overall pricing."
MGM and Caesars are not alone in raising fees. Station Casino properties Red Rock Resort and Green Valley Ranch Resort will increase their resort fees on Thursday by $4 to $39.
Tropicana, Stratosphere, The Cosmopolitan of Las Vegas and Hard Rock Hotel have also raised rates this year. Resort fees cover such things as high-speed Internet access, fitness center and pools. They may also include discounts to hotel shows or attractions.
The rise in resort and other fees, like parking, will help offset inevitably higher labor costs, executives said. MGM, Caesars and other Strip hotel owners started negotiations this month on a new five-year contract with Culinary Local 226. The union is demanding wage increases and better benefits.
MGM Resorts is expecting its revenue per available room in Las Vegas to rise between 2 percent and 4 percent in 2018, helped in part by the resort fee increase. The resort fee increase will have a bigger effect on revenue growth at Circus Circus, Luxor and Excalibur, the lower-end properties that MGM calls its "cores."
"The cores will also have the benefit of the resort fee increase this year, which will help the percentage increase and cores a little bit more," MGM Chief Operating Officer Corey Sanders told investors.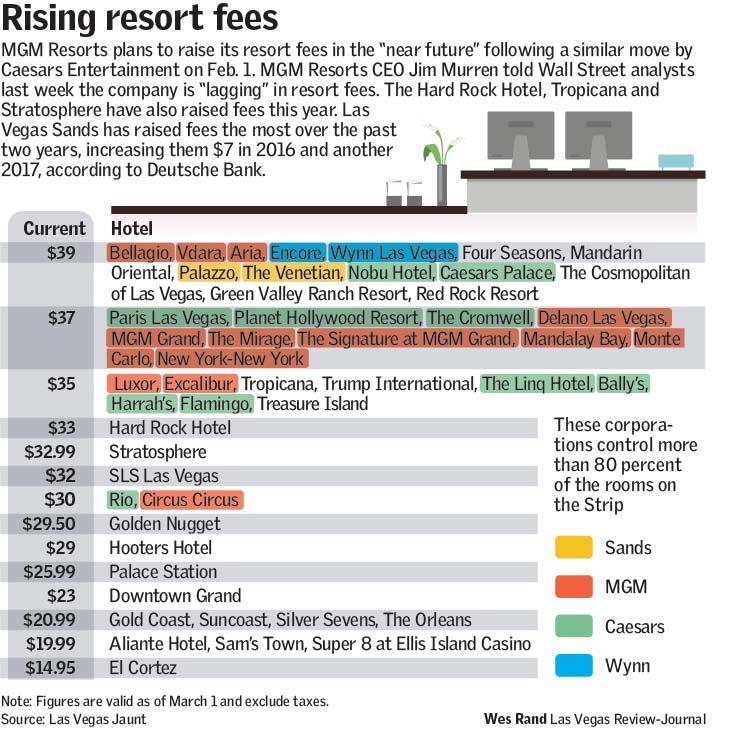 150 percent resort fees
Resort fees have generated criticism over the years for misleading consumers.
Oasis at Gold Spike and Circus Circus appeared to be the cheapest hotels in Las Vegas for Monday night at $19 and $19.80 respectively, according to the popular travel site Booking.com. Days Inn Las Vegas came in fourth at $22.
However, resort fees at Oasis and Circus Circus are $20 and $28 respectively, exceeding the price of the room and bringing the total cost with taxes to $44.07 for the downtown hotel and $54.20 for the Strip casino. Days Inn is actually a buck cheaper at $43.07.
Booking.com and other travel sites ranks hotels by their room rate price, not their total cost including fees and taxes. The final price only appears after a traveler chooses a room. Many travelers booking online have complained they were unaware of the resort fee.
Traveler's United, a Washington, D.C.-based nonprofit advocacy group, has been among those leading the fight against resort fees. The legality of imposing resort fees is currently being investigated by attorney generals in 46 states as well as the District of Columbia.
Nevada is among the four states not investigating the fees. That hasn't stopped disgruntled Las Vegas visitors from taking their case to court. A class action lawsuit relating to internet fees at several Strip properties was filed in November.
"Hotels love to use resort fees to lure people in" who are booking online, said Lauren Wolfe, counsel for Traveler's United and founder of site Kill Resort Fees.
Strong occupancy
Strip properties are currently close to 90 percent occupancy. Growing conventions and an expanding array of events such as pro hockey and football are set to drive more people to the Strip.
That gives casinos the ability to nudge fees higher year after year. Convention attendees are less sensitive to fee increases compared with recreational tourists as they can either write off their trip as a business expense or be reimbursed.
Deutsche Bank expects the growth in fees to slow in the coming years.
"We see resort fees as being somewhat constrained given demand headwinds and the already elevated level relative to posted room rates," the bank said.
Resort fees aren't the only costs going up for Las Vegas guests. MGM, the first major gaming company to charge for parking, announced in January that it would increase parking fees at 11 of its 12 properties on the Strip.
Other hotels
Sands has increased resort fees twice in the past two years, raising them $7 in both 2016 and 2017, according to Deutsche Bank. Current resort fees for The Venetian and Palazzo are $39.
Las Vegas Sands doesn't currently have plans to increase resort fees, said spokesman Keith Salwoski. The company doesn't charge for parking.
Caesars spokeswoman Jennifer Forkish declined to say whether the company would follow MGM's lead and increase parking fees this year. Caesars may unveil its plans next week during its conference call with analysts.
Wynn Resorts hasn't discussed increasing resort or parking fees this year, said spokesman Michael Weaver.
Longtime Las Vegas casino executive Dan Lee said in a recent interview that Strip consolidation has also enabled companies to push through various fees. MGM, Caesars, Wynn and Las Vegas Sands account for more than 80 percent of rooms on the Strip.
"If the Strip were more diverse, that would never have happened 20 years ago," Lee said referring to the parking fees. "If one guy said we are going to charge for parking, somebody else would say 'OK, fine, come and park at my place for free. My business will go up.' You now have an oligopoly there."
The Review-Journal is owned by the family of Las Vegas Sands Corp. Chairman and CEO Sheldon Adelson.
Contact Todd Prince at 702 383-0386 or tprince@reviewjournal.com. Follow @toddprincetv on Twitter.
Numbers, please
The weighted-average Strip resort fee has grown by 31 percent over the past two years from $26 to $34, according to Deutsche Bank. The increase accounted for about 39 percent of the yearly growth in average daily room rate in 2016 and 38 percent in 2017, according to the bank. The resort fee now accounts for a fifth of the total average daily room rate.