MGM wants to be more welcoming to A's fans, executive says
Updated August 2, 2023 - 6:51 pm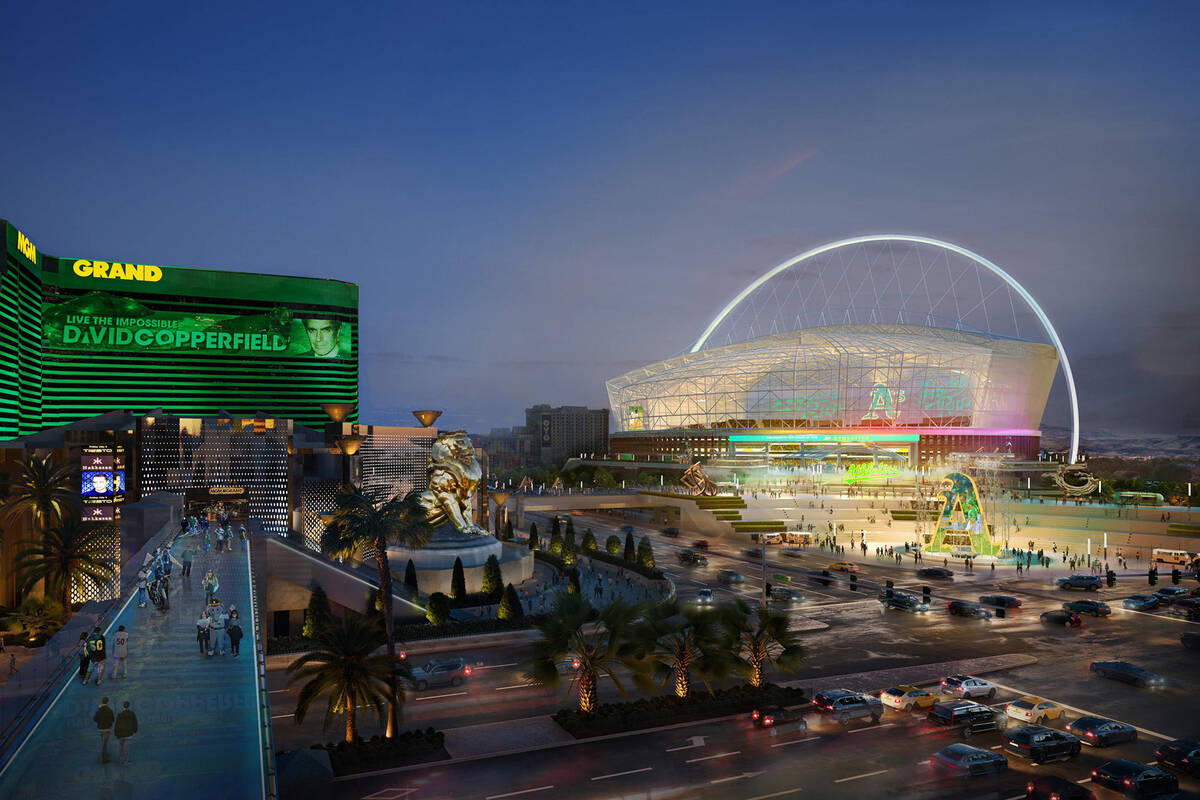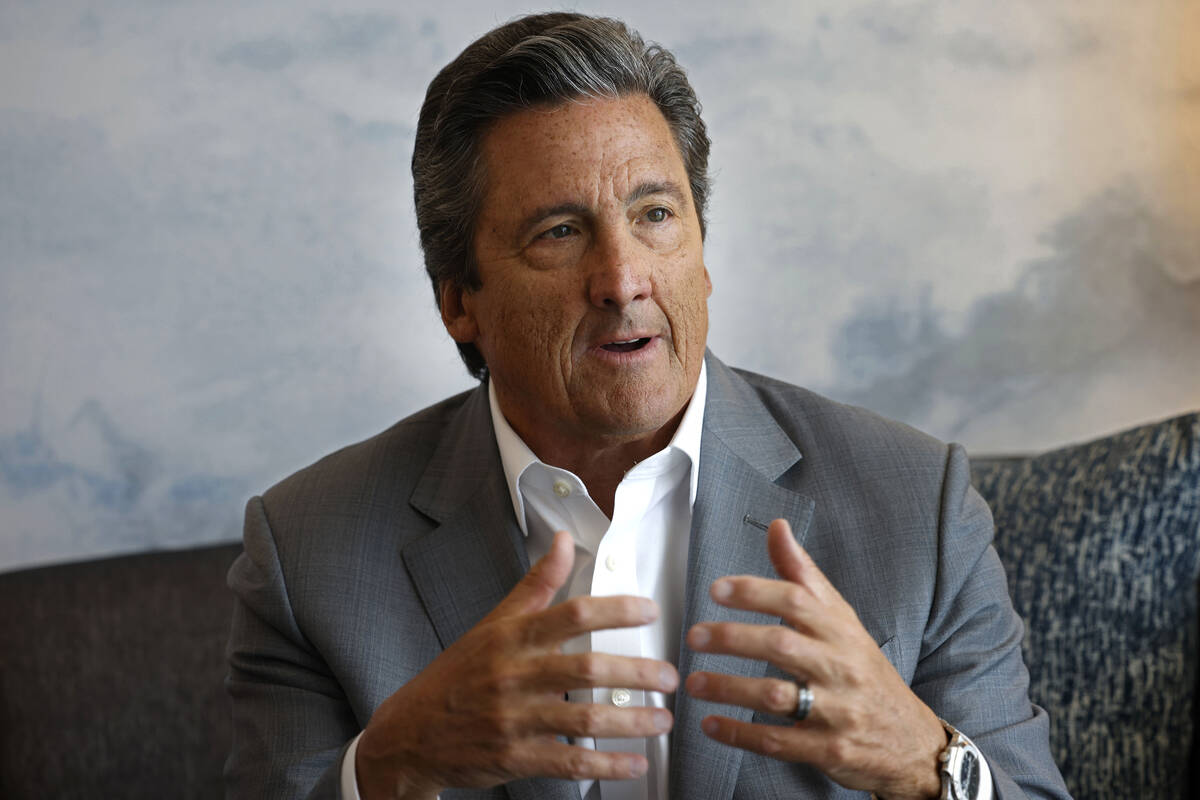 MGM Resorts International is considering modifying the entrance to the MGM Grand to be more welcoming to baseball fans when the Oakland Athletics build their planned baseball stadium across the street at the Tropicana.
Bill Hornbuckle, chairman and CEO of MGM Resorts, told investors on the company's Wednesday second-quarter earnings conference call that the company wants to build better connectivity with the A's planned stadium since MGM owns the resort properties on three corners at Tropicana Avenue and Las Vegas Boulevard.
"It's a billion-and-a-half-dollar stadium that's going to deliver hundreds of thousands of new folks," Hornbuckle said in response to a question about whether the company had anything in the works in light of recent stadium plans.
"MGM is 30 years old and needs some love anyway," he said. "We're not crazy about the way it all connects right now so we'd like to work on connectivity on that corner. We'd like to work on particularly the front end of MGM. We think, frankly, the further you get away from the elevators, the worst the property gets, not the better. And we like to think our front door could be enhanced, and I know it can. This will be a catalyst to that dialogue. Where we go and how much, time will tell. We do think there's an opportunity there."
30,000-seat stadium
The A's are considering a 30,000-seat Major League Baseball stadium on 9 acres. Bally's Corp., which operates the Tropicana, and Gaming & Leisure Properties, the real estate investment trust that owns the land beneath the resort, are considering stadium construction plans in advance of the A's seeking permission from Major League Baseball to relocate to Las Vegas.
Hornbuckle said the company wants to take advantage of MGM's proximity to playing facilities of three professional sports teams.
"Looking longer term, we're excited by the possibility of welcoming the A's to Las Vegas, literally in our front yard at the current Tropicana site," Hornbuckle said. "The A's are proposing a 30,000-seat stadium representing an additional 2.4 million seats every year during the regular season. That should drive over 400,000 new tourists and a focus on midweek business. The (Las Vegas) Raiders and the Stanley Cup champion (Vegas) Golden Knights have shown that Las Vegas is the go-to destination for away fans seeking a fun and entertaining getaway to see their favorite teams play, and we think the A's will be no different."
Hornbuckle made the remarks after describing the sports and entertainment pipeline that is expected to bring thousands of people to Southern Nevada in the next seven months.
"Looking into the third quarter, we have great programming, including Black Hat (a specialized cybersecurity conference) at Mandalay Bay, MAGIC at the (Las Vegas) Convention Center, and Beyonce at Allegiant (Stadium). Bookings are strengthening for the remainder of the year as we get closer to Formula One in November. We also got a great fall home schedule for the Raiders which will have fans flocking into Vegas from Green Bay, Pittsburgh, Kansas City and New England among other cities that all travel well," he said.
Formula One boost
"For Formula One, while still early, we already have twice the occupancy on the books at four times the average (room) rate compared to last year and with more than 70 percent of our ticket inventory already committed. A portion of these tickets will go to our gaming customers and early front money and credit data suggest that Formula One is shaping up to be an all-time record casino event for the company.
"Our pace into the first quarter of 2024 is also setting up quite well, highlighted by the Super Bowl at Allegiant Stadium in February. We're already seeing stronger rates than a typical Super Bowl weekend with exceptional early business from sponsors and media that's led to three to four times higher room rates on the books."
MGM had record second-quarter revenue and is enthused with the prospect of generating more with a new licensing agreement with Marriott International and with the Macao market rebounding dramatically. The company operates two resorts in Macao.
Record revenue
The Las Vegas resort company, the state's largest, reported a 20.7 percent increase in revenue to $3.9 billion for the quarter that ended June 30.
And, while revenue from MGM's Las Vegas Strip properties was flat for the quarter, executives are anticipating major gains in the fourth quarter and the first quarter of 2024.
One reason for the optimism is MGM's signing of a licensing agreement with Marriott International last month that will point high-spending loyal Marriott Bonvoy members toward MGM's domestic resort properties, including all Las Vegas resorts, beginning in October. Marriott had a relationship with The Cosmopolitan of Las Vegas, but the new agreement involves all domestic MGM properties.
The MGM China subsidiary that operates two resorts in Macao outperformed the rest of the market there and Hornbuckle said BetMGM, the company's sports wagering outlet, reported that it achieved its first positive cash flow quarter and remains on track to achieve its next milestone of second-half profitability.
Second-quarter net income and earnings per share were off dramatically because MGM was wrapping up its sale of land beneath its resorts from MGM Growth Properties to Vici Properties Inc. in that quarter in 2022.
MGM shares, traded on the New York Stock Exchange, were down 77 cents, 1.5 percent, Wednesday to $49.26 a share on average volume.
Contact Richard N. Velotta at rvelotta@reviewjournal.com or 702-477-3893. Follow @RickVelotta on X, formerly known as Twitter.
MGM Resorts International
Second-quarter revenue and earnings for Las Vegas-based MGM Resorts International, operators of the MGM Grand, Bellagio, The Cosmopolitan of Las Vegas, Aria and Mandalay Bay among other Strip properties. (NYSE: MGM)
Revenue
2Q 2023: $3.942 billion
2Q 2022: $3.265 billion
Change: +20.7%
Net income
2Q 2023: $243.5 million
2Q 2022: $1.784 billion
Change: -86.3%
Earnings per share
2Q 2023: $0.55
2Q 2022: $4.20
Change: -86.9%