MGM expects to attract Marriott clients in deal
Updated July 17, 2023 - 6:27 pm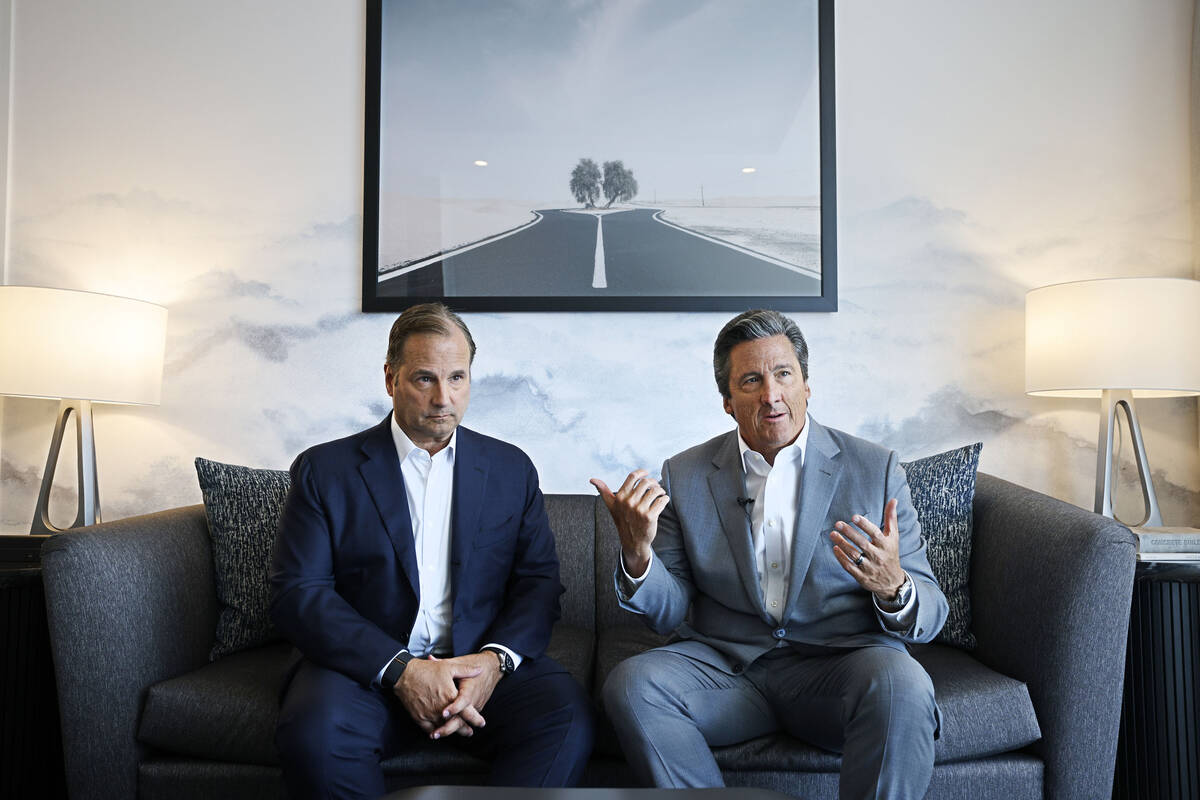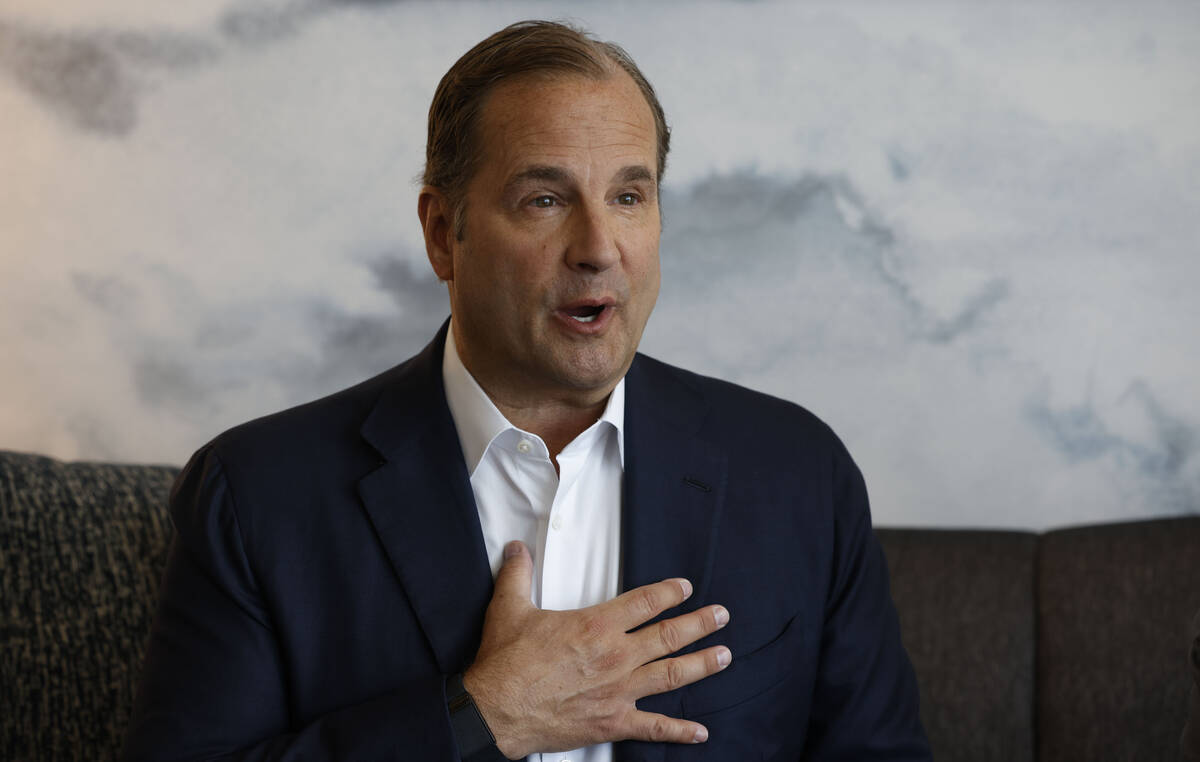 MGM Resorts International's new licensing agreement with Marriott International is expected to attract thousands of Marriott customers to MGM properties in Las Vegas and across the country and could boost MGM's revenue by luring higher-spending guests, an analyst says.
The two companies announced Monday that they have formed "MGM Collection with Marriott Bonvoy," which will launch in October and include 17 MGM resorts, representing more than 40,000 rooms in Las Vegas and other U.S. cities.
Financial terms of the deal were not disclosed, but the CEOs of both companies on Monday said they are looking forward to future opportunities the deal could present with more conventioneers and the prospect of MGM's international resorts being added to the program.
Beginning in October, several MGM Collection with Marriott Bonvoy resorts will be available for booking on Marriott's digital platforms, including Marriott.com and the Marriott Bonvoy mobile app, with all properties expected to be available by the end of the year. MGM's resorts will continue to be available on MGM Resorts' channels, including MGMRewards.com and the MGM Resorts mobile app.
"At a high level, you get access to 17 extraordinary resorts in ways you never have had before," Anthony Capuano, president and CEO of Marriott International, said of the benefits to Marriott customers in a Monday interview.
Details coming by October
"Between now and the go-active date in October, we're going to roll out all the details on how the reciprocal benefits work, the ability to transfer points between the Bonvoy platform and the MGM Rewards platform and how the pairing of accounts will work, and all those details will be made available to the respective programs in the coming weeks and months," he continued.
"What this represents for the 40 million MGM members and the 182 million Bonvoy members is access to our respective portfolios, the likes of which they've never had."
For MGM, CEO Bill Hornbuckle said in an interview Monday, the deal represents "the opportunity to get scale and velocity with a customer that is excited about Las Vegas, the high-end spending customer that likes to come here."
The company already has some experience with the opportunity because The Cosmopolitan of Las Vegas, acquired by MGM last year, was part of Marriott's "Autograph Collection."
"The good news is we didn't start from a dead stop," Capuano said. "It was May last year, MGM acquired The Cosmopolitan, which was already a member of Marriott's Autograph Collection. So we had about a year to get to know each other. I knew Bill, but we had a chance to work together directly. For Bill, as the proud new owner of The Cosmopolitan (it was a chance) to start to understand the power of the Marriott Bonvoy loyalty program, what are the power of Marriott revenue engines, this big global reservation system. At some point, Bill's question was, 'Should we talk about doing something more broadly?' That was obviously extraordinarily interesting to us."
Financial rewards
A Las Vegas-based gaming industry analyst expects the deal will reap benefits because guests affiliated with Marriott are likely to spend more than others that book through other online travel agencies.
"Previously, management indicated that Marriott Bonvoy members accounted for nearly 20 percent of room nights at The Cosmopolitan of Las Vegas," John DeCree, a gaming analyst with CBRE Equity Research said in a Monday report to investors.
"While we think this would be a lofty target for the rest of the MGM portfolio, we do see a real opportunity for MGM to replace some of its lowest tier OTA (online travel agency) and package room nights with Bonvoy customers," DeCree said. "We estimate OTA bookings comprise nearly 20 percent of MGM's total Las Vegas Strip room nights. Moreover, about half of that OTA mix is likely the lowest-tier package customers, who are booking room, car and hotel under one package. This creates an opportunity not only to reduce customer acquisition cost and yield up ADRs (average daily room rates) but also fill the resort with higher-value and more loyal repeat customers that should drive higher revenue and better margins."
The two companies also announced that MGM's sports wagering affiliate, BetMGM, and Marriott signed a loyalty marketing agreement to make Marriott Bonvoy the exclusive hospitality loyalty program partner of BetMGM.
Affiliation details
Of the 17 MGM resorts that will join MGM Collection with Marriott Bonvoy, four properties will also be affiliated with existing Marriott collection brands: Bellagio will join The Luxury Collection, Aria will join Autograph Collection, Park MGM will become part of Tribute Portfolio, and The Cosmopolitan of Las Vegas will continue its affiliation with Autograph Collection.
Eight MGM resorts in Las Vegas will join MGM Collection with Marriott Bonvoy: Vdara, MGM Grand, NoMad, The Signature at MGM Grand, Mandalay Bay, New York-New York, Luxor and Excalibur.
Five MGM Resorts in other U.S. locations will also join MGM Collection with Marriott Bonvoy: Borgata (Atlantic City, New Jersey), Beau Rivage (Biloxi, Mississippi), MGM Grand Detroit (Michigan), MGM National Harbor (near Washington, D.C.) and MGM Springfield (Massachusetts).
Marriott Bonvoy and MGM Rewards will provide new benefits and experiences for members of both programs. Marriott Bonvoy members will enjoy benefits at MGM Collection with Marriott Bonvoy resorts, and MGM Rewards members will receive certain benefits at Marriott Bonvoy's global portfolio of more than 8,500 properties, while members of both programs will also be able to exchange MGM Rewards points for Marriott Bonvoy points and vice versa. Marriott Bonvoy Moments, the program providing members access to experiences that fuel personal passions, will be enhanced by MGM's culinary, entertainment and sports offerings.
Capuano said Marriott and MGM share many core values, which convinced him that MGM was the right fit.
"As you expect, given the breadth of our global scale, we look at lots of lots of deals," Capuano said. "Sometimes we pass on those deals because the economics or the market opportunity is not particularly compelling. Sometimes we pass on the opportunity even though it might be a decent economic deal. We just don't think there's a good cultural compatibility.
"Marriott is celebrating its 96th anniversary this year. It's a company built on its core values and finding that cultural compatibility in a partner is of critical importance to us. Our first core value is to put people first. We call our employees 'associates.' I don't think it's a coincidence that MGM does as well. From the early days of this budding relationship as we talked about how we take care of our associates, as we talked about our philosophy of genuine guest care, as we talked about how important it is to our respective organizations to engage and contribute to the communities where we do business, it was quite clear that there was an extraordinary alignment of values about how we conduct our business and that was really important to us and I think gave, certainly the merit side a great deal of confidence about what a successful partnership this could be."
International prospects
Hornbuckle said the relationship could eventually develop into Marriott customers booking to MGM's international destinations. The company operates two properties in Macao and is developing resorts in Japan and the United Arab Emirates.
But for now, the companies will focus on domestic growth, most of it in Las Vegas.
"We're going to get very active in the context of pushing all of the right buttons to drive visitation and to drive people to Las Vegas," Hornbuckle said.
Contact Richard N. Velotta at rvelotta@reviewjournal.com or 702-477-3893. Follow @RickVelotta on Twitter.