Murren: MGM not 'tone deaf' to reaction on ending free Strip parking
January 22, 2016 - 12:59 pm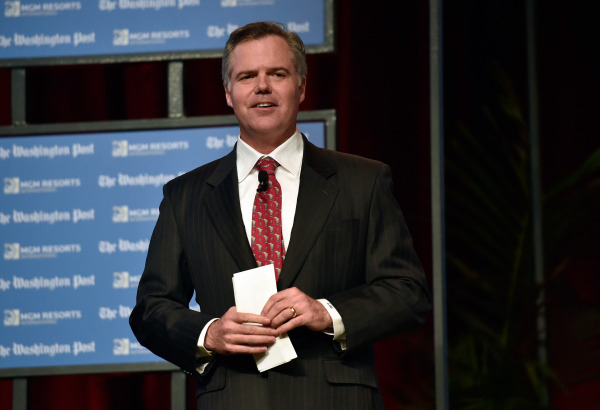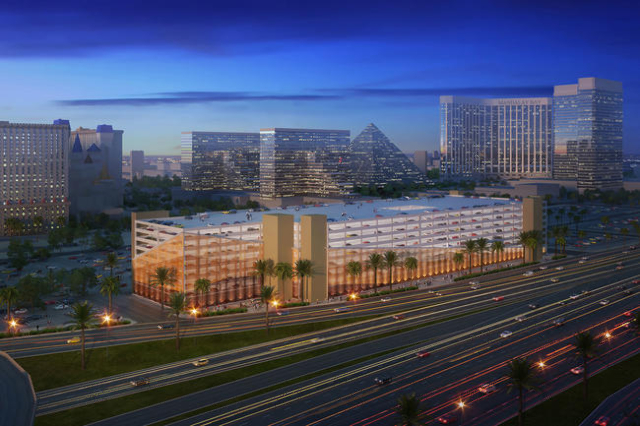 MGM Resorts International Chairman and CEO Jim Murren said Friday the company anticipated complaints from the local community over plans to charge for parking at its nine Strip casinos, but was somewhat taken aback by the "velocity and venom" that has surfaced through various avenues such as social media.
Murren said the company was moving forward with plans to implement a parking fee by April, which includes both self-parking and valet parking areas. But, he added, "we're not tone deaf to what we're hearing. We're looking to make this as fair as possible."
MGM's $90 million parking strategy, announced a week ago, will include development of a new 3,000-space parking structure to serve new entertainment venues. But it also ends a long-standing Las Vegas tradition of free parking on the Strip.
Costs are still in the planning stages and a number of "business discussions" are taking place.
"We need to fine tune this," Murren said. "The details are in the larger picture. There are hundreds of operating decisions that need to be made."
The reaction from locals over the parking changes concerned Murren, but it was expected when a change was considered to an aspect of Las Vegas that many take for granted.
However, a two-year study by the company found that many of the parking facilities on the Strip had not kept pace with the development of other parts of the business.
"We first started with a candid observation," Murren said. "We are spending hundreds of millions of dollars on new restaurants, theaters and other attractions, but the parking structures have been left entirely alone."
MGM Resorts has 37,000 Strip parking spaces and spends $30 million annually maintaining the facilities.
"The question was do we continue to have parking be a loss-leader," Murren said. "We took an amenity that had been free for decades and decided to charge for it. We knew that would cause a tremendous amount of discussion."
In addition to the new $54 million parking structure behind Excalibur, the company will invest $36 million to renovate and upgrade parking facilities, including adding new technologies, such as systems that will guide guests to available spaces and mobile technology that allows visitors to check space availability before arrival.
Murren somewhat understood the ferocity of the public outcry, but said "as leaders in the community, we don't do something we regret. Deteriorating parking garages hurt our image."
MGM Resorts said overnight guests using a self-park facility will pay $10 or less.
Murrren said MGM employees and workers at businesses within MGM properties that are not owned by the company, such as restaurants, will park for free. Also, vendors working on events at MGM properties will not be charged for parking.
The company will look at the different customer demographics at its Strip properties in implementing the fees. Circus Circus will continue to have free self-parking but will have a fee for valet. The Signature Towers and the Crystals and Mandalay Bay Place shopping malls are exempt from the parking fees.
MGM said part of the reason for the change was the fees charged in other destination markets. In Los Angeles, for example, valet parking averages $35 a night and self-parking is $22 a day. Phoenix averages $25 a day for valet and $15 for self-park. MGM officials have said the fees will be lower in Las Vegas.
Las Vegas attracted more than 42 million visitors in 2015, and MGM Resorts hopes its new attractions add to the total. The company is developing the $350 million, 20,000-seat T-Mobile Arena, The Park retail, dining and entertainment complex, as well as adding a 5,000-seat theater to Monte Carlo.
Murren said the company has not asked Clark County for public money to help pay for attractions. However, the company's parking garages "are not a civic enterprise."
He said he understood the anger exhibited by locals and as an 18-year resident "can empathize" with their feelings on the issue.
"Did we expect this? Yes," Murren said. "But I ask them to honestly reflect what it means to be a local and how the tourist economy has improved their quality of life."
He said Nevada's lack of a state income tax and low tax burden are the result of the casino industry.
"We have 50,000 people who work for MGM in Las Vegas alone," Murren said. "The fact that we continue to improve the attractiveness of Las Vegas for the world is part of the bargain of living here."
MGM's competition was silent on the parking issue, and Murren and said he hasn't spoken to other CEOs about the changes.
"Frankly, they are sitting back and letting MGM take the heat on this," Murren said. "They will let us figure it out and come to the right conclusion for locals. I would imagine they are keenly interested in what we are doing."
Contact reporter Howard Stutz at hstutz@reviewjournal.com or 702-477-3871. Follow @howardstutz on Twitter.