Nazarian issues apologies, and gaming regulators OK limited license
December 18, 2014 - 4:03 pm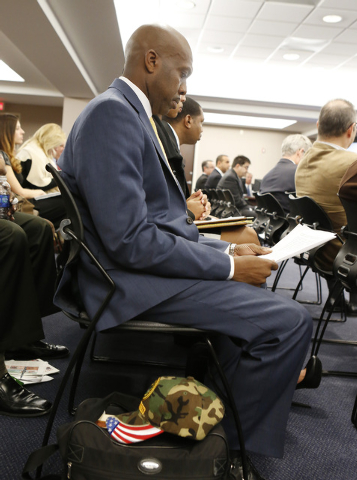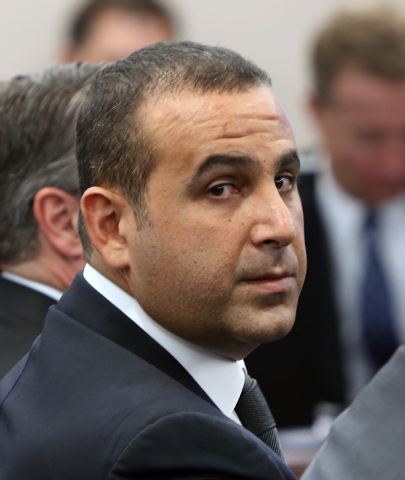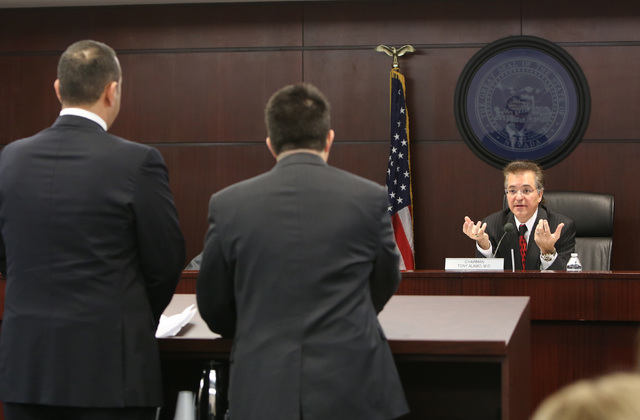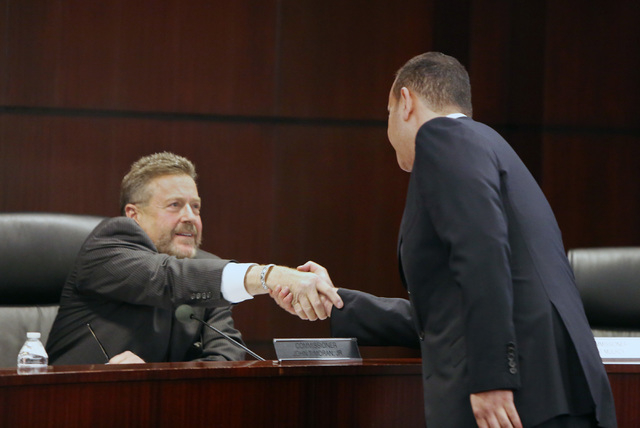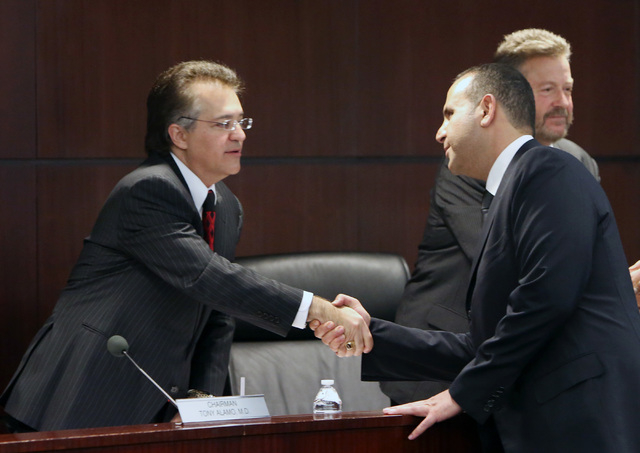 SLS Las Vegas part-owner Sam Nazarian apologized for everything Thursday at the Nevada Gaming Commission.
He said he was sorry for past dealings with Derrick Armstrong, a convicted felon from Los Angeles who allegedly extorted $3 million from him by threatening his family and SBE employees. In an odd moment Thursday Armstrong himself tried to address the Gaming Commission, but was arrested by state gaming agents outside the Sawyer Building. He was booked on felony charges of theft and passing bad checks.
Nazarian apologized to the Gaming Control Board and state gaming agents for not being truthful about past use of illegal drugs. Nazarian said he is working with a specialist to determine if he has a drug and alcohol problem.
And, Nazarian apologized to his family and longtime friends for the public airing of his personal failings.
"My parents are disappointed, but they are very supportive," Nazarian said of his family, which fled Iran in the 1980s.
The Gaming Commission — including three commissioners who initially planned to deny Nazarian a license for the Strip resort — eventually accepted the Control Board's recommendation. By a 4-0 vote, they approved a one-year limited gaming license with a slew of conditions, one of which precludes involvement in casino oversight at SLS Las Vegas.
But that condition became a moot point earlier this week.
Nazarian, 39, CEO of Los Angeles-based nightclub and restaurant operator SBE Entertainment, said he would step away from all day-to-day duties for the SLS Las Vegas.
"It's not been easy looking into the mirror," Nazarian told the Gaming Commission, saying that he was speaking from the heart and soul. "I apologize to the gaming agents for not being candid. I also apologize to the board members."
Despite stepping aside, Nazarian still needed the gaming license. SBE owns 10 percent of the SLS Las Vegas and state law requires licensing for anyone owning more than 5 percent of a casino.
The action doesn't change direction or management of the resort, a $415 million renovation of the former Sahara.
San Francisco-based private equity company Stockbridge Real Estate owns 90 percent of SLS Las Vegas. Its executive director, Terry Fancher, is the hotel-casino's CEO. In October former Station Casinos executive Scott Kreeger was brought in as president to help shore up the gaming business.
Gaming Commission conditions on Nazarian's license include testing his hair and urine for drug use every three months.
"All I ask for is a chance to regain your trust," Nazarian said. "You have my commitment, and I apologize for the mistakes I made."
Nazarian admitted past use of cocaine, ecstasy and marijuana, and said he is undergoing treatment with a specialist. He told Gaming Commission Chairman Tony Alamo Jr. that a drug test today would come up negative.
Earlier this month Nazarian was grilled for three-and-a-half hours by the Control Board, primarily over his dealings with an alleged extortionist and evidence of recent drug use in Mexico. He was accused by Control Board members of being evasive in addressing the issues.
Gaming Commissioners had reviewed the transcripts prior to Thursday's hearing in Las Vegas.
"I read through the transcript again last night," said Gaming Commissioner Joe Brown. "I had reached conclusions that I couldn't support this application."
However, Brown said he reversed course after listening to Nazarian.
Gaming Commissioner John Moran Jr. said he planned to make a motion to deny Nazarian's application.
"I've listened to you today and you swayed me a bit," Moran said. "I want to put enough conditions on you so that you don't mess up."
Alamo said he had never been "this close to a vote for denial" in six years on the commission. He said Nazarian would have to apply immediately for a new license and that he maintain constant contact with the Control Board agents.
"I want the board during this investigation to drive you crazy," Alamo said. "I think during this limited period we've given you enough rope to hang yourself."
Gaming Commissioner Randolph Townsend said it was clear Nazarian violated state gaming regulations during the investigation, but said he was willing to give Nazarian a second chance.
Nazarian said he now surrounds himself with advisers, security and legal representatives to avoid dealings with individuals such Armstrong. Security was increased at the Sawyer Building for the hearing. Nazarian came and left the building through private entrances.
Contact reporter Howard Stutz at hstutz@reviewjournal.com or 702-477-3871. Find him on Twitter: @howardstutz on Twitter.