Nevada, Delaware launch online poker network
March 25, 2015 - 10:40 pm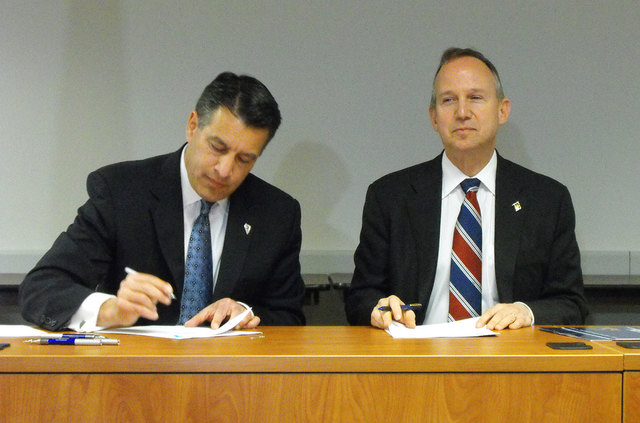 Nevada and Delaware formally launched their online poker network Wednesday, connecting players between the two states.
A Multi-State Poker Network was agreed upon in February 2014 by the states' two governors in which players from Nevada and Delaware could share poker tables and tournaments. The idea was to increase the number of players online.
The system took more than a year to implement. Gibraltar-based 888 Holdings is providing the platform for the network.
In a statement, Gov. Brian Sandoval said the states were "leading by example to provide a legal, tightly regulated online poker market that protects consumers in both our states."
Delaware Gov. Jack Markel said the network would help increase Internet poker activity in both states.
"We now offer an online poker option that is more competitive and more enjoyable for its users, thanks to this collaborative effort," Markel said.
Nevada has two operating online poker websites, WSOP.com, which is operated by Caesars Interactive Entertainment, and Real Gaming, a website associated with the South Point Casino. Real Gaming is not part of the network because it doesn't use 888 software.
A third Nevada website, Station Casinos' Ultimate Poker, shut down last year after nearly 19 months in operation. In Delaware, players can access the network through the Dover Downs, Harrington Raceway, or Delaware Park websites.
The sites quietly began pooling players a week ago. According to the website PokerScout, Delaware reached a peak of 313 cash game players during the first day of sharing.
The only other state with legal online gaming is New Jersey, which is not part of the network.
Both Nevada and Delaware are small in population and have had minimal success with online poker. By increasing the number of online competitors, Delaware and Nevada look to grow their Internet gaming operations.
According to CardPlayer.com, Delaware had just $27,695 in online poker revenue in January 2015.
In Nevada, the three online poker sites reported combined gaming revenue of $693,000 during September, the lowest total since the state began releasing monthly online numbers in February 2014. In June, the three sites collected a combined $1.04 million in gaming revenue, primarily because of the WSOP.com and the World Series of Poker.
To play, competitors must be 21 or over. They must log on using a PC or Mac computer that's in Delaware or Nevada.
Contact reporter Howard Stutz at hstutz@reviewjournal.com or 702-477-3871. Find him on Twitter: @howardstutz.