New performance venue near Las Vegas Strip to reshape skyline
February 9, 2018 - 1:37 pm
Updated February 9, 2018 - 6:45 pm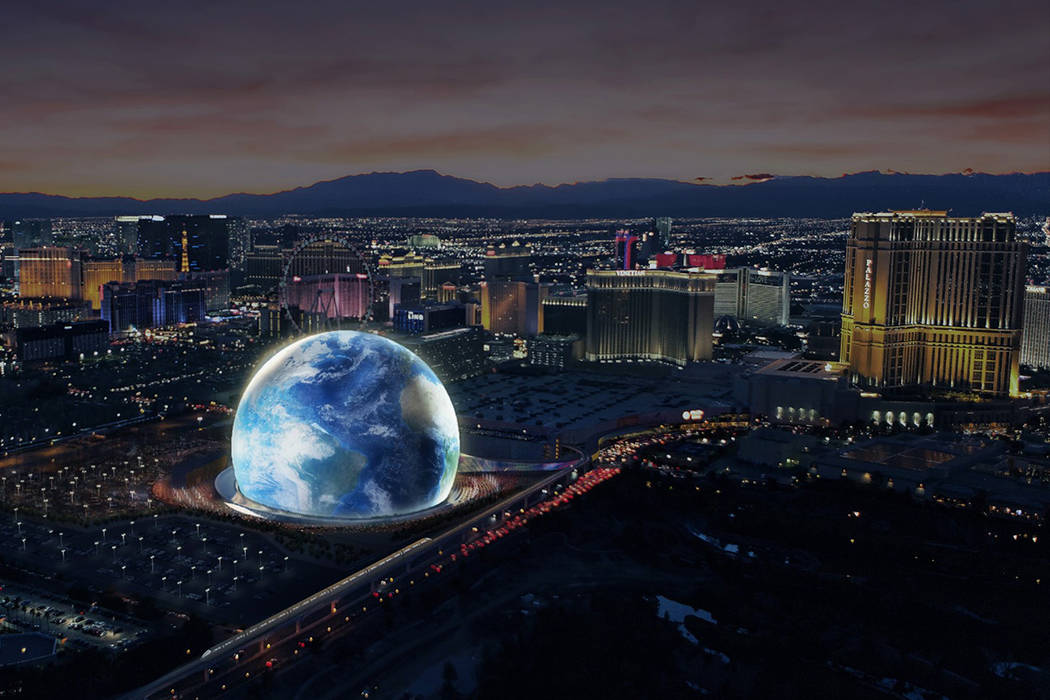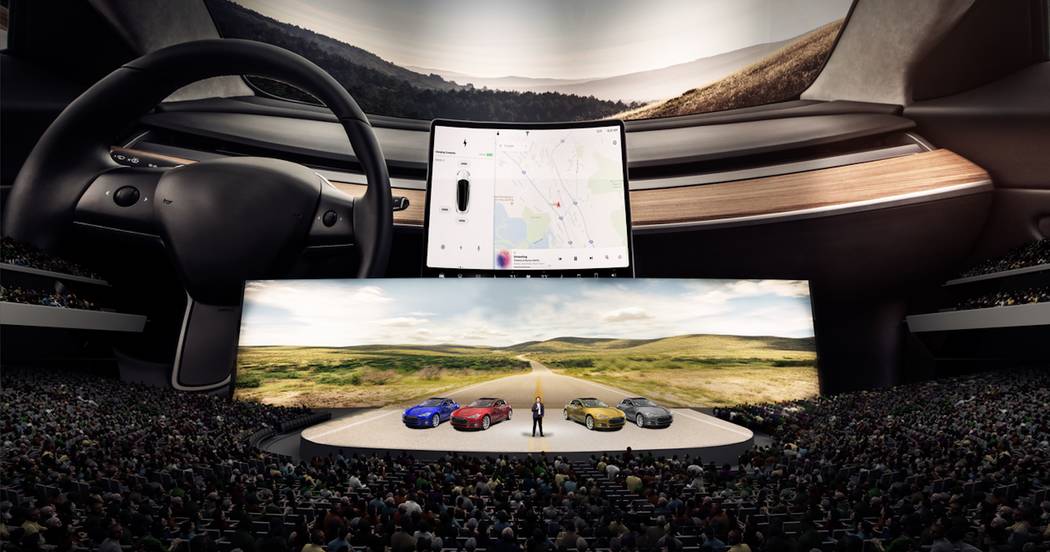 NEW YORK — Madison Square Garden's planned Las Vegas performance venue will offer sound and visual technology never before heard or seen and will change the Strip skyline with a sphere-shaped building 360 feet tall.
Construction on the MSG Sphere Las Vegas, which will be built just east of The Venetian, is scheduled to begin in the second half of 2018. A late 2020 opening is planned. The scalable 18,000-seat arena is being built specifically for music and entertainment performances, although it also could host esports competitions and possibly boxing and mixed martial arts.
The Madison Square Garden Co. is partnering with Las Vegas Sands Corp. on the project. The MSG Sphere concept was unveiled Thursday to about 170 entertainment executives at Radio City Music Hall. Las Vegas will be the first Sphere location, but plans are in the works for a venue in London.
The companies did not disclose the cost of the project or how the financing would be split. The 400,000-square-foot facility will be built on an open-air storage lot at Sands Avenue between Koval Lane and Manhattan Street.
Sands executives have said the site is perfectly situated, with thousands of hotel rooms at The Venetian and Palazzo as well as the nearby Wynn Las Vegas and Encore. The Venetian and Palazzo will be connected to the venue via the upstairs lobby of the Sands Expo & Convention Center, through a bridge across Koval, giving guests of those hotels easy access to performances, as well as the company's other restaurant and club amenities.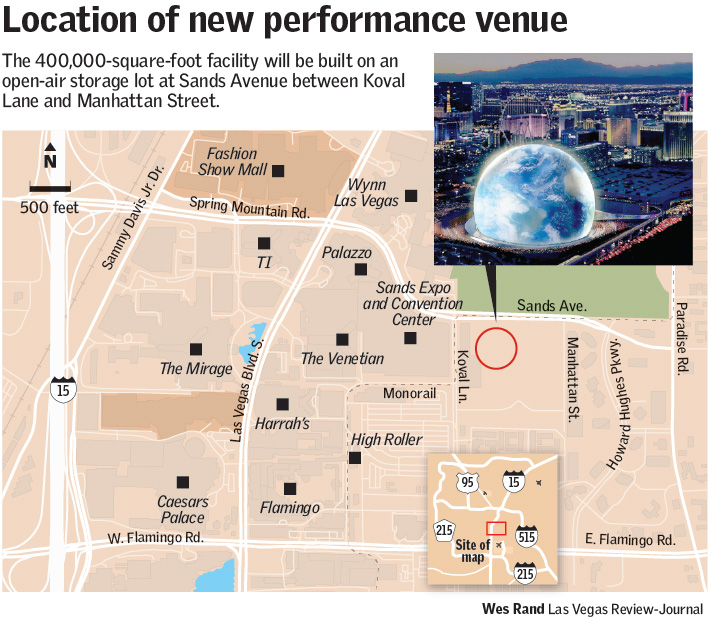 That connection also would allow the company to use the performance venue as a general conference center for trade shows and conventions scheduled at the Sands Expo.
How and where the bridge will connect is unclear. Wynn Resorts owns a strip of land with an employee parking garage directly across Koval from the Sands Expo. The Las Vegas Monorail line also straddles Koval and Sands there.
At 360 feet, the MSG Sphere Las Vegas won't be as tall as the Palazzo (642 feet) or the High Roller attraction (550 feet) a few blocks away, but the diameter of the venue at its widest point will be more than 500 feet.
New technology demonstrated
Thursday's gathering at Radio City Music Hall gave MSG venue collaborators the opportunity to explain and demonstrate the venue's technology with a model that was built on the hall's stage.
"This is a day I've been waiting for for more than two years," said Jim Dolan, executive chairman and CEO of the Madison Square Garden Co.
"What we're building in Vegas will become the platform for the musicians, artists, storytellers and the leaders of commerce, a platform that will connect thousands of attendees to subject matter in a way that will resonate as never before," Dolan said.
That platform is immense in scale. Dolan said it "will engage an audience to experience a performance on a level that will draw them in and feel the beauty as never before; a platform that will immerse the audience in a story, enabling them to experience it as if they were really there; a platform used to elevate the audience's understanding of science so they are able to join in the exploration; and a platform that will enable industry to explain products that will generate market enthusiasm and push that vision in educating the consumer."
George Markantonis, president of The Venetian and Palazzo, led a five-person contingent of Sands operations, communications, design and financial analysis executives at the presentation.
Markantonis on Friday said he was impressed with what he saw — and heard.
'Entertainment metamorphosis'
"What we witnessed last night in New York was the metamorphosis of arena and concert entertainment as we know it today," he said. "The specially invited audience was visibly mesmerized and awed, and I am just so excited that the city of Las Vegas, and The Venetian in particular, will be the home of the first MSG Sphere on the planet. Another amazing must-see in the city that has everything."
Through partnerships MSG and Sands have with entertainers, venue managers will be able to provide performances with visual elements that can be produced on the interior or exterior of the venue. The exterior will be fully programmable, creating a digital showcase for brands, artists, events and partners. The interior bowl will feature the largest and highest-resolution media display on Earth.
The company also will be able to produce its own content — think 70- to 90-minute general interest afternoon shows. MSG has developed a custom spherical camera system capable of capturing, curating and distributing new original content.
More than 1,000 miles of fiber-optic and copper cable will enhance the telecommunications experience, which Dolan said will make concert experiences more fulfilling for groups of friends.
Being with each other
"For those of you who are my age or older, we all went to Woodstock, not just for the bands," Dolan said. "We went to be with each other. All those people who now go to those EDM (electronic dance music) shows and the Deadmaus shows, etc., they're there to enjoy the experience together. They couldn't possibly have the same experience, even if you replicated the light show and the sound. You don't get to do this with 18,000 people in your home."
Dolan said the MSG Sphere also has huge potential for popular video gaming competitions, a phenomenon he's witnessed at Madison Square Garden in New York.
"Gamers are paying $50 to go see five people play five people, like they did at Madison Square Garden two years ago. It sold out two nights for League of Legends, just to see five play five, and that's their level of enthusiasm," he said. "How enthusiastic will they be when they can play 5,000 against 5,000 or one vs. 10,000? That's what MSG Sphere can do. No longer is the venue a place to just go and spectate. N0w, with MSG Sphere, the venue is the place to go and participate."
The Review-Journal is owned by the family of Las Vegas Sands Chairman and CEO Sheldon Adelson.
Contact Richard N. Velotta at rvelotta@reviewjournal.com or 702-477-3893. Find him on Twitter: @RickVelotta
MSG Sphere Las Vegas by the numbers
360: Height, in feet, of the sphere.
500: Width of sphere at widest point
800: Miles of dense fiber-optic cable going into the venue
300: Miles of copper cable supplementing the fiber-optic cables
18,000: Full capacity of venue. Every seat will face the stage
2018: Construction begins, second half of the year
2020: Venue opens, probably late in the year