New Resorts World Las Vegas chief sees tower cranes over next 90 days
Updated May 17, 2017 - 3:09 pm
More than 10 years after the implosion of the Stardust, major construction now appears imminent on a north Strip megaresort where the Stardust was once located.
In an exclusive interview with the Review-Journal on Wednesday, Edward Farrell, newly appointed president of Resorts World Las Vegas, said tower cranes will be installed over the next 90 days to begin work on the casino podium and hotel towers beginning in the third quarter.
Farrell said 1,000 construction workers would be onsite by next year, and once the $4 billion, 3,000-room resort opens in 2020, it will hire 3,000 union employees to operate the modern Chinese-themed resort developed by the Malaysia-based Genting Group.
"We've gotten very close to the end of the design phase to a point where we're comfortable moving forward to mobilize construction," Farrell said in a conference room at one of Resort World's construction office trailers on the site.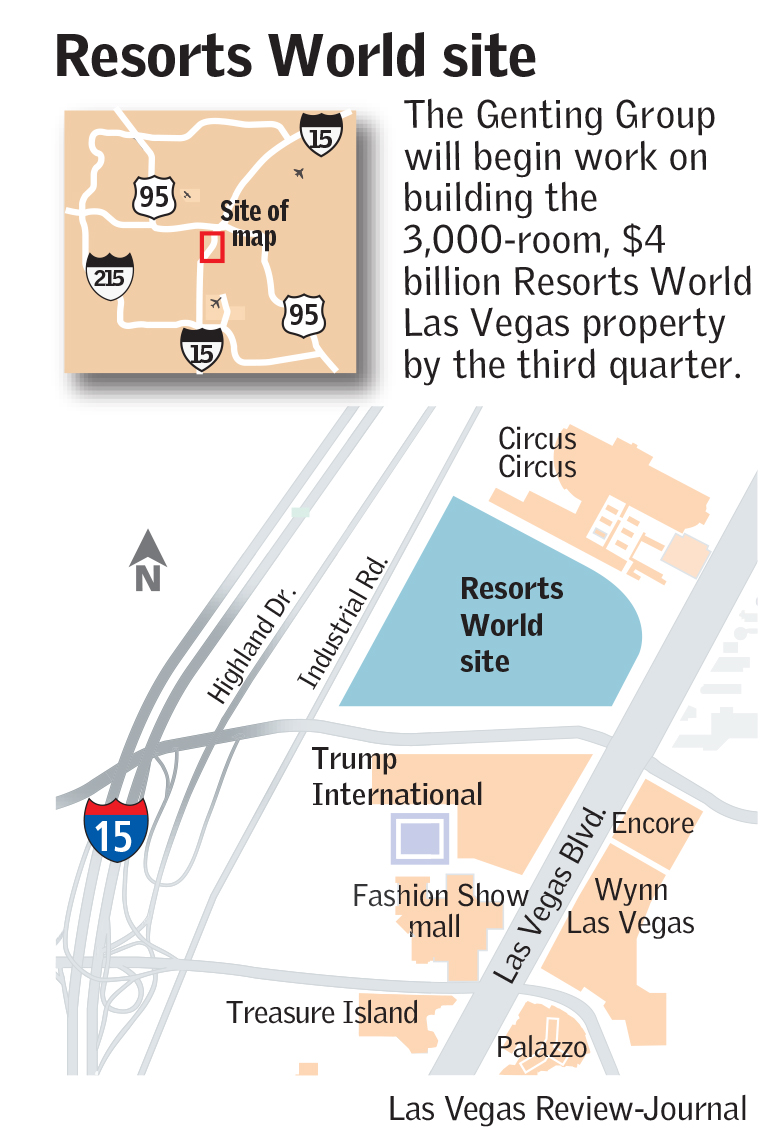 "We've done a lot of construction that nobody has seen over the last two or three years — not exciting stuff, like utility lines, working out easements and building a garage with some office space," he said.
Contractor close
The company has yet to choose a construction manager or general contractor, a decision that will receive input from Genting's top executive, Chairman K.T. Lim. William Richardson has served as preconstruction manager, and Farrell said all the finalists for construction managers have built major resorts in Las Vegas.
When the construction cranes move in, work will begin on two room towers, one with 1,800 rooms and another with 1,400. Farrell said it's likely they'll have staggered openings.
"We're probably a good year and a half to two years away from it really taking form as these projects go," Farrell said. "The concrete and steel and all of the bones go up first. … Probably two years from now, you're going to start to see this project really take shape, the exterior of the tower starts to get put in place and the front and the podium will start taking shape."
Farrell said after months of consideration, the resort will be more modern Chinese than ancient. Think Shanghai, not Great Wall.
"We've gone back and forth on a lot of design elements," he said. "At one point, it was really traditional, kind of an ancient Chinese Forbidden City look. We ended up moving away from that for a couple of reasons. We think the modern Chinese elements are more appealing to people nowadays, just more exciting. It definitely has an Asian feel and theme, but it's more of an Asia today theme."
Something new
Farrell said the reasoning for that is the opportunity to be the first in a decade to be able to offer something brand new on the Strip.
"We have the opportunity to really not necessarily just copy what's been done, but use technology that is coming about and be the modern casino," he said. "The more modern Chinese theme fits in more to where we're really going with this resort. When we open up, we'll use the newest and most recent technology and have appeal to people over the next 30, 40, 50 years.
Baccarat dominant
The 100,000-square-foot casino floor is expected to reflect the theme, with baccarat dominating the table games. Some slot machines are being designed by a Genting subsidiary that already is licensed in Nevada.
Asked what Asian characteristics he would like to see, the new local president said, "thousands and thousands of people — coming through our doors."
Farrell, a Chaparral High and University of Nevada graduate who has worked at casino properties in Nevada, Mississippi, Connecticut and New York, has been chosen to direct development of the Strip's next big megaresort.
He got his first gaming job with MGM Reno when he was a student attending the University of Nevada, Reno. He said he "swept floors and manned the casino cage" as a job during his college days.
He went to work for Steve Wynn and helped open The Mirage in 1989, working as an auditor, assistant controller and controller. He held a variety of leadership positions in finance and operations over the years, including senior vice president of finance at the massive Foxwoods Resort Casino in Mashantucket, Connecticut, and as regional vice president of finance for the Mid-South Region of Harrah's Entertainment, the predecessor company of Caesars Entertainment.
He also helped open the Grand Casino in Gulfport, Mississippi, as the company's vice president of finance, the Treasure Bay Casino in Biloxi, Mississippi, as chief financial officer, and most recently the Resorts World Casino New York City, where he started as chief financial officer and eventually was named president at New York's first commercial casino at the Aqueduct Racetrack in Queens, the highest producing slot casino in the world.
Genting brand
Genting is a familiar brand in tourism — but not in Nevada.
A subsidiary of the Genting Berhad holding company, the group is involved in oil palm plantations, power generation, oil and gas, property development, life sciences and biotechnology activities in addition to leisure and hospitality.
Genting has more than 50 years of experience in the tourism industry and employs about 60,000 people while operating resorts visited annually by 50 million people worldwide.
Genting's resort flagship is the Genting Highlands in Malaysia, a resort in the Titiwangsa Mountains northeast of Kuala Lumpur, comprised of hotels with 10,000 total rooms, restaurants, a shopping mall and the Casino de Genting. The resort is connected by cable car to the plateau town of Gohtong Jaya.
In addition to Resorts World, Genting operates the Genting Grand, Genting Club, Crockfords, Maxims, Crystal Cruises, Dream Cruises and Star Cruises brands. Those companies have partnerships with Universal Studios, Twentieth Century Fox, Simon Premium Outlets and Hard Rock Hotels.
Contact Richard N. Velotta at rvelotta@reviewjournal.com or 702-477-3893. Follow @RickVelotta on Twitter.
Resorts World's long road
The Resorts World Las Vegas site on the Strip has been down a long and tortuous road.
The 32-story, 1,552-room Stardust operated by Boyd Gaming stood at the site south of Circus Circus and across from the former location of the Rivera. The Stardust closed on Nov. 1, 2006, and imploded on March 13, 2007, making way for Boyd's planned Echelon Place on the 63-acre site.
Staring at the economic ravages of Great Recession, Boyd started construction on Echelon, but had to abandon the project in August 2008, eventually selling the land to Genting for $350 million in March 2013.
Genting announced plans for a 5,000-room Chinese-themed resort on the property, eventually scaling the scope down to 3,000 rooms with the potential to expand.
In May 2015, Genting conducted a groundbreaking ceremony on the site, complete with Chinese lion dancers and acrobats. A year to the day later, company officials appeared for licensing before the state Gaming Control Board. The Nevada Gaming Commission unanimously approved licensing for the company later that month.
Genting has moved slowly but deliberately toward beginning construction over the past year, delayed by the devaluation of Malaysia's currency and the unavailability of construction cranes.
Now that it has new leadership in place, construction is expected to ramp up to build the first from-the-ground-up resort on the Strip in more than a decade.
The last new resort to open on the Strip, the Cosmopolitan of Las Vegas, opened in December 2010 after plans were first announced in 2004.
The 203-room Lucky Dragon just off the Strip opened in November.