Palms off Las Vegas Strip to receive $485M in upgrades
November 7, 2017 - 4:49 pm
Updated November 7, 2017 - 5:28 pm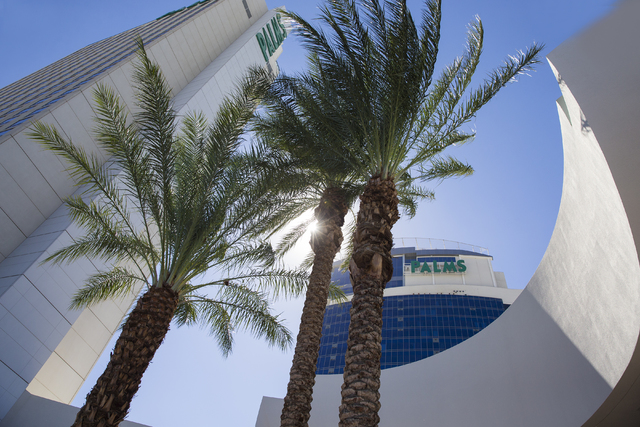 The company that operates Station Casinos on Tuesday announced a new investment in the Palms that would total $485 million in improvements for the off-Strip property the company acquired about a year ago.
Red Rock Resorts Inc. executives say the investment will turn the Palms into a virtually new property.
In a bid to make the Palms the must-see Las Vegas attraction it opened as in 2001, the company will enhance virtually every aspect of the resort, from new rooms to dining to nightlife and a year-round dayclub experience.
Chief financial officer Stephen Cootey said in Red Rock's third-quarter earnings call that partnerships with experienced operators will return the Palms to the glory days of its opening.
'A place to see and be seen'
"The Palms is an iconic resort and has always been known as a place to see and be seen in Las Vegas," Cootey told investors. "Through our redevelopment of the property, we intend not only to restore it to that memorable status, but take it to the next level of excitement by crafting the perfect mix of classic Vegas hospitality and extraordinary new experiences delivered by world-class partnerships."
Here's what the company has planned:
■ 282 redesigned and renovated hotel rooms and suites in the property's Fantasy Tower.
■ 60 new hotel rooms from previously unfinished space in the tower.
■ A 29,000-square-foot nightclub developed in a partnership with the Tao Group.
■ A new 73,000-square-foot pool club, also developed in conjunction with the Tao Group, expected to accommodate up to 5,000 guests at a time and to stay open on a year-round basis.
■ A Vandal restaurant, brought to Las Vegas from New York by the Tao Group.
■ A new Bobby Flay restaurant with seafood and raw fish preparation.
■ A new-to-Las Vegas barbecue restaurant from celebrity chef Michael Symon.
■ Another new-to-Las Vegas celebrity chef, Marc Vetri, with Italian fare.
■ 15,000 square feet of renovated meeting and convention space with views of the Strip.
■ A new 20,000-square-foot wellness spa and salon with 16 treatment rooms and state-of-the-art fitness facilities.
■ A complete refresh of the 2,600-seat Pearl Theater, which will be operated in a partnership with Live Nation.
■ 525 new covered parking spaces.
The Phase 2 improvements are expected to be completed by late 2018 or early 2019.
First phase underway
The already underway first phase of the renovation includes a complete renovation of the casino floor with an expanded number of table games and upgraded slot machines, a new high-limit room with slots and table games, the July opening of the Lucky Penny Cafe, a new buffet that will open in December, a new steakhouse and a new noodle bar.
The first phase also includes a rooftop social club operated by Clique Hospitality, a new center bar, a new front-desk registration area, 18,000 square feet of renovated meeting space, an upgraded 14-screen movie theater complex and a new exterior look, including a new marquee and porte cochere.
Cootey said that phase remains on schedule and on budget and will be completed by the second quarter of 2018. The company expects a mid-teens percentage return in cash flow as a result of the investment.
Earnings declined
Earnings declined for the company, despite an increase in revenue. For the quarter that ended Sept. 30, the company reported earnings of $22.3 million, or 16 cents a share, on revenue of $400.4 million. For the same quarter last year, it reported earnings of $33.4 million, or 20 cents a share, on revenue of $347.1 million.
The company attributed the revenue bump to the healthy Las Vegas economy, which executives say will continue to grow with more projects on the horizon. The dip in earnings was attributed to an increase in writedowns and other charges.
The company also reported a 10-cent dividend payable Nov. 30 to shareholders of record as of Nov. 15.
Red Rock stock fell 15 cents, or 0.6 percent, to close at $24.75 a share on above-average volume.
Contact Richard N. Velotta at rvelotta@reviewjournal.com or 702-477-3893. Follow @RickVelotta on Twitter.
Red Rocks Resorts Inc.
Third-quarter revenue and earnings for Las Vegas-based Red Rocks Resorts Inc. (Nasdaq: RRR).
3Q 2017 3Q 2016 Change
Revenue $400.4 million $347.1 million +15.4%
Earnings $22.3 million $33.4 million -33.2%
Earnings per share 16 cents 20 cents -20%