Penn National reverses second quarter net loss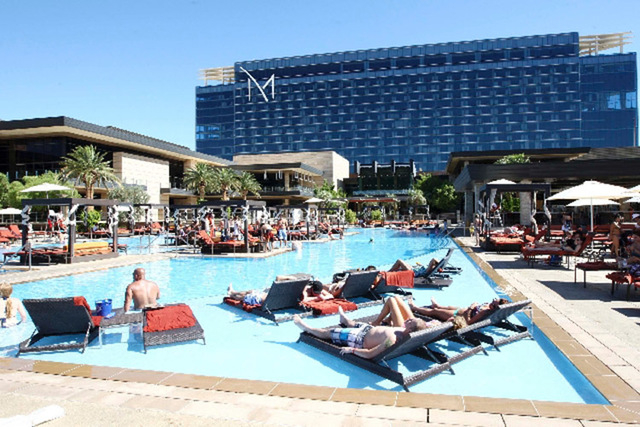 Regional casino operator Penn National Gaming has five development projects underway in four states and continues to toss its hat in the ring as new markets open.
This, despite sluggish gaming revenue results from many Southern and Midwestern states in recent months.
The numbers don't faze the company, which owns M Resort in Henderson.
During a Thursday conference call with analysts to discuss Penn's second quarter earning, CEO Tim Wilmott said the casino operator has a "good handle" on business trends where the number of casino visits and spending habits by customers have declined.
Penn National's answer is to consider expanding and enhancing entertainment and nongaming offerings to entice customers back into its more than two-dozen properties. On that note, Wilmott and Penn National COO Jay Snowden believe the company's customer database could reach 5 million by next year.
During the quarter, that ended June 30, Penn National reversed a second quarter net loss despite a 14 percent decline in net revenue.
Penn said its net income for the quarter that ended June 30 was $2.8 million, compared to a loss of $11.3 million in the same quarter of 2013. The profit translated into earnings per share of 3 cents, compared to a loss of 14 cents.
The company's overall net revenue declined to $652.1 million, compared to $761.4 million in the second quarter of 2013.
Stifel Nicolaus Capital Markets gaming analyst Steven Wieczynski said Penn National's "better than expected results continue to be driven by incremental cost efficiencies."
Penn National is building a $360 million Indian casino near San Diego that is expected to open in 2016. The company is also building two Ohio racetrack casinos and a hotel at its New Mexico racetrack casino. All three projects are expected to open by September.
Penn National's racetrack casino in Massachusetts is expected to open in June 2015.
The company recently went into partnership with the Cordish Cos. of Baltimore on a proposed $750 million casino development in Orange County, N.Y., just north of New York City. The state is expected to award four gaming licenses for update New York by the end of the year.
One jurisdiction Penn does not have interest in is Atlantic City, where elected leaders are hoping to entice casino operators to take over possibly three Boardwalk casinos that could close by September.
Wilmott said it was hard to rationalize a purchase in Atlantic City because revenues from the market will continue to drop because of increased regional competition.
Contact reporter Howard Stutz at hstutz@reviewjournal.com or 702-477-3871. Follow @howardstutz on Twitter.