Plaza re-emphasizes gaming, and 44-year-old resort prospers
December 12, 2015 - 2:12 pm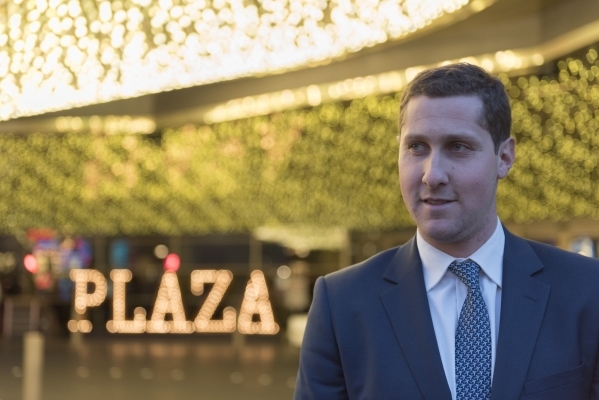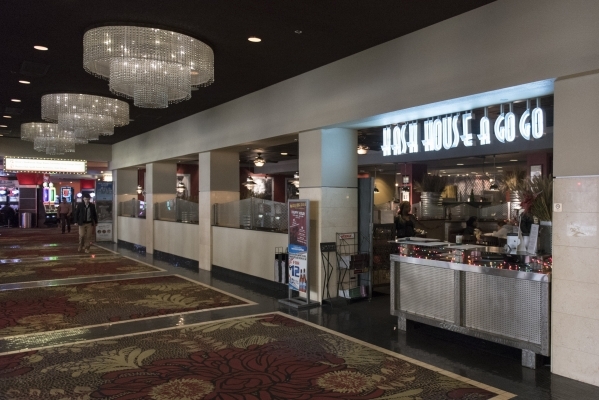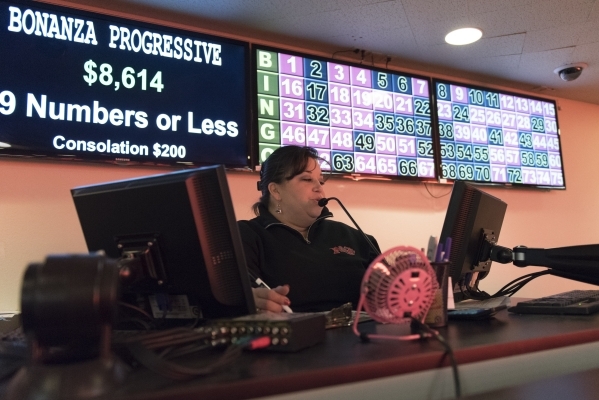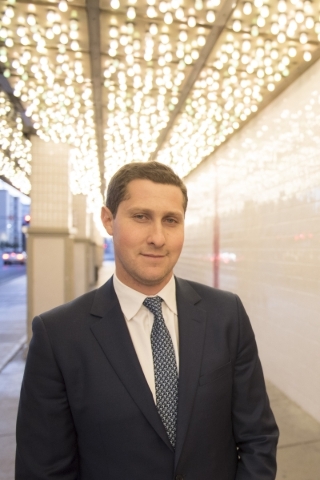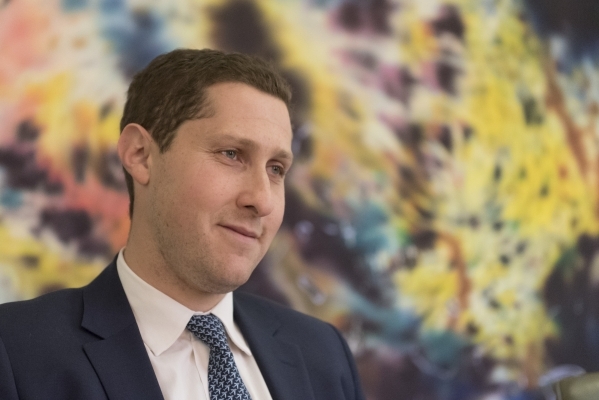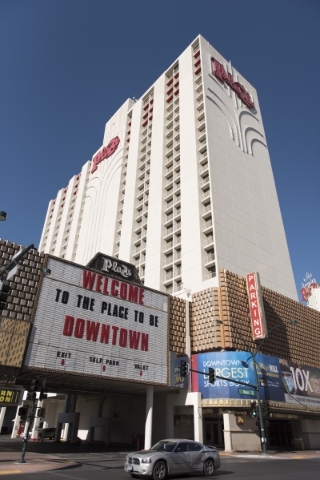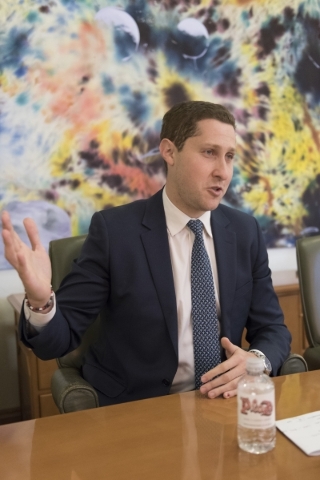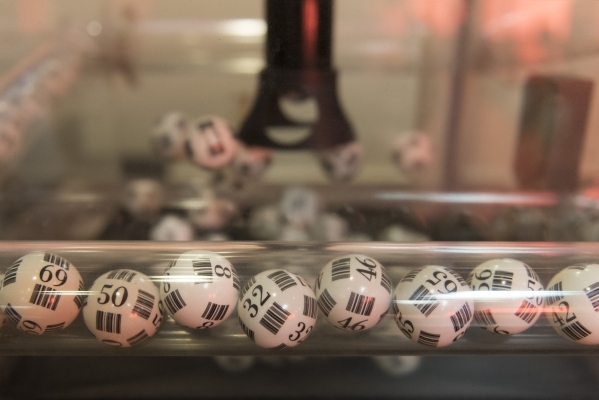 Plaza Las Vegas CEO Jonathan Jossel often logs on to online message boards where downtown Las Vegas casino customers leave random comments about their experiences.
What's even more surprising? Not only does Jossel read the comments and suggestions, but he often replies. Jossel even requires the Plaza's casino hosts to participate and answer the concerns of Plaza visitors. Some of the consumer reaction is not always complimentary.
"I want (Plaza employees) to understand what our customers are saying about us," said Jossel, 31. "And, we want our customers to know we're responding."
It's the "small things," Jossel said, that helped the 44-year-old Plaza play a part in the recent revival in the downtown casino market. Jossel said he not only listens to customers, but also the Plaza's employees. He often holds informal gatherings to gauge feedback.
"We have employees that have been here 20 or 30 years who know our customers," he said of the 1,037-room property on Main Street across from the west end of the Fremont Street Experience.
A renewed emphasis on customer focus has also contributed to downtown's recent success as Fremont Street's dominant operators — Golden Nugget, Boyd Gaming Corp., and Derek Stevens — have added amenities to their resorts and upgraded marketing efforts.
"People are taking notice of downtown," Jossel said. "We're doing better at creating our own experiences and focusing on the customer."
October marked the first monthly gaming revenue decline experienced by the downtown area since January. However, through the first 10 months of 2015, overall downtown gaming revenue has climbed 4.5 percent over 2014's totals, fueled by increased visitation from the redeveloped East Fremont Street corridor.
Jossel said the Plaza benefited from a yearlong hotel room and property upgrades that closed portions of the resort in 2010 and 2011.
He also re-emphasized gaming.
The Plaza's casino was reconfigured to include a "party pit" near the resort's Main Street entrance with three blackjack games and a roulette table. The glass-walled room faces out toward Fremont Street with an atmosphere enhanced by music and lights that are intended to draw customers from the pedestrian mall. Live music was added to the casino's floor seven nights a week. The casino, which has 600 slot machines, includes 30 vintage coin-in slot games that appeal to an older customer base.
The Plaza offers downtown Las Vegas' only bingo room, which 344 seats, including 65 that are nonsmoking.
"I know it sounds crazy, but I'm a big fan of bingo," Jossel said. "It gives us a core advantage."
The proof is in the numbers. In October, when downtown casinos had an overall gaming revenue decline of 6.5 percent, Jossel said the Plaza reported a 13.9 percent gaming revenue increase. Hotel revenue during the same period was up more than 20 percent.
"We're moving at our own pace," he said.
David Schwartz, director of the Center for Gaming Research at the University of Nevada, Las Vegas, said the Plaza is being run with the same emphasis brought by its former owner, the late downtown casino operator Jackie Gaughan, who pioneered customer service.
'Basics done right'
"The Plaza's turnaround shows that the basics done right never lose in Las Vegas," Schwartz said. "Good gambling conditions, an eye on quality, and walking the floor go a long way."
Jossel has been part of the downtown scene since 2007. He was an executive with Tamares Real Estate, a privately held international investment company that acquired a large swath of downtown Las Vegas casinos and real estate in 2005. Last year. Jossel joined PlayLV, the management company that operates Tameres' casino holdings, which is now just the Plaza.
With Tamares, Jossel was involved with land acquisition. The company developed — and still owns — the East Fremont Street buildings that house Le Thai, Commonwealth, Beauty Bar, La Comida and other businesses that were considered the beginnings of the eastward migration.
He said the Plaza and other downtown casinos benefit from the East Fremont's nongaming attractions, which he believes "put downtown on the map" and attract a new audience.
"It's helped change the perception and shows that there is stuff to do downtown," said Jossel, who said he resides in the downtown corridor. "We can walk to Container Park. Our customers will go down there and enjoy things for a night."
Jossel, who was licensed by state gaming regulators last year, said his goal in coming to Las Vegas was reviving downtown. Now, his focus is the Plaza.
"When you have an owner that is not here on a daily basis, there is a vacuum," Jossel said. "That connectivity with Tamares helps in terms of understanding the potential for continued investment in the building. I come from the perspective of the owner, because I was on that side. But now, I'm the operator and in some ways, I feel like an owner-operator."
The Plaza added Hash-House A Go Go and Beer Garden, but is still considering other restaurant ideas.
Jossel said the next steps for the Plaza is to renovate areas of the property that weren't touched in the 2011 changes, such as the second and third floor public areas. He also wants downtown to attract more conventions and meetings. The Plaza has 30,000 square feet of meeting space that will also be renovated.
In September, the property hosted a Blues music festival that had been scheduled for the now-closed Riviera. The event will return next year.
'More folks downtown'
"It's those type of events that bring more folks downtown," he said.
Jossel sometimes worries the Plaza is overshadowed by its higher-profile competition.
That fact seems strange. The Plaza is the second-largest hotel-casino in downtown Las Vegas, it sits on 17 acres, and its signature restaurant, "Oscar's Beef, Booze & Broads," is named for Oscar Goodman, the martini-drinking ex-mob lawyer and three-term mayor of Las Vegas.
"We have some characters and personalities downtown that have brought new ideas and a new attention, which is good for everyone," Jossel said.
Last summer, Tamares sold the Las Vegas Club to Stevens — owner of the D Las Vegas and Golden Gate — for $40 million according CBRE. Tamares had been considering options for the aging building when Stevens stepped in a acquired the shuttered hotel-casino.
"The timing was right for everyone," Jossel said.
He hopes Stevens "brings life to that corner of Main Street and Fremont Street" because "Main Street is the most important street downtown, I would say selfishly."
Like Stevens, Jossel said he enjoys interacting with the Plaza's customers.
"I've learned from Derek. You'll find him at the (D's) Long Bar, but I'm at the (Plaza's) Omaha Bar," Jossel said.
Contact reporter Howard Stutz at hstutz@reviewjournal.com or 702-477-3871. Find him on Twitter: @howardstutz