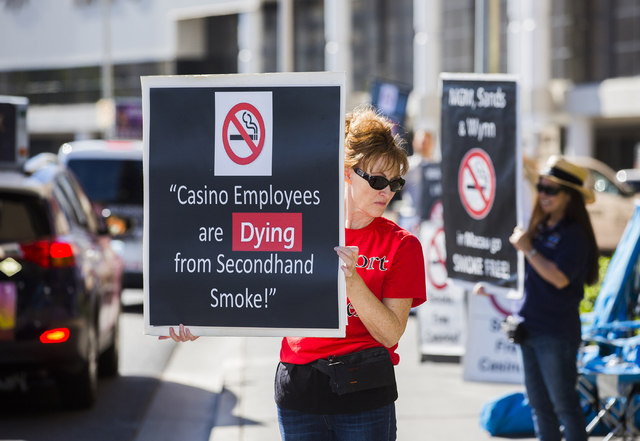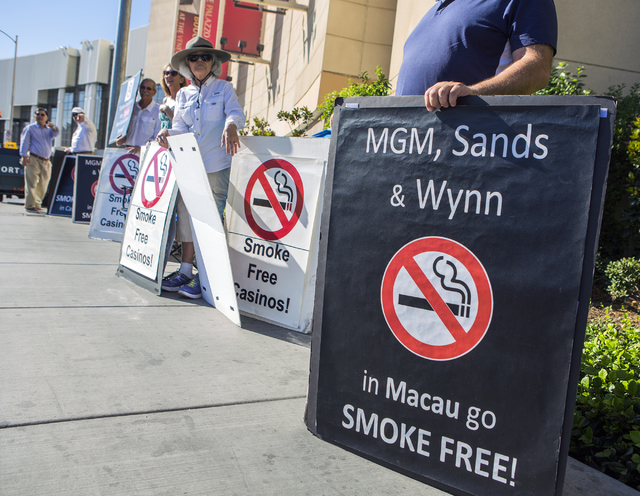 It wasn't a political issue within the walls of the Global Gaming Expo, but just outside the Sands Expo and Convention Center, a group of protesters was attempting to raise awareness to a longtime casino concern: second-hand smoking.
About 50 people in shifts demonstrated peacefully with signs for several hours Tuesday.
Colorado-based Smoke-Free Gaming of America was joined by members of Transit Workers Union Local 721, the Las Vegas dealers' union, some carrying signs that read, "Casino employees are dying from second-hand smoke," and "What happens in a casino stays in your lungs."
Cynthia Falls, president of the union that represents dealers at the Wynn, Caesars Palace, Bally's, Paris Las Vegas and Harrah's, said over the years, 100 employees have been stricken with cancer and 49 of them have died.
"This isn't a joke," Falls said. "Shame on the casinos for taking the profitable performance of their casinos over the health of their workers and their families."
Stephanie Steinberg, who heads Smoke-Free Gaming, said nearly 800 casinos nationwide are smoke-free and her organization is capitalizing on the December opening of MGM Resorts International's $1.4 billion National Harbor casino near Washington being smoke-free when it opens.
"It's an evil Catch-22," Steinberg said. "Casino companies have excellent health-care plans for their employees and then they send them out there to work in that environment.
MGM officials noted that the Nevada Clean Indoor Air Act, which went into effect in 2006, prohibits smoking in most public areas, but bars and casinos are excluded, as are convention facilities under certain circumstances.
MGM spokeswoman Yvette Monet said customers at MGM's Strip properties may request that a gaming table remain smoke-free and several years ago, company poker rooms became nonsmoking in response to requests from guests.
"MGM Resorts recognizes that smoking is a dynamic and complex issue, one that we continue to monitor and closely assess in all of the regions where we operate," Monet said. "For now, many of our customers at our Nevada resorts choose to smoke in areas where it is permitted by law. We continue to offer this option to these customers, while keeping other areas smoke-free. We welcome people from all over the world, including from countries where smoking is more prevalent than it is in the U.S."