Railroad Pass celebrates 80th anniversary this week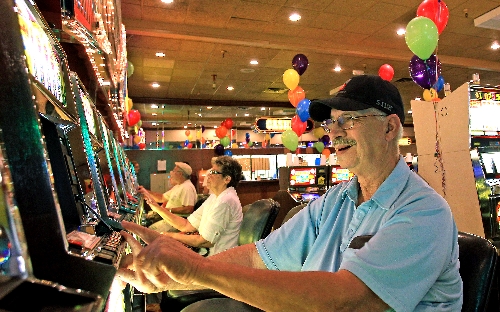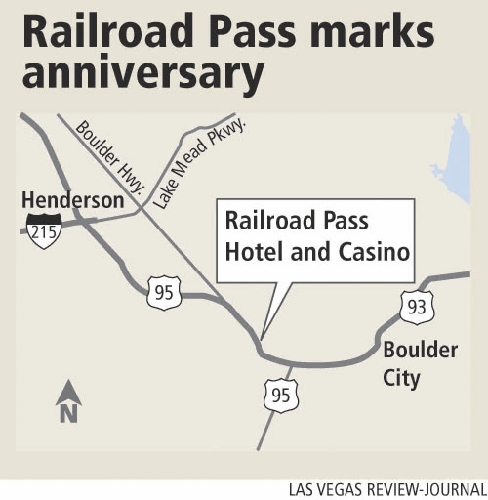 The Railroad Pass casino doesn't get the multimillion dollar annual marketing budgets MGM Resorts International spends on properties such as the Bellagio, MGM Grand and The Mirage. Nor does the tiny Boulder Highway casino get much attention from the $6 billion-a-year gaming giant that just happens to own it.
But the Railroad Pass, Nevada's oldest state-issued gaming license still in operation at the age of 80, doesn't need much from its corporate parent.
Just ask Kenn Vandall of Henderson.
The 67-year-old retired construction worker first visited the Railroad Pass, between Henderson and Boulder City, while on vacation in 1981. When he moved to Southern Nevada in 1985, the property became one of his favorite hangouts.
When MGM Resorts paid $7.9 billion for the Mandalay Resort Group in 2005, Railroad Pass came with it. At 120 hotel rooms, roughly 300 slot machines, six table games and a race and sports book, the old casino was an afterthought, at best.
Vandall said MGM Resorts had the correct attitude when it came to Railroad Pass. For the most part, the company left the casino alone.
"If they had changed anything, they would have lost half the business," Vandall said Monday as he and other regulars helped Railroad Pass celebrate its 80th birthday. First licensed in 1931, Railroad Pass is a living piece of state history.
Roughly half of the Railroad Pass slot machines still pay in coins or $1 tokens. A portion of the casino is the Heritage Room Museum, with 80 vintage photographs and historical artifacts from the area and the casino, such as original railroad spikes, Boulder Canyon core samples and former restaurant menus.
Employees and customers often donate items, such as matchbooks and other mementos.
"Throughout the valley, there are little pockets of history that are still with us and still active as part of the community," said Mark Hall-Patton, a historian and administrator of the Clark County Heritage Museum. "It's really nice when one of them takes some time to celebrate its history. There are no other single-digit gaming licenses still operating in the state."
Railroad Pass has license No. 4. One and two were never issued. No 3 didn't last.
Janine Thompson, who has worked the floor at Railroad Pass for 17 years, said the casino never lost its homey, family-type atmosphere after MGM Resorts took over.
Some employees have transferred to other MGM properties, but Thompson, who lives in Boulder City, has no desire to leave.
In fact, she coaxed her mother, Mary Ann Morang, out of retirement seven years ago to take a job as a hostess-cashier for the buffet and coffee shop. Thompson's daughter, Samantha, is a buffet runner, as well.
"I've had four grandchildren work here," Morang said.
Thompson said the boom in the locals market over the past two decades took away some Railroad Pass customers, but she and other longtime employees remain dedicated to the property and its customers.
"We're not like a Strip property," Thompson said. "Where else would I know the chef, or go bowling with the general manager or be buddies with the director of operations? Being a small place, we all know each other."
MGM Resorts is giving the Railroad Pass a birthday celebration fitting an octogenarian.
Customers will be treated this week to 80-cent hot dogs, 80-cent beers, $31-a-night hotel room rates and $19.31 dinner specials.
On Monday several employees wore vintage 1930s costumes. Others came as Old West miners or railroaders. Proclamations from the mayors of Henderson and Boulder City, the governor and congressional delegation were presented.
Much of the celebration surrounded the Railroad Pass' place in Nevada history, including the construction of the Union Pacific Railroad and the building of Boulder (now Hoover) Dam. With Boulder City a dry town with no booze or gambling, the Railroad Pass was the closest spot where construction workers could blow off some steam.
"Everybody came through this pass from the mid-19th century on," Hall-Patton said. "It didn't have a road until 1929, and it wasn't paved until 1932."
Vandall paid little attention to the pomp and celebration. As he does five times a week, he played a 25-cent video poker machine, which still accepts coins and pays out in cash.
"I have a process. Occasionally, I take some of the quarters that I win, roll them, and put them in my savings account," Vandall said.
He visits other small Henderson-area casinos, but the Railroad Pass is home.
"I like what they do with your (slot club) points," Vandall said. "You can get them back in cash. Other places don't really do that."
Contact reporter Howard Stutz at hstutz@reviewjournal. com or 702-477-3871. Follow @howardstutz on Twitter.
Numbers on Railroad Pass
4 — Gaming license number, the oldest gaming license still in use
80 — vintage photographs and historical artifacts in the Heritage Room Museum
300 — slot machines, six table games
20 — cent return on a dollar when you purchase a hotdog or beer this week
$31 — hotel rooms this week, to honor the year Railroad Pass was built