Salerno to make fantasy sports pitch to Gaming Commission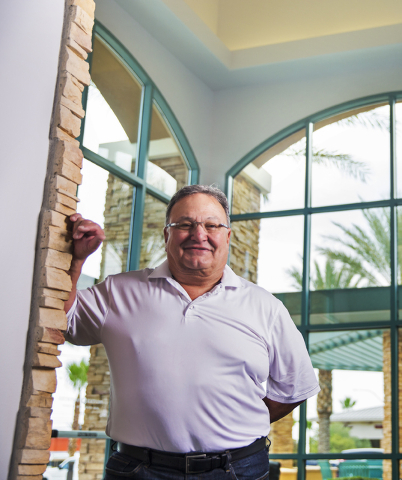 Vic Salerno said fantasy sports betting should look more like horse racing.
He may get his wish.
The Nevada gaming veteran and innovator will go before the Nevada Gaming Commission on Thursday to advance his concept and licensing of his USFantasy to provide a menu of daily and weekly fantasy sports contests that will include the NFL, MLB, NBA, NHL, NASCAR, PGA Tour and other sports. There are no immediate plans to include college sports.
Earlier this month, the Nevada Gaming Control Board gave its recommendation for licensure.
Salerno, president of USFantasy, wants to launch the concept in August starting with Major League Baseball and transitioning into the NFL in September. Other sports would be included when their leagues start.
It would vary greatly from existing fantasy sports contests operated in other states by DraftKings and FanDuel, the nation's two largest Daily Fantasy Sports (DFS) operators. Both stopped offering the contests in Nevada after Nevada gaming regulators in October banned unlicensed daily fantasy sports websites from providing the service to Nevada customers, arguing that it constitutes sports betting.
USFantasy plans to launch the concept to Nevada casinos' race and sports books and ultimately expand it to states across the country through racetracks and even lotteries to create larger nationwide pools.
"I have talked to several of the casinos and I have not heard one negative thing about it," Salerno said. "They all seem to want the product added to their menus."
The USFantasy concept is based on pari-mutual betting that's done in horse racing and in which Salerno said the takeout or hold is as high as 25 percent on some wagers. The fantasy takeout or hold will range from 10 percent to 14 percent, depending on the event and entries, he said.
People can wager as little as $1 and make picks on those groups for an athlete to win, place and show – first, second and third – and do combinations just like in horse racing such as picking the top two in order, which is an exacta. The football winner might be based on passing yards touchdowns but scoring of categories hasn't been determined.
"Instead of calling them races, we would call them events," Salerno said. "The first race instead of having horses, we list the top 20 quarterbacks in the NFL and you can bet on them. The public decides who the favorite is going to be. If everybody keeps betting on (New England quarterback) Tom Brady, he becomes even money or 6-5 or something like that."
With DraftKings and FanDuel, for example, the DFS operators determine the value of athletes in their contests and contestants have no idea how much support the athletes are getting in the contests. The fantasy operators have also been plagued by allegations of insiders having information that the public doesn't have, and that's triggered state and federal inquiries.
"We want to keep it as easy as possible for everybody to understand yet still be challenging enough for the people that really study it more to also have a good shot at it," Salerno said. "The difference between us and FanDuel and DraftKings are that in ours there will be 80 percent of the people getting the money back and not 2 to 5 percent of people getting the money back."
DraftKings and FanDuel did not respond to requests for comments.
Jay Kornegay, vice president of race and sports operations for the Westgate Las Vegas, said a meeting is planned for Monday to talk about the concept.
"We have done business with Vic for a long period of time and certainly we respect all the work he has done for the industry over the years," Kornegay said. "Now he has come up with a new fantasy concept I believe is brilliant. It's something many of us didn't think of before, but it certainly has some legs to it."
Pari-mutual wagering has struggled over the years because it's difficult to win it and racing has large take outs and small fields, Kornegay said.
"This offering that Vic is presenting is different from our race product," Kornegay said. "It's going to have large fields, the takeouts are a lot less than at a normal track, and it receives a lot of coverage so people will be familiar with the names that are in these pools.
This application of daily fantasy sports can easily adapt with existing pari-mutuel regulations in 43 states, Salerno said. He said they're meeting with state legislators in other states, and there has been interest in it, he said. Some states have banned DFS by calling it a game of chance instead of skill but every state is different, and he said he hopes the pari-mutual concept overcomes any concerns.
Daniel Wallach, a gaming and sports law attorney based in South Florida with the firm Becker & Poliakoff, said the only states that have carved out exceptions for fantasy sports are Tennessee, Indiana, Virginia, Mississippi, Colorado and Missouri. Others will be done by a state-by-state determination.
"US Fantasy is going about this smartly in creating a true pari-mutuel product that does provide greater consumer protections than most salary-capped games where there is little transparency and visibility in what is going on," Wallach said. "This is a good first step."
BACKGROUND
Vic Salerno is a 38-year veteran of the race and sports book industry in Nevada. He was chairman of the board and chief executive officer of American Wagering Inc. until it was sold to William Hill in July 2012. He then served as chairman of the board until February.
Salerno is credited for the first computerized book making systems, first sports bookmaking network hub operation in Nevada. He pioneered the development and use of self-service race and sports book kiosks.
He was inducted into the American Gaming Association Gaming Hall of Fame in 2015.