Say hello to M-Bot: Security robot roams M Resort parking lot
Updated March 7, 2023 - 7:41 pm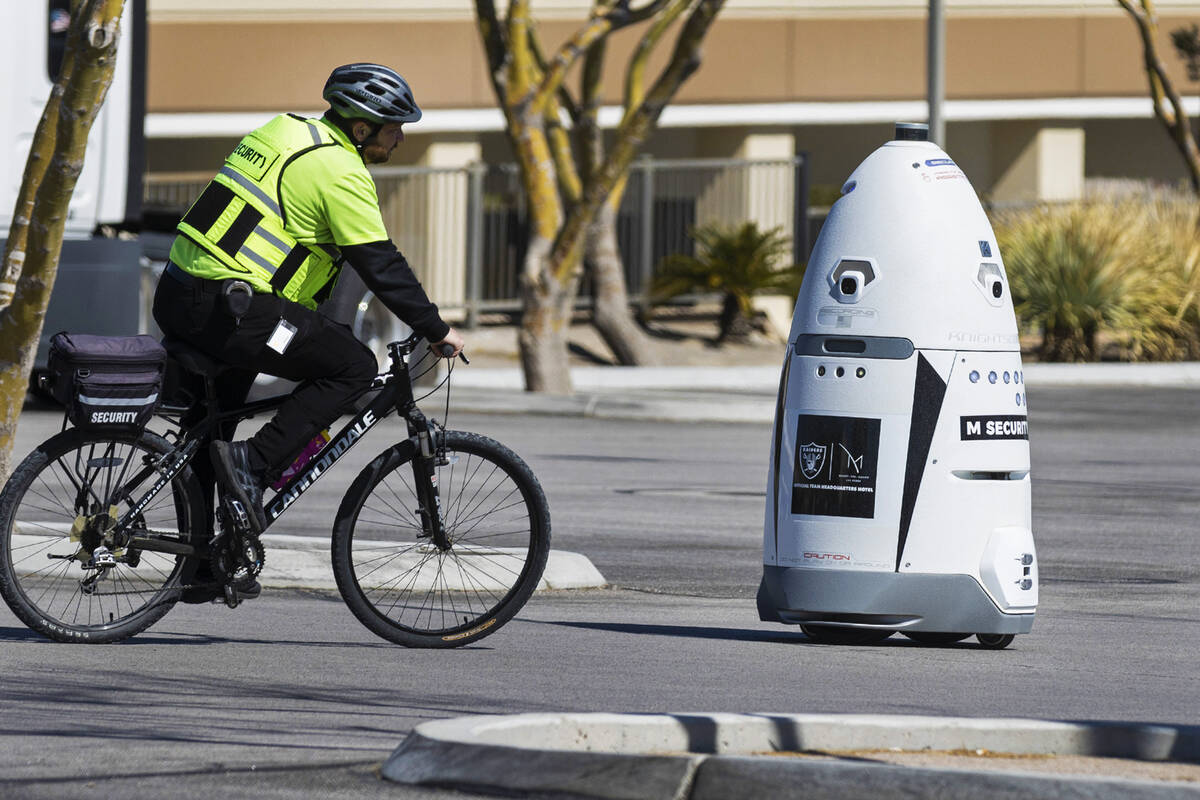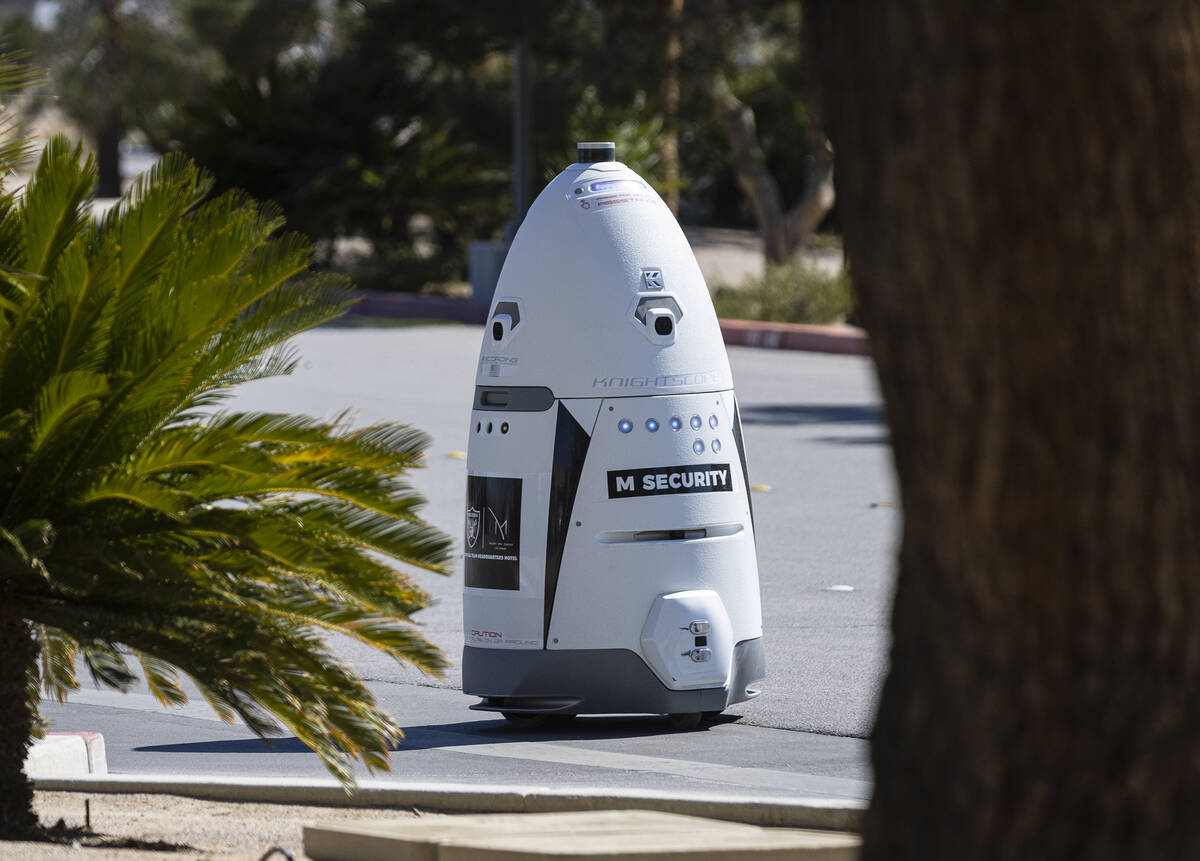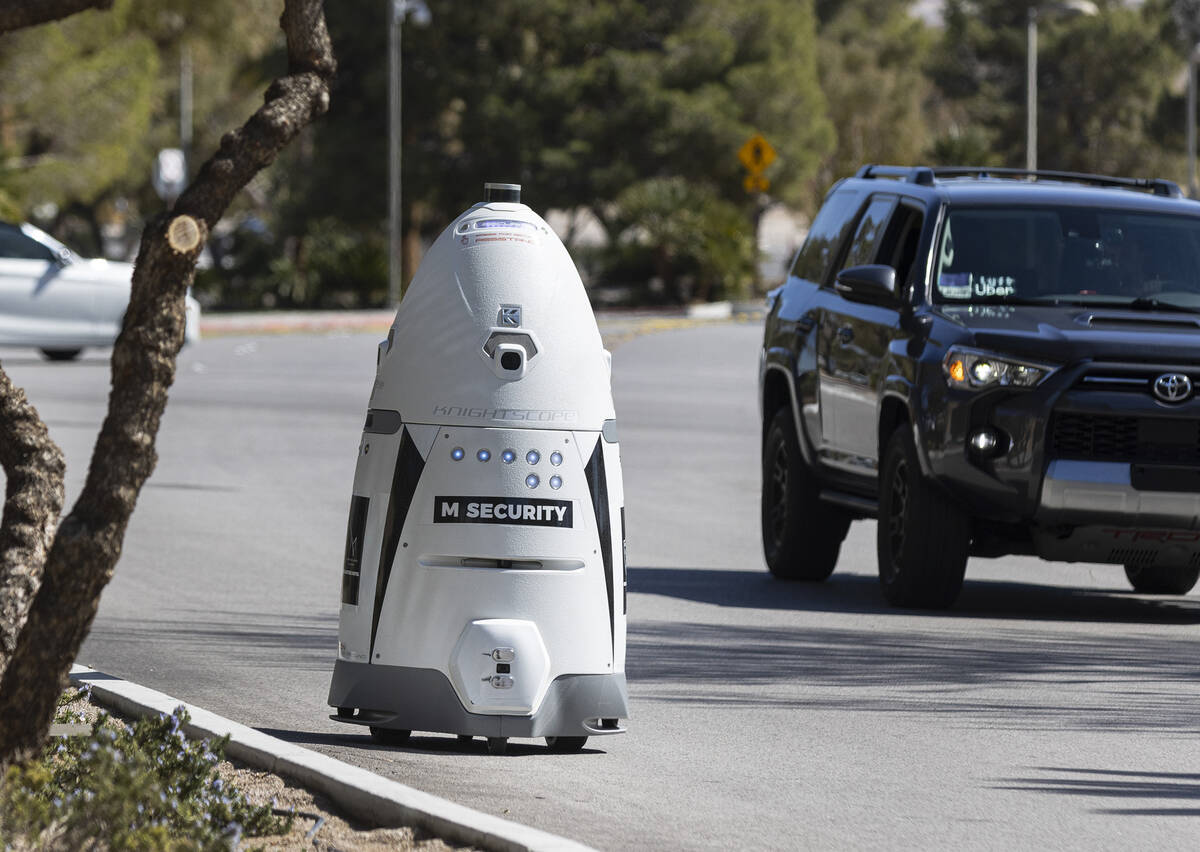 Don't be alarmed if you see an R2-D2-like robot rolling through the M Resort's parking lot. It's not the latest "Star Wars" set, but a new way for the Henderson casino to patrol and survey its surface lots and garages.
The robot, nicknamed M-Bot by resort staff, patrols the area and can speak to patrons, either greeting or warning them. More importantly, it can see and hear while on patrol, providing a live, recorded feed to the property's security office.
Kevin Mounts, M Resorts' head of security, said the Penn Entertainment-owned property began using Knightscope Inc.'s K5 Autonomous Security Robot in mid-December.
"It does need some time to charge, but unlike an employee, it doesn't need time for a restroom break or a lunch break," Mounts said. "He just continues to patrol."
The robot has multiple purposes, Mounts said. It's a surveillance camera on wheels, a crime deterrence and a branding opportunity for the resort and the Las Vegas Raiders, an official partner. It's able to navigate around the property using its camera and about 50 sensors and other monitors.
The M-Bot has also caught the eye of other operators, he said, who have inquired about the robot.
During a demonstration Friday with the Review-Journal, several curious guests stopped to ask Mounts about its name, purpose and abilities.
The 5-foot-2-inch, 400-pound weatherproof device can stream and record 360-degree video, detect people, allow security to speak through two-way communication and other services. It doesn't have facial recognition and couldn't, for instance, detect when a person might be breaking into a car instead of getting in.
"That's where 'Star Wars' ends and reality begins," said Stacy Stephens, Knightscope's executive vice president and chief client officer.
At the M Resort, Mounts and his 56-person team have it patrolling between the valet station, under the porte-cochere and the southeastern parking lot. The staff is also working on adding it to the garage.
Mounts plans to keep it as the lone security robot at the resort, which is breaking ground on a second tower by the end of this year, for the foreseeable future. But it won't replace members of the security team, which he said is fully staffed and preparing to ramp up hiring for pool season.
Instead, it complements the security team's abilities.
The M-Bot primarily checks license plates and acts as an additional sign of security to guests, while roaming the property daily for about 22 hours.
"When you put a robot out into an environment where normally a person may be going to or from a car to the entry of an establishment, and they're checking their phone and all of a sudden they hear this 400-pound robot rolling by, it gets their head out of their phones and more aware of their surrounding — worse for the criminal," Stephens said.
In other uses, it can be programmed to identify people in places or at times where they shouldn't be such as an office complex at night.
While M-Bot is the first K5 model in a Las Vegas-area casino, it's not the first robot in town.
A Knightscope autonomous security robot was deployed in October 2021 at the Liberty Village apartment complex near Nellis Air Force Base. After its deployment, the apartment complex fell out of the top 10 for 911 calls from apartment complexes in the northeast part of the Las Vegas Valley, the Review-Journal reported.
"People don't want to get caught on the cameras, so they will avoid it," Liberty Village Manager Carmen Batiz said at the time.
McKenna Ross is a corps member with Report for America, a national service program that places journalists into local newsrooms. Contact her at mross@reviewjournal.com. Follow @mckenna_ross_ on Twitter.