Scientific Games grows quarterly revenue but suffers net loss
February 25, 2016 - 4:49 pm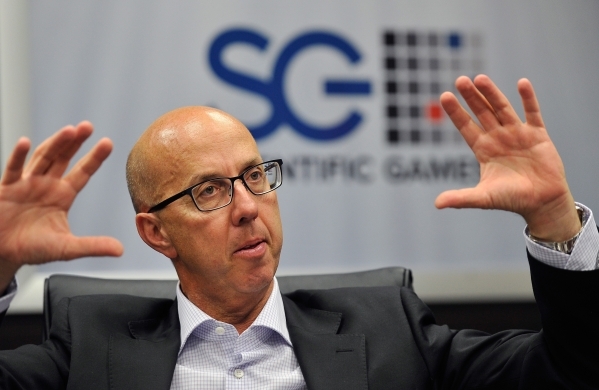 Slot machine giant Scientific Games Corp. said Thursday it closed out 2015 with a quarterly revenue fourth quarter revenue while the company sliced $231 million from the bottom line after completing the $5.1 billion acquisition of rival Bally Technologies.
Accounting and financial activities surrounding the Bally merger caused Las Vegas-based Scientific Games to suffer a net loss of $128 million in the quarter that ended Dec. 31, which included noncash impairment charges totaling $130 million.
Scientific Games, which operates in all aspects of the gaming industry, including slot machines, nontraditional table games, lotteries, and casino and lottery management systems, reported net revenue of $737 million in the quarter, 10 percent higher than the third quarter and up 4.2 percent from a year ago.
For the year, Scientific Games had total revenue of $2.8 billion, but reported a net loss of almost $1.4 billion, which included impairment charges.
"We completed the heavy lifting of integration and built a strong foundation for our future," said Scientific Games CEO Gavin Isaacs concerning the acquisition of Bally. "2015 was a transformational year for Scientific Games."
Scientific Games said it signed multi-year agreements to operate government-run lotteries in Denmark; Germany; Ontario, Canada; and Arkansas. The company's lottery segment, however, suffered a 6.1 percent revenue decline in the fourth quarter.
Scientific Games acquired Bally in November 2014. The company's first quarter 2016 results will mark the first time the company reports a comparable three months of results since the Bally deal was finalized.
The company said it reduced its total long-term debt by $33 million in the quarter, leaving the company with total debt of $8.2 billion at the end of the year.
In a research note to investors before earnings, Union Gaming Group analyst Christopher Jones said concerns about Scientific Games' defaulting on its debt are unfounded. He said the is a lack of lack of near-term maturities or any risk of liquidity shortfalls. However, any path toward a deleveraging in contingent on a broad-based recovery in gaming equipment sales.
"The challenge here is that given the current environment, it doesn't appear to be enough to do much beyond treading water," Jones said. "While there is no immediate fear of default, it's difficult to see a path for Scientific Games that allows it to escape the challenges of a highly levered balance sheet."
Shares of Scientific Games rose 18 cents, or 2.94 percent, to close at $6.31 on the Nasdaq. The company's shares were up more than 26 percent in after hours trading
Contact reporter Howard Stutz at hstutz@reviewjournal.com or 702-477-3871. Find @howardstutz on Twitter.