South Point owner Michael Gaughan still going strong in Las Vegas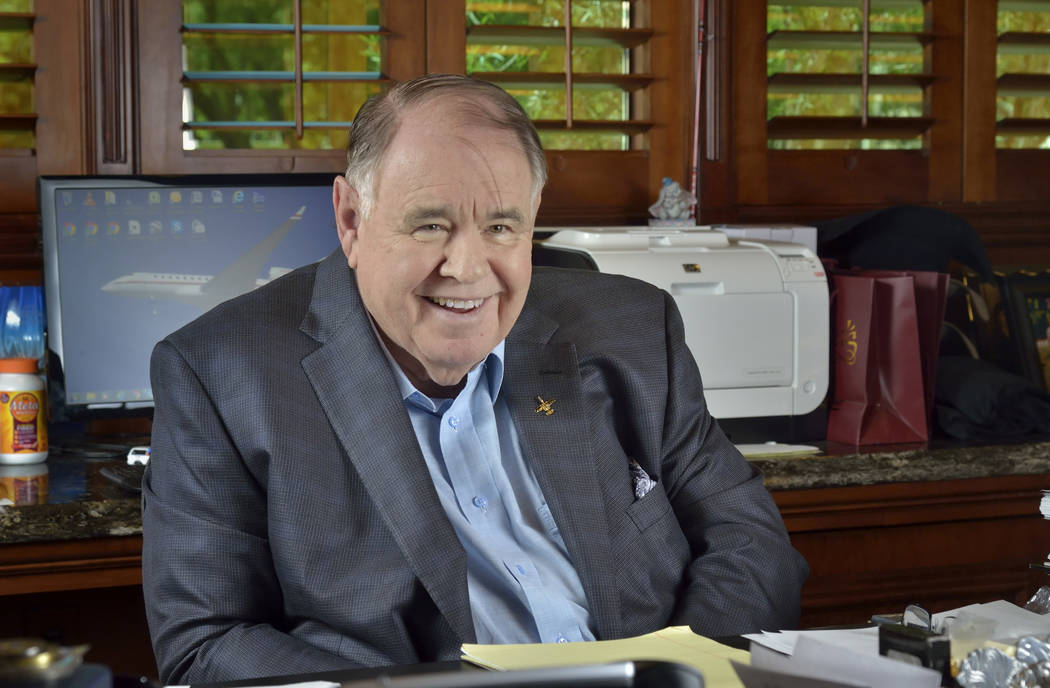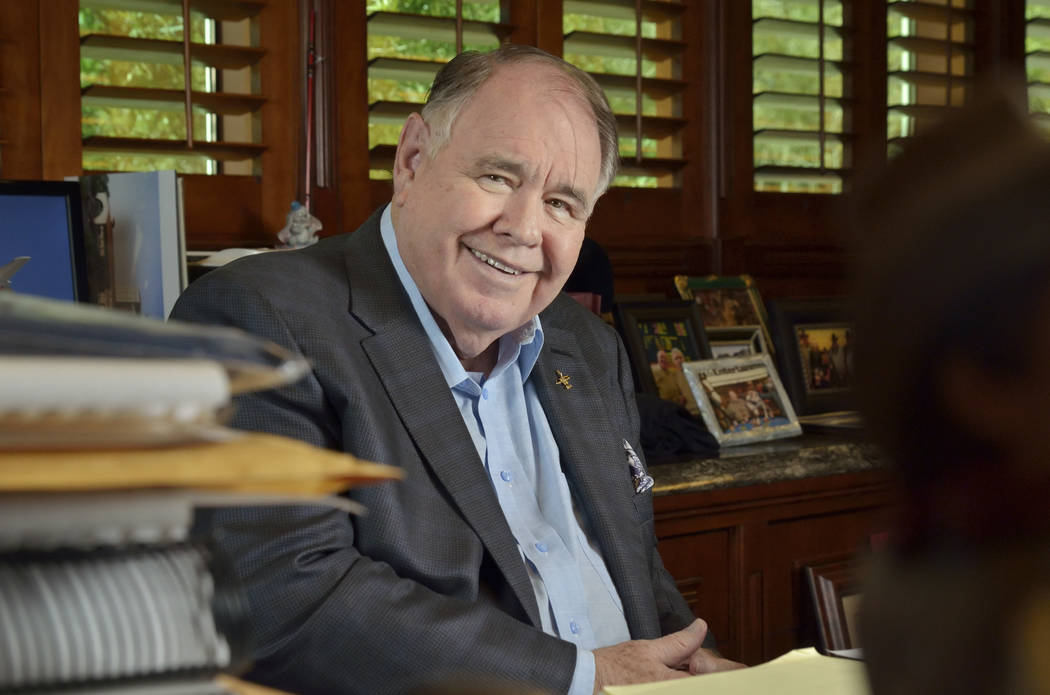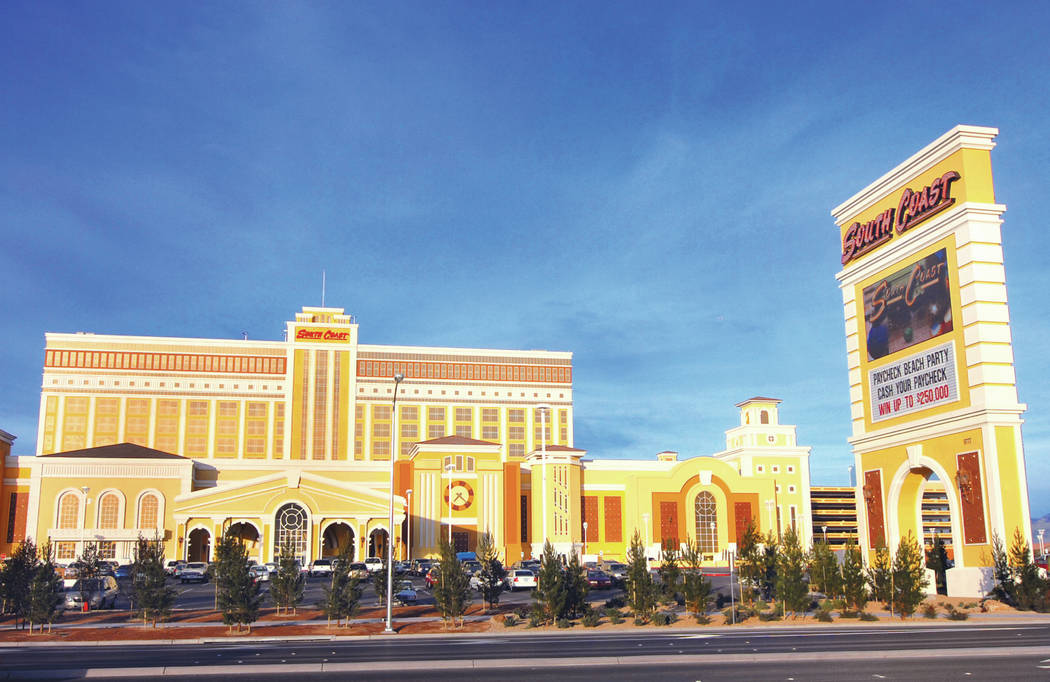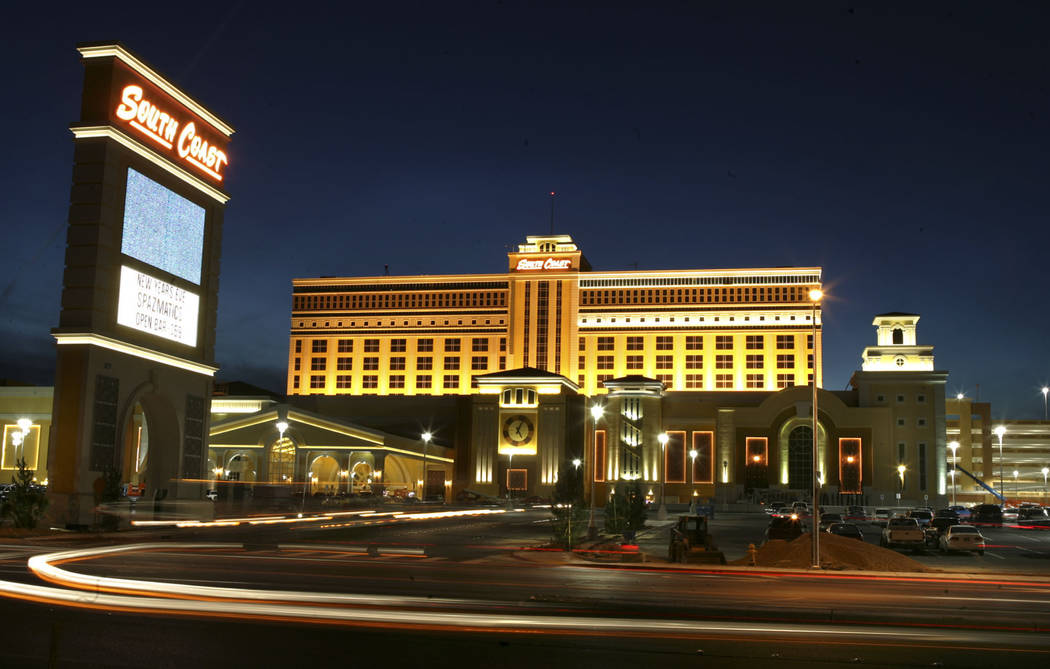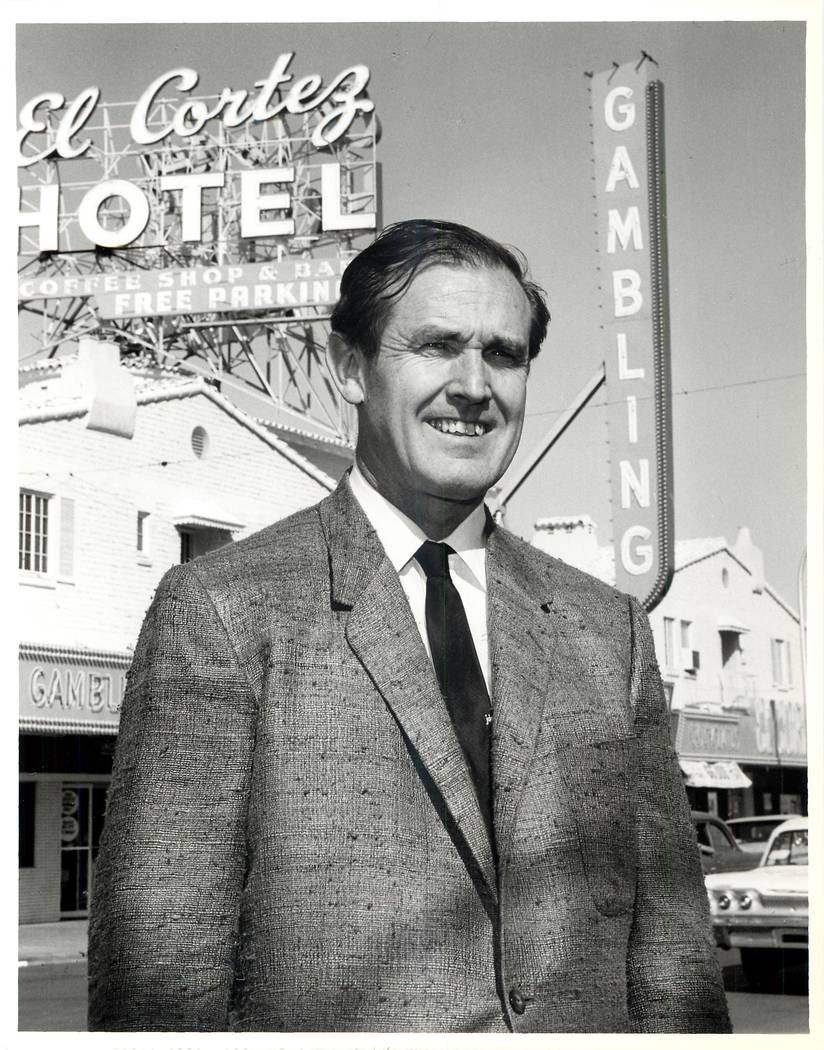 South Point owner Michael Gaughan says his late father, Las Vegas casino pioneer Jackie Gaughan, would be baffled by his marketing strategy.
Gaughan, one of few remaining "old-school" (as industry followers call him) Las Vegas casino operators, has bought billboard space along Interstate 15 to let those arriving from California know his casino has free parking and 3:2 blackjack.
"If my father knew, he would say I am wasting my money," Gaughan said in his office inside the 2,163-room casino seven miles from the Strip.
Once as common a feature of Strip casinos as lounge acts, free parking and blackjack with such favorable odds have been phased out as corporations like MGM Resorts International and Caesars Entertainment Corp. cement their hold of the Strip.
But single owners like Gaughan, whose family roots in Las Vegas go back to the early 1950s, are also disappearing as consolidation again grips the gaming industry.
Gaughan is one of the few remaining individual casino owners who essentially built his own sprawling Las Vegas property from scratch. Today an individual looking to build a hotel-casino the size of the South Point would need a net worth close to $1 billion, if not more.
Phil Ruffin and Alex Meruelo are the only two individual casino owners on the Strip. But Ruffin bought Treasure Island from MGM while Meruelo bought the SLS Las Vegas from an investment fund.
Derek Stevens, the majority owner of the downtown D Las Vegas and Golden Gate, is building a 777-room hotel-casino with his brother. Some consider him a close comparison to Gaughan.
But Ruffin, Meruelo and Stevens did not come from a gaming background or make their fortune in the industry.
"Michael is one of the last of the Mohicans," said Anthony Curtis, a publisher of books on Las Vegas and the gaming industry. "His management style is a carryover from the old days."
The South Point caters to cost-conscious gamers seeking "cheap food, good odds," he said. The video poker slots return 99 percent, compared with about 96 or 97 percent on the Strip, according to Curtis.
"It's the way Benny Binion did it. It's the way Jackie did it, and it's the way Michael grew up," Curtis said.
Gaughan said he loses money on the nine restaurants he owns inside the South Point.
Ted Newkirk, founder of Access Vegas, a site offering gaming and tourism tips, said the South Point is among the few big resorts that still occasionally offer free admission for entertainment.
"Gaughan knows that you get them in the door with food and liquor and entertainment, and you make a few bucks when they gamble," Newkirk said.
Omaha to Vegas
Gaughan was born in Omaha, Nebraska, into an Irish Catholic family involved in the local betting industry.
In 1951, his grandmother sent Jackie Gaughan to Las Vegas, where he promptly bought a stake in the Flamingo and later acquired El Cortez.
Michael Gaughan joined his parents in Las Vegas in 1952 when a seat opened up in the local Catholic school.
"My Catholic grandmother was not going to let me go to a Protestant school,'' said Gaughan, whose office features a large black-and-white photograph of his grandparents on their wedding day in Omaha.
Coast Casinos
Gaughan grew up working in the industry and branched off from his father to build the Barbary Coast on the corner of Flamingo Road and Las Vegas Boulevard with partners.
He parlayed that success into building three more resorts: the Suncoast, the Gold Coast and The Orleans.
Just as he began building his fifth property, the South Coast, Gaughan and his partners sold Coast Casinos to Boyd Gaming in 2004 for $820 million in cash and shares.
Gaughan joined Boyd to run the properties it acquired, but the trappings of corporate life — with decisions passing slowly through layers of bureaucracy — didn't suit him.
In July 2006, he parted ways with the company, buying back the South Coast in exchange for the value of his 15.8 million shares in Boyd Gaming, equivalent to nearly 18 percent of the casino operator at the time.
At that time the South Coast — later renamed the South Point — was certainly not worth 18 percent of Boyd Gaming. It had opened in December 2005 with just 660 rooms at a cost of nearly $600 million. It failed to meet Boyd Gaming's expectations over the first six months of operations.
The exit off I-15 hadn't been completed, making the property an inconvenient destination for visitors. Some amenities like the spa had yet to be finished.
And there was nothing around the South Point other than empty land. A taxi ride to the Strip then cost about $20 each way, reducing any savings involved in staying away from the action.
"Portions of the resort aren't ready," Curtis published on his site, Las Vegas Advisory, at the time. "Some amenities are still under construction, especially those that are entertainment-related. Plus, this baby is a long way out of town; at least three miles farther south than Silverton.''
Perhaps for those reasons, it wasn't Gaughan's first property of choice upon his separation from Boyd.
"Boyd wanted to give me the Gold Coast. I wanted The Orleans. The compromise was the South Coast, which was also the newest," he said.
His alternative was to sell his Boyd shares, buy land and build a new casino from scratch. But Las Vegas land prices had skyrocketed since he snapped up the South Point plot in 2001. Construction costs were also jumping. And a new property would take years to complete.
The poorly performing South Point was preferable to starting over.
Record profit
It turned out that the deal had some upsides.
The South Point was essentially debt free when Gaughan took it over. That enabled him to invest in its expansion and avoid laying off workers during the financial crisis that rocked Las Vegas beginning in 2008.
Gaughan built the second and third towers over a two-year period, bringing the property to its current room count of 2,163 by mid-2008.
Next door, real estate investors were building The Grandview at Las Vegas, a timeshare property that would grow over the years to eight towers holding 2,256 units and feeding the South Point with customers.
"They don't have a Coke machine in the lobby," Gaughan said. "When the timeshare is full and I am full, it's like New Year's Eve here."
Local development continues
The South Point is poised to do well as the national economy improves and home construction picks up near the resort, creating a larger local customer base.
At least four condo and apartment projects have been approved over the past year with the potential to bring 1,900 units within a stone's throw of the resort.
"Everybody thought that there was going to be a second Strip here, and now they're selling it for houses and condos," Gaughan said about the neighborhood.
John DeCree, an analyst at Union Gaming, said the Raiders' plan to set up headquarters near the south end of the Strip in 2020 should also boost business at the South Point.
Nearby competitors are getting ready to capitalize on the expected growth. The Silverton, located three miles north along I-15, has announced expansion plans. The M Resort, located five miles south, has talked of building another tower.
Record earnings
The booming economy — and a 310-day bowling championship that funneled thousands of customers through the lobby — lifted the South Point to record operating earnings in 2017, Gaughan said. He declined to disclose company revenue or earnings, but he said occupancy was 80 percent.
Twelve years after Gaughan's separation from Boyd, the deal can still be considered fair for both. The 15.8 million shares would be worth about $585 million today, excluding any dividends paid over the years. And recent Las Vegas casino acquisition prices suggest the South Point could be worth nearly as much.
Boyd Gaming acquired the Aliante Hotel, a high-end, 202-room property on the opposite end of the valley, for $380 million in 2016. The South Point has 10 times the Aliante's room count, more slots and table games and an equestrian center that hosts more than 40 weeks of events, bringing tens of thousands of visitors to the resort.
DeCree said the South Point could be a desirable asset for a larger competitor seeking a greater share of the locals market.
But Gaughan said he is not looking to sell, and he has put the property in trust for his heirs. He has four children, including Michael Gaughan Jr., general manager of the JW Marriott in Summerlin, and John Gaughan, who is also involved in the gaming industry.
Still working
Neither age nor wealth has stopped Gaughan from putting in five to six days a week at the South Point, including a few hours at the sports book on football Sundays.
However, he no longer writes tickets — a tradition of his that went back to the 1970s.
"They took my writing station away from me," Gaughan said with a laugh. "I can't keep up with the keypad and the computer."
That level of familiarity with Gaughan may keep his customers and workers loyal.
About 1,500 of South Point's 2,200 workers have been there more than 10 years, said Gaughan, who meets with them as a group every year to discuss benefits and wages. Nearly a quarter have worked with him for more than 20 years. South Point workers do not belong to Culinary Local 226 or Bartenders Local 165.
Steve Stallworth, general manager of the equestrian center, has worked with Gaughan on and off for about 20 years. "I don't say I work for South Point," he said. "I tell people I work for Mr. Gaughan."
Contact Todd Prince at 702-383-0386 or tprince@reviewjournal.com. Follow @toddprincetv on Twitter.
Horse power
One thing that makes the South Point unique among Las Vegas resorts is its 4,600-seat equestrian arena, which features more than 1,200 stalls and hosts more than 40 weeks of equestrian events.
Industry professionals initially thought Michael Gaughan's idea for a large-scale arena was flawed, said Steve Stallworth, the arena's general manager.
Las Vegas was too hot and held too many distractions for equestrian participants, Gaughan was told. He decided to build the arena anyway. It hosted enough equestrian events to justify an expansion in 2014.
"No Las Vegas casino owner would have done this in their right mind," said Stallworth, highlighting that other resorts are focused on lucrative convention space for business meetings.
But Gaughan, his wife Paula and their daughter Katie Gaughan-Banuelos have an affinity for equestrian sports and built up strong relations in the industry, Stallworth said.
Michael Gaughan says he has no regrets building the equestrian center or the bowling alley above it, because both attract a good customer.
"The secret is you have to find people that want to play (on the casino floor)," he said.