State gaming win clears $1B for 6th straight month
Updated September 30, 2021 - 5:35 pm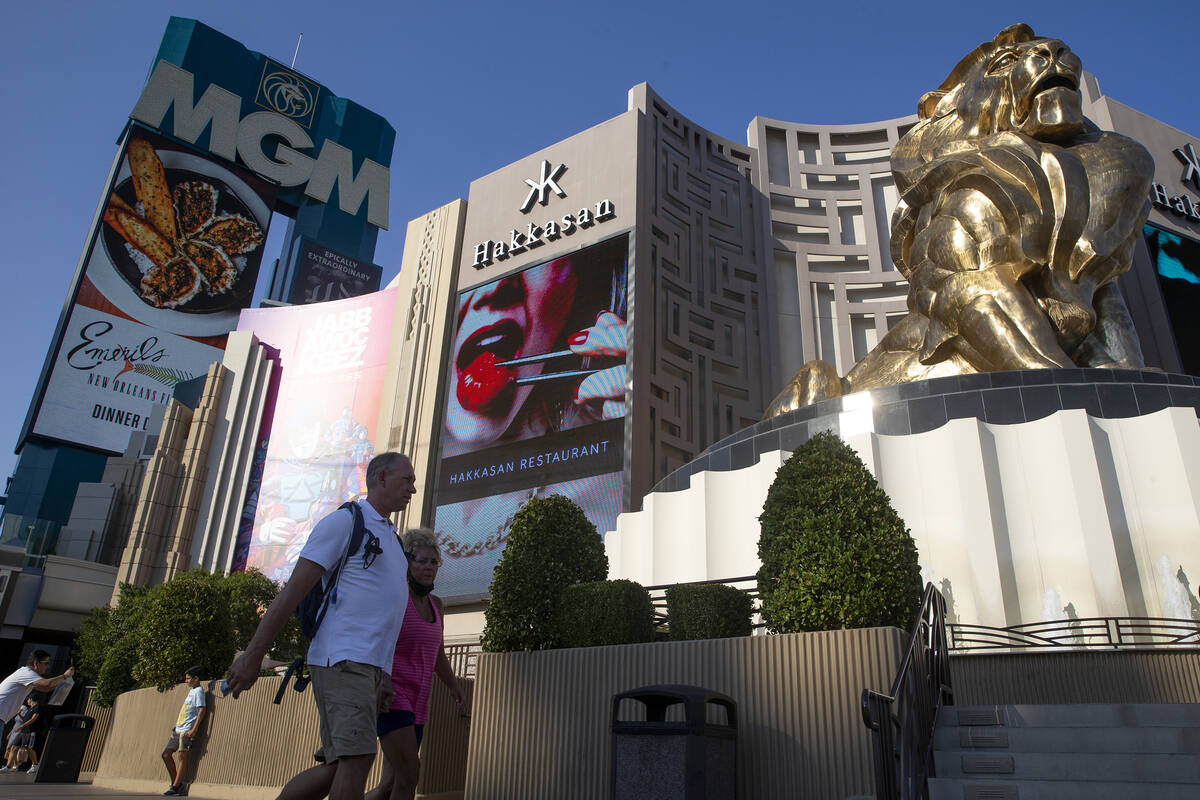 State gaming win slowed in August following July's record performance, but the state's casinos still collected more than $1 billion from players for the sixth straight month, the Nevada Gaming Control Board reported Thursday.
The six-month string of $1 billion totals is the second-longest streak in state history. If $1 billion is recorded in September and October, it would equal the longest streak, an eight-month stretch recorded from November 2006 to May 2007.
The August total also surpassed August 2019 numbers, indicating win collections are better than in pre-pandemic periods.
Statewide, casinos collected $1.166 billion from players, a 56.9 percent increase from August 2020.
Strip casinos won nearly twice as much as they did in August 2020, taking $625.7 million from players, a 97.2 percent increase from a year ago. Clark County didn't clear $1 billion as it did in July but still posted an impressive win total of $993.4 million, 67.3 percent ahead of August 2020.
August's numbers include win statistics from Circa, Virgin Hotels Las Vegas and Resorts World Las Vegas, which weren't yet open in August 2020.
The effects of the Caldor Fire on tourism in Northern Nevada also began to show in August.
While nearly every market in the state reported double-digit percentage increases from 2020, the North Lake Tahoe market was up 9.3 percent and South Lake Tahoe up 8 percent from last year.
The largest casinos at Lake Tahoe began closing at the end of August and early September, but smoky conditions and blocked highways from California kept many visitors away.
U.S. Highway 50, a transportation artery between the San Francisco Bay Area, Sacramento and Lake Tahoe, temporarily closed on Aug. 22.
Tourists attending several special events in Southern Nevada offset some of the tourism downturns at Lake Tahoe in August.
Michael Lawton, senior research analyst for the administration division of the Control Board, noted that the United States played Mexico in the 2021 Gold Cup final Aug. 1 at Allegiant Stadium and Manny Pacquiao fought Yordenis Ugás in a welterweight match at T-Mobile Arena on Aug. 21.
And Guns N' Roses performed at Allegiant Stadium on Aug. 27.
Several popular shows that had been dark through the pandemic returned in August. Cirque du Soleil's "Michael Jackson One" reopened at Mandalay Bay on Aug. 19 and "The Beatles Love" returned to The Mirage on Aug. 26.
Analysts focused on comparing this year's calendar win to date with the first eight months of 2019, before the pandemic shutting the state's casinos down for 78 days.
For the state, win is up 7.8 percent compared with 2019 with only the Strip, North Las Vegas and Laughlin tallying numbers that weren't as good as two years ago.
Downtown Las Vegas win is up 23.2 percent compared with 2019 and the off-Strip locals markets are up 18.9 percent from that year.
But the Strip was off 0.7 percent from the first eight months of 2019.
Joseph Greff, an analyst with New York-based J.P. Morgan, said the year-to-date numbers spell a "robust recovery, no matter how you cut it."
In a report to investors Thursday, Greff compared revenues from Strip slot machines and table games with and without volatile baccarat numbers from 2019 to 2021.
Every category was higher in 2021 than 2019, with slot machine revenue up 38 percent and handle — the amount put into machines by players — up 26 percent.
Gaming tax collections since the beginning of the 2022 fiscal year are up 11.4 percent to $263.9 million compared with fiscal 2021.
Contact Richard N. Velotta at rvelotta@reviewjournal.com or 702-477-3893. Follow @RickVelotta on Twitter.