Trop owner Penn National sees quarterly profits, cash flow rise
February 4, 2016 - 3:15 pm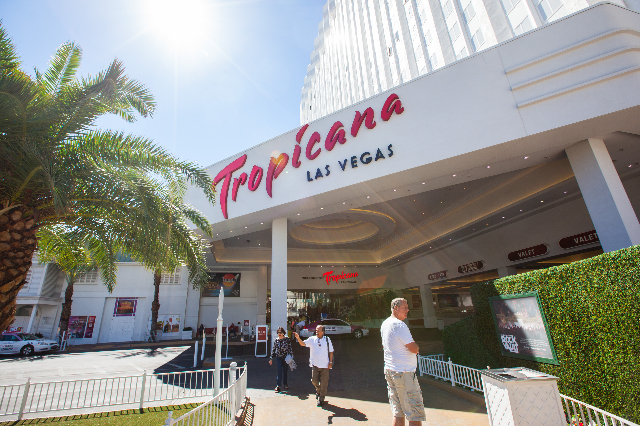 Tropicana and M Resort owner Penn National Gaming wrapped up a "productive 2015," saying Thursday the regional casino giant grew revenue and cash flow in the fourth quarter.
Penn National is restating earnings going back to the 2013 spinoff of real estate investment trust Gaming and Leisure Properties, and the company did not report net income for the quarter as part of the process. Penn executives expect the restatement to be completed by end of this month.
Penn National grew revenue 12.7 percent in the quarter that ended Dec. 31 to $734 million. The company reported net revenue of more than $2.8 billion for the year. Consolidated cash flow for the quarter — earnings before expenses such taxes are removed — grew 20 percent to $206.2 million.
CEO Tim Wilmott said Penn National had an "active" year, acquiring the Tropicana in August for $350 million, opening a race track casino in Massachusetts in the summer, and purchasing an Illinois-based video lottery terminal company. Penn also benefited from a full year of operations of its rebuilt Ohio racetrack casinos.
Wilmott said the company made "progress throughout the year in enhancing operations" in addition to "profitably growing market share in several key markets."
The company's west region, which includes the Tropicana Las Vegas and M Resort, grew revenue 41.4 percent to $88.9 million. Much of the increase was credited to a full quarter of operations of the Tropicana. Wilmott said Penn has made strides in positioning the Tropicana to "benefit" from the improving economy and new attractions planned for the south end of the Strip.
Wilmott said Penn is updating the casino's slot machines and table game placement and introducing the company's player rewards program. He said Penn has 3 million players in the program, "a significant percentage of which regularly visit Las Vegas."
He said the casino's previous owners spent $200 million to improve the Tropicana's rooms.
"We believe Tropicana Las Vegas will create shareholder value as we attract new and more profitable customer segments," Wilmott said.
Penn National plans to open the $390 million Hollywood Casino Jamul near San Diego in middle of this year.
Contact reporter Howard Stutz at hstutz@reviewjournal.com or 702-477-3871. Follow @howardstutz on Twitter.