Tropicana set to sell for $308M
Updated April 13, 2021 - 7:47 pm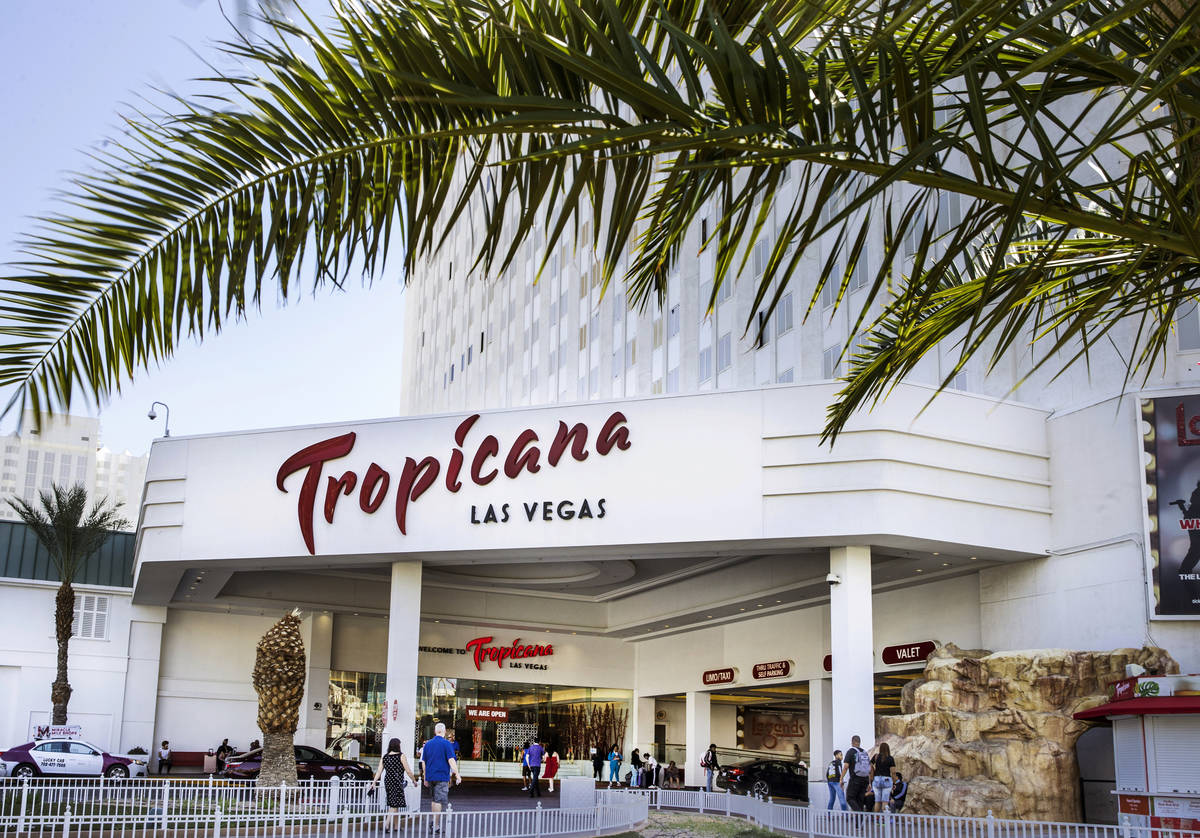 Rhode Island-based Bally's Corp. is set to buy the Tropicana from Gaming and Leisure Properties Inc., a transaction valued at $308 million.
The move is the latest of many acquisition announcements from Bally's, which has been rapidly expanding its brick-and-mortar portfolio and online gaming offerings in recent months. Gaming experts say they're excited to see the company move onto the Strip, especially at a time when the market is still recovering from the pandemic.
"This is an indicator of a lot of really good things," said UNLV associate professor of hospitality Amanda Belarmino. "It's really exciting to see investment in the Strip at this time."
A 'key step'
Bally's — which is unaffiliated with property operating under the same name on the Strip — has agreed to spend $150 million to operate the Tropicana. GLPI, a gaming-focused real estate investment trust that acts as landlord to the property, will retain ownership of the land under the resort-casino and lease it back to Bally's under an initial 50-year term for $10.5 million in annual rent, subject to increase.
The transaction is expected to close early next year, according to a Tuesday news release.
Bally's will be taking the reins from Penn National Gaming Inc., which sold the land under Tropicana to real estate spinoff GLPI for $307.5 million in April 2020. Penn agreed to operate the company for two years or until the land and casino were sold off.
Bally's CEO and President George Papanier believes landing a spot on the Las Vegas Strip is a "key step" for the company, which plans to explore "significant redevelopment" of the 1,470-room property. The Tropicana opened in 1957 and has been on the market for nearly a year.
"The Strip is visited by over 40 million players and guests per year, which we believe will significantly enhance Bally's customer base and player database, as well as unlock marketing opportunities to leverage the iconic Bally's brand," Papanier said in the news release. "This expansion will also support the growth and development of our online and interactive business."
The property is on a 35-acre parcel on the corner of Tropicana Boulevard and Las Vegas Boulevard and includes 50,000 square feet of casino space, a 1,200-seat performance theater and 100,000 square feet of convention and meeting space.
Sara Slane, a gaming consultant and distinguished fellow at UNLV's International Center for Gaming Regulation, said she believes Bally's purchase is a smart investment, even if the market has not returned to its pre-pandemic peaks.
"You can't underscore or undersell the value of the customer database in Vegas," she said. "Having a presence in Las Vegas as part of your omnichannel portfolio makes sense. I always will remain bullish on Las Vegas, it's just so hard to compete with all the offerings that the city has."
Sports betting expansion
Bally's became licensed to operate in Nevada last month, shortly before it closed its purchase of the MontBleu Resort near Lake Tahoe from Caesars Entertainment Inc.
That purchase allowed it to set foot in the state's sports betting market, but Swissman said its acquisition of Tropicana could open doors for even more customers since Nevada requires in-person registration for online sports betting.
"It makes sense to have the geographically distributed properties" across the state, he said.
The acquisition could also help Bally's establish a hub-and-spoke operating model, in which casino operators with properties across the country can offer incentives for loyalty members to travel to a flagship Las Vegas property.
"This is a big play for them. … The Las Vegas Strip is a crown jewel to have in your portfolio," Swissman said. And "you can't get much better than the real estate on the corner of Las Vegas Boulevard and Tropicana."
Bally's deal with GLPI also included an agreement to move Bally's Black Hawk property in Colorado and Rock Island casino in Illinois into leaseback deals, with GLPI paying $150 million in cash to purchase the land under the properties and rent it back to Bally's. The lease's initial annual fixed rent is $12 million.
Bally's has entered two other properties into sale-leaseback deals with GLPI: Dover Downs in Delaware and the Tropicana Evansville in Indiana. Bally's acquisition of Tropicana Evansville is expected to close this year.
Stocks tumble
While industry watchers viewed Bally's deal favorably, Wall Street had a different take on Tuesday.
Bally's shares tumbled after the Tuesday morning announcement, closing down 10.7 percent to $54.30 compared with Monday's closing price.
Meanwhile, GLPI shares closed up 3.1 percent to $44.68, Penn National Gaming shares closed up 0.7 to $102.56 and Caesars shares closed up 1.5 percent to $95.73 on the Nasdaq.
Swissman said Bally's move into the Nevada gaming market had already been factored into its price when it purchased the Montbleu. He added that the market also may have been concerned about how much Bally's would have to pay to give the Tropicana a facelift.
"Tropicana is an older property, so there's going to have to be some redevelopment there just to make the property more competitive with some of the newer, shinier properties out there," Swissman said. "No one's done the tough work of updating those old rooms … in the '50s, hotel rooms were just smaller. In order to (fix up) the property, some people think you have to tear down the building, or part of the building."
Construction costs for a major project like that could surpass $1 billion, Swissman said.
Bally's declined to comment on what its redevelopment plans for the property look like at this time.
Continued growth
Bally's has been highly active over the past year, closing the acquisition of four properties and initiating a number of other acquisitions and partnerships to in an effort to become the premier omnichannel gaming company.
Deals include the acquisition of daily fantasy sports operator Monkey Knife Fight in March, a pending acquisition of sports betting platform provider Bet.Works, and a strategic sports betting and iGaming partnership with Sinclair Broadcast Group Inc. The company also announced a merger with United Kingdom-based online gaming operator Gamesys on Tuesday.
"Bally's has been super aggressive in all their acquisitions and pulling together a lot of different pieces of the chess board in the gaming space," Slane said. "Certainly on brick and mortar and on the sports betting side and … bringing the online casino, online gaming to the mix."
Bally's owns and manages 12 casinos across eight states and is set to own and manage 15 casinos across 11 states after pending acquisitions are completed, according to Tuesday's release.
The company has signaled interest in expanding its portfolio further, and its deal with GLPI gives the investment trust the right of first refusal for sale-leasebacks at potential future transactions in Maryland, Michigan, New York and Virginia for a seven-year term.
Bally's is one of three finalists bidding for the gaming license in Richmond, Virginia.
Additionally, the company could be in play for a downstate New York license, Jefferies analyst David Katz said in a Tuesday note.
Bally's "is currently not present in (Michigan) and (Maryland) but appears to be signaling interest in those markets," Katz said. "As legalization for mobile wagering accelerates across states, (the company's) interest could extend beyond the four states."
What happens to Caesars' Bally's?
Bally's, formerly Twin River Worldwide Holdings Inc., purchased the brand name from Caesars last year. The deal allowed it to rebrand "virtually all of its portfolio properties under the Bally's name and logo," but gave Caesars a perpetual license to maintain use of the Bally's brand at its Strip hotel-casino.
Spokespeople for Caesars did not respond to a request for comment on how Bally's Corp.'s most recent purchase would affect Caesars Entertainment's Strip property operating under the same name. Caesars CEO Tom Reeg has said that the Reno-based company plans to sell at least one Strip property by January 2022; some have speculated that its Bally's property on the Strip could be up for grabs.
Such a sale could clear up any confusion between Caesars' Strip property and the Rhode Island-based operator and its pending Strip asset. It's also possible that Bally's keeps the Tropicana name; it has a pending acquisition with another Tropicana property in Indiana has yet to announce a name change.
"There's a lot of equity built in the Tropicana brand name," Swissman said. "I wouldn't be so quick to throw the baby out with the bath water."
Bally's declined to comment on its plans for the Las Vegas Tropicana's name.
Contact Bailey Schulz at bschulz@reviewjournal.com. Follow @bailey_schulz on Twitter.
Bally's Corp. revenues
Bally's Corp.'s revenues surpassed $185 million in the first quarter, up 70 percent year-over-year, according to preliminary results released Tuesday.
The Providence, Rhode Island-based company, which is unaffiliated with Caesars Entertainment Inc.'s Strip resort Bally's, has seen "outstanding performance" toward the end of the quarter driven by increased demand and the easing of COVID-19 restrictions, according to CEO and President George Papanier.
The positive trends have continued into April, he added in a Tuesday news release.
Bally's owns and manages 12 casinos across eight states, as well as a horse racetrack in Colorado.
The actual operating results remain subject to a closing process, and could differ from the numbers released Tuesday.