Caesars sells its Bally's brand
Updated October 13, 2020 - 10:57 am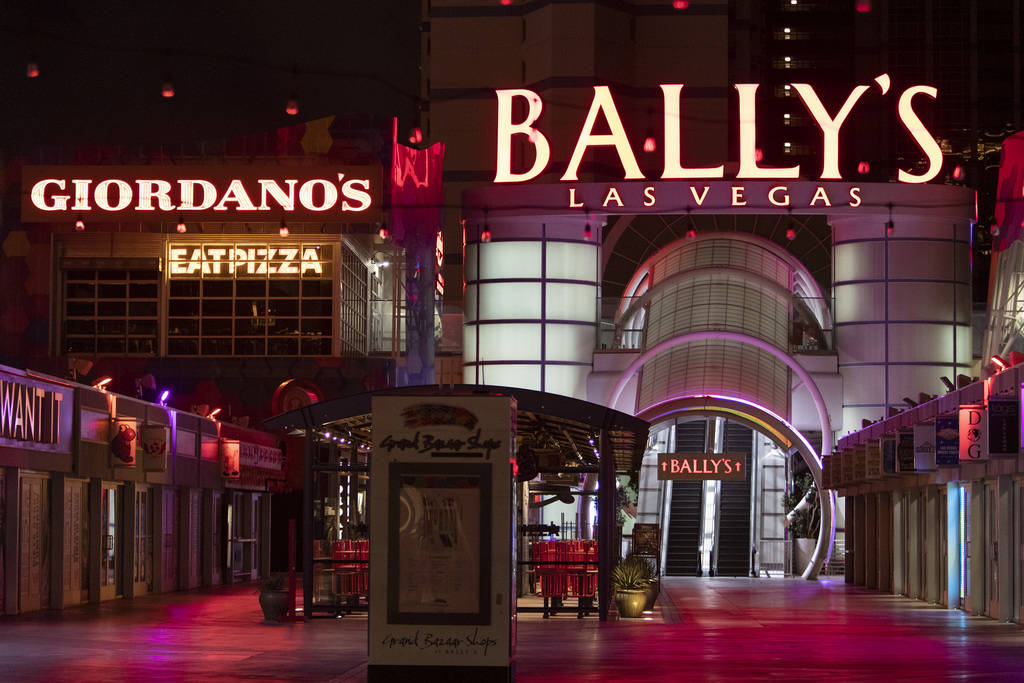 Caesars Entertainment Inc. has sold off the Bally's brand to Twin River Worldwide Holdings Inc., a move industry watchers say could be a sign Caesars is open to selling the Bally's casino on the Las Vegas Strip.
The sale allows the Rhode Island-based Twin River to maintain the Bally's name for its Atlantic City property, which it agreed to purchase from Caesars in April, and rebrand "virtually all of its portfolio properties under the Bally's name and logo," according to a Tuesday announcement from the company.
As part of the deal, Caesars will have a perpetual license to maintain use of the Bally's brand at its Strip hotel-casino. Financial terms were not disclosed.
"Caesars has been pretty vocal on wanting to sell one or two assets in Las Vegas," said Josh Swissman, founding partner of The Strategy Organization, a Las Vegas gaming and hospitality consulting firm. "I think this (deal) puts a big target on Bally's. It makes it a big acquisition target, especially for a company like Twin River."
The perfect candidate
Caesars has long said that it would sell a Strip asset after the Eldorado Resorts Inc.-Caesars Entertainment Corp. merger, which closed in July. So far, company officials have yet to say which property it will divest.
A spokesperson for Caesars declined to comment on whether this deal could be tied to the sale of its Strip property, but said the company expects that "Twin River's efforts to enhance the Bally's brand across the United States will raise visibility for Bally's Las Vegas."
But Truist gaming analyst Barry Jonas also believes the deal could lead to the sale of Bally's on the Strip.
"We could see this potentially being a first step towards a Las Vegas acquisition," he said in a Tuesday note.
Brendan Bussmann, director of government affairs for Las Vegas-based Global Market Advisors, said it makes "logical sense" for Twin Rivers to go after a Strip property.
"Having a footprint on the Las Vegas Strip and a Nevada gaming license is still viewed as one of the gold standards in the global gaming world," he said.
Swissman also believes Twin River is a perfect candidate to purchase the property.
"They just bought the rights to the name, and there's no rebranding that would have to happen in Las Vegas, so there are synergies built in," he said.
An acquisition wouldn't be out of character for Twin River. The company has been on a spending spree in recent months; this year alone, it has purchased or agreed to purchase one property in Illinois, one in Missouri, one in Mississippi, one in Louisiana, one in Nevada and three in Colorado, in addition to the Atlantic City Bally's.
Four of those deals involved Eldorado Resorts, now Caesars Entertainment Inc.
Swissman said if Twin Rivers does purchase a Strip asset, its operations model could mirror that of Caesars, which operates many regional properties and uses its loyalty system to drive customers to its Las Vegas properties.
"Twin River has two of the (four) necessary ingredients. They have a great brand name, and they're building a great portfolio of regional assets," he said. "They only thing left is adding a property in Las Vegas where they can send regional players to build loyalty," as well as a solid rewards system that encompasses all their properties.
Reviving the brand
Jonas said Twin River's shift to a historic gaming brand could resonate with an older core slot player, "a key target demographic" for its profile, which includes nine casinos stretched across five states.
Additionally, the unified brand could help the casino operator with a "more direct" online sports betting strategy and facilitate cross-property synergies for its properties.
Swissman believes the Bally's brand acquisition is "perfect" for Twin River, which as grown through acquisitions and does not currently operate it properties under a single brand. Now, the company now has the opportunity to reinvigorate a internationally-recognized gaming brand.
"The brand has a great legacy behind it in Las Vegas and New Jersey," he said. "I love everything that represents: a throwback to the heyday of gaming on both sides of the country."
Twin River shares closed up 3.5 percent Tuesday, trading at $24.20 on the New York Stock Exchange. Caesars shares closed up 2.8 percent on the Nasdaq, trading at $55.45.
Contact Bailey Schulz at bschulz@reviewjournal.com. Follow @bailey_schulz on Twitter.