Work on Steve Wynn's Paradise Park to begin late '17 or early '18
Updated April 25, 2017 - 5:27 pm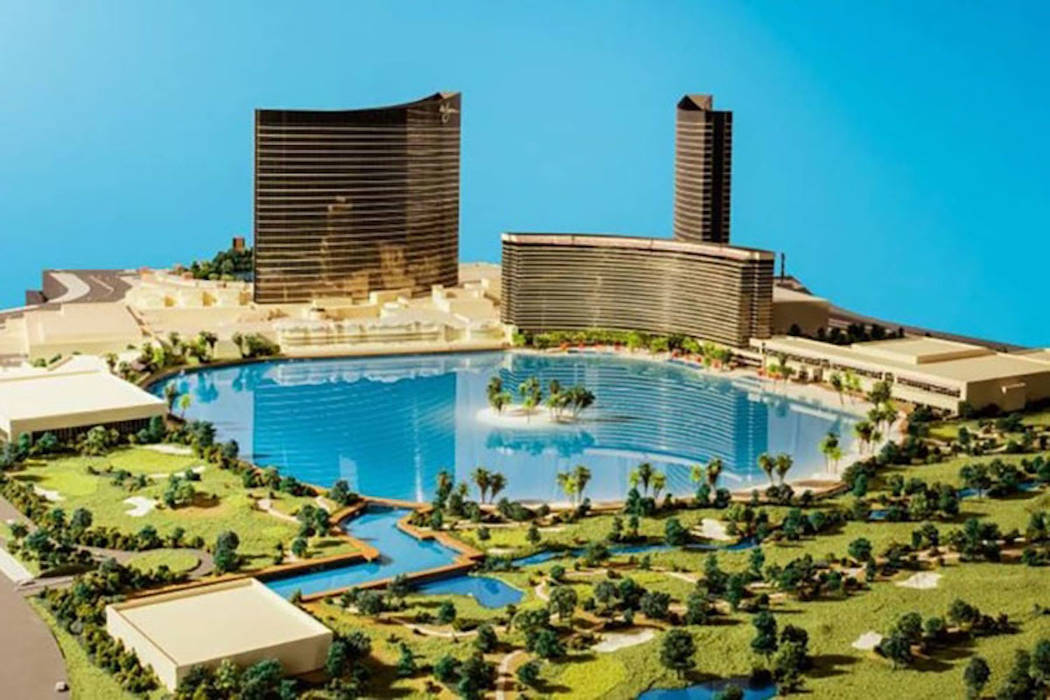 Work will begin by the end of the year or in early 2018 on the first phase of Steve Wynn's next big Las Vegas creation, Wynn Paradise Park, a 20-acre lagoon that would host watersports by day and fireworks displays at night.
Wynn Chairman and CEO Steve Wynn devoted much of the company's first-quarter earnings conference call Tuesday providing details of the project that will be built on what is now an 18-hole golf course just east of Wynn Las Vegas and Encore.
In early descriptions of the project, Wynn envisioned a lagoon surrounded by new convention facilities, new restaurants and retail, a hotel room tower, a white-sand beach and a boardwalk.
Wynn also dedicated time on the call to his expectation that the relocation of the Oakland Raiders to Las Vegas and construction of a new Las Vegas stadium to house the team would be a massive success for Southern Nevada.
"I love that the Raiders are coming," said Wynn, who said he talked NFL football with Washington Redskins owner Dan Snyder, New England Patriots owner Robert Kraft and Baltimore Ravens owner Steve Bisciotti during a recent vacation in the Bahamas. "This was whipped cream and a cherry on the cake."
He said when the Super Bowl is staged in Las Vegas — and he predicted there would be multiple appearances — that "this city will go bonkers."
Wynn predicted Las Vegas would become known as the sports capital of the nation when the Raiders arrive and that the National Basketball Association would someday locate a franchise at the T-Mobile Arena.
A slight downsize
But the biggest news for Wynn was the startup plan for Paradise Park, which may be slightly smaller than previously announced.
Wynn said it will be a phased project with the lagoon and beach amenities expected to be completed by early 2019.
Wynn said the idea of phasing construction is to open an attraction that should drive other amenities in a "conservative but dynamic approach.
"We would masterplan the entire event and build beach-front meeting space, ballrooms, cabanas and pools that represented the certain need we had at the moment," Wynn explained to investors.
He said drawings and plans will be completed by the end of the year.
"The first phase begins in December or January and should go rather quickly," he said. "We realized we had an immediate problem, the (trade) shows (the resort hosts) are getting bigger every year and are outgrowing us.
"We would build the lagoon 1,500 feet long and 800-odd feet wide with a 4,000-foot boardwalk with white-sand beaches and watersports and attractions, bar, food service … build that first. That would energize the real estate, the 130-odd acres that is the golf course. We'd build at first the part that would immediately power up our existing restaurants, our existing casino, our existing convention and meeting and catering operation with an absolute certain return on that investment of in excess of 10 or 15 percent."
Confidence upon earnings
Wynn is confident about his investment after seeing the company's first-quarter earnings.
For the quarter that ended March 31, the company reported a 47.9 percent increase in net revenue to $1.48 billion and a 34 percent increase in earnings attributable to Wynn Resorts to $100.8 million compared with the same quarter a year earlier. Results beat Wall Street expectations of 74 cents a share with 99 cents a share. The company also declared a 50-cent-per-share dividend on May 23 for shareholders of record May 11.
Company stock benefited from the favorable report with shares up in after-hours trading by $4.68, 4 percent, to $122.90 a share on heavy trading.
Wynn said in the conference call that the company now has a 16 percent market share in Macau that has grown steadily over the past three years. He said that should climb even more once a mass-transit system that has a stop in front of Wynn Palace is completed later this year. He said the system now serves as "a barricade" to visitation, but once it and MGM Resorts International's new Cotai project are open, visitation should grow even more.
Contact Richard N. Velotta at rvelotta@reviewjournal.com or 702-477-3893. Follow @RickVelotta on Twitter.