Wynn Las Vegas abandoning Paradise Park lagoon project
Updated November 7, 2018 - 5:19 pm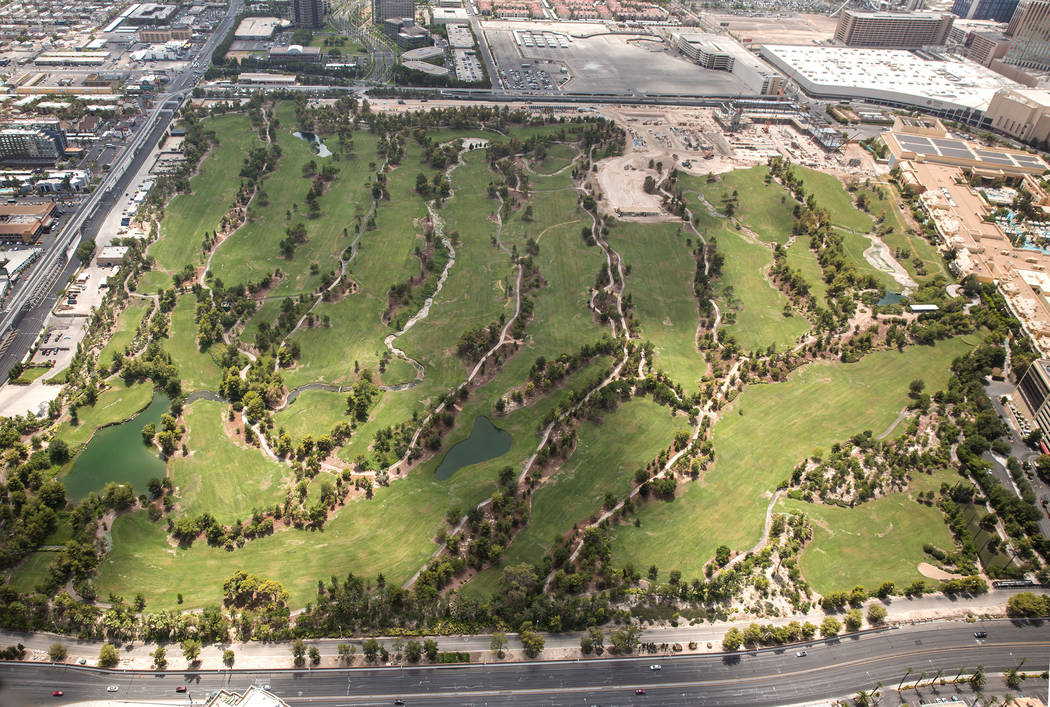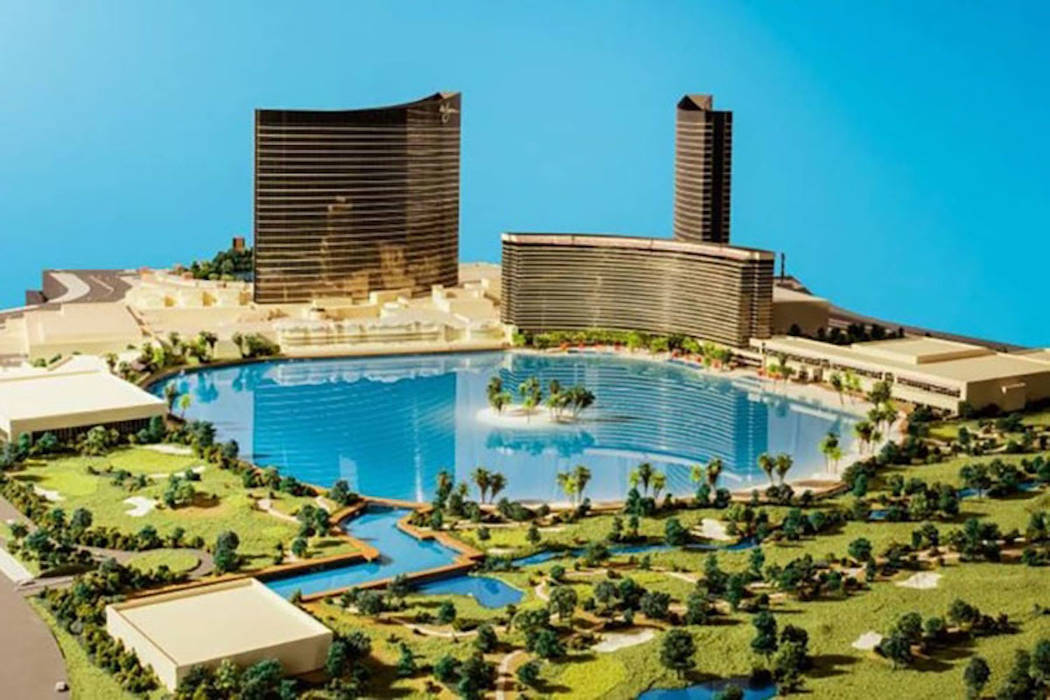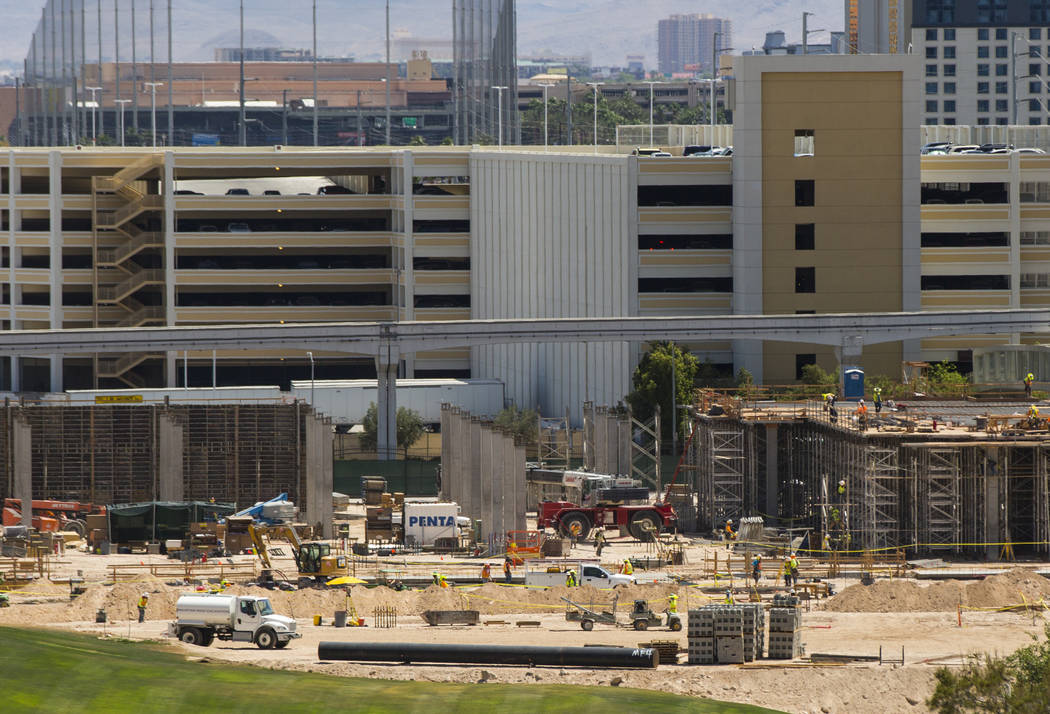 The Wynn Las Vegas lagoon project is dead, but the company's 18-hole golf course is very much alive.
Wynn Resorts Ltd. CEO Matt Maddox on Wednesday said the company is abandoning a 2016 proposal to develop a small lake adjacent to a new convention facility surrounded by a boardwalk and white-sand beaches. He also said the company would restore the 18-hole Tom Fazio-designed course, which closed in December and had been the last of its kind on the Las Vegas Strip.
The lagoon project, outlined by Steve Wynn in 2016 when he was CEO, was envisioned as a two-phase effort that included construction of a 400,000-square-foot convention center followed by the addition of a 38-acre lagoon and three new hotel towers. As Steve Wynn envisioned it, the lagoon would host water sports by day with nightly parades of decorated floats and fireworks every night.
"From April 2016 to today, we always struggled with Phase 2 of Paradise Park," Maddox told analysts during a conference call with investors on the company's third-quarter earnings. "How are we going to make a room tower in a town with a lot of rooms pencil along with a lagoon? We weren't really interested in building a large public swimming pool for the Las Vegas Strip. So we just decided, 'Let's go with Phase 1.' We know the convention center is going to work."
The convention center is under construction just north of Sands Avenue and east of the Wynn Las Vegas tower.
"It's 200,000 square feet of net rentable space, coming basically in 12 months," Maddox said. "We believe that convention center will add somewhere between 4 to 6 (percentage) points of occupancy (rate) to this hotel, which will allow us to really drive (room) rate in those peak times because we will be in the low to mid-90s in occupancy over the full 365 days."
Company executives discovered that removing the golf course resulted in some loyal customers going elsewhere. Maddox estimated the company lost $10 million to $15 million of domestic casino business from people coming in for golf trips who decided to go elsewhere.
"We actually went back and re-engaged Tom Fazio, who was the original designer of our golf course to come in and take a look at the couple holes that were disrupted by this 400,000-square-foot convention center and see if we can design a new 18-hole golf course connected to Wynn and Encore and have that back in back in action before our convention center opens," Maddox said.
The company reported net income of $156.1 million, $1.44 a share, on revenue of $1.71 billion, for the quarter that ended Sept. 30. But news that the company failed to meet earnings estimates sent stock shares spiraling downward by more than 14 percent in after-hours trading. The issue closed at $99.51 a share after reaching $113.99 during Wednesday's session.
While shareholders punished the stock, analysts were more riveted with Maddox's commentary on what's ahead for the company in Macau.
Macau
Maddox elaborated on a new Macau project, called Crystal Pavilion, adjacent to the company's Wynn Palace resort. Maddox described the project as a glass structure with entertainment amenities.
"We have a 60-foot gong spire hanging in the center of it with acrobats on cables going up and down, quietly playing the gongs," he said. "As you traverse through the pavilion, you'll run into a theater, and this theater is really going to be the first of its kind."
Maddox said the attraction is modeled after a Michelangelo program in a 1,500-seat theater at the Vatican with screens on the walls and ceiling, giving viewers a 270-degree experience that includes live entertainment on a stage.
"It's been quite successful," Maddox said. "So we thought if we take that idea and custom build it in this area with a great 600-seat theater and make it fully immersive, that experience will be like no other on the planet."
He said the company is working on three 45-minute shows he described as vignettes that will play throughout the day.
The Crystal Pavilion project also would include two towers with more than 1,300 all-suite hotel rooms bringing Wynn Palace capacity to around 3,000 rooms — enough to assure more than $1 billion in annual cash flow.
Contact Richard N. Velotta at rvelotta@reviewjournal.com or 702-477-3893. Follow @RickVelotta on Twitter.
RELATED
Wynn to host last round of golf before Paradise Park construction
Wynn Resorts Ltd.
Third-quarter revenue and earnings for Las Vegas-based Wynn Resorts Ltd.. (NASDAQ: WYNN).
Revenue
3Q 2018: $1.709 billion
3Q 2017: $1.551 billion
Change: +10.2%
Net income
3Q 2018: $156.1 million
3Q 2017: $79.8 million
Change: +95.6%
Earnings per share
3Q 2018: $1.44
3Q 2017: 78 cents
Change: +84.6%