Wynn Resorts selling Boston property for $1.7B, leasing it back
Updated February 17, 2022 - 7:24 am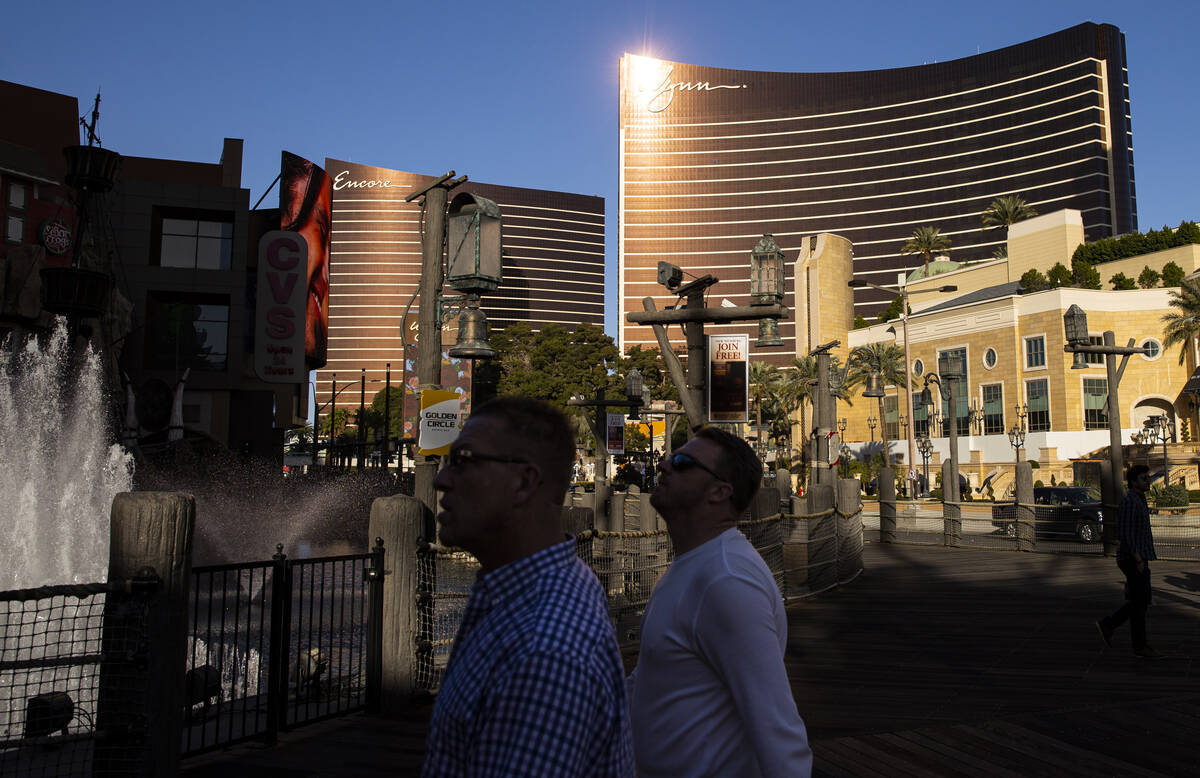 Wynn Resorts Ltd. is selling its Boston-area property for a mountain of cash and leasing it back, the latest such deal for a Las Vegas casino operator.
Wynn announced Tuesday that it reached a deal to sell Encore Boston Harbor's land and real estate to San Diego landlord Realty Income Corp. for $1.7 billion in cash, and that it would lease the hotel-casino back for an initial annual rent of $100 million.
The deal is expected to close in the fourth quarter this year.
The company, which also reported a net loss of just over a billion dollars for 2021, provided details of the transaction in Tuesday's fourth-quarter earnings call with investors.
The lease will have an initial term of 30 years, with one 30-year renewal option. Rents are expected to escalate over time.
No plans for LV land sale
Craig Billings, in his first earnings call as CEO after taking over from former CEO Matt Maddox on Feb. 1, said the company never contemplated other potential revenue sources, such as selling Las Vegas real estate.
"In Boston, we were able to achieve both an attractive cost of capital and that asset is based on the stability of revenues in the regional markets and the much lighter CapEx burden relative to say Las Vegas made it a logical financing source for us, which is really what it was," Billings said in response to an analyst's question about the Boston Harbor deal.
"We're not interested in selling land," he said. "We have a 20-plus-year view when we think about Las Vegas. We love our portfolio here and all of that land has real long-term value to shareholders."
Billings said in a news release that the sales proceeds from Boston Harbor would "provide us with liquidity for several of our upcoming development projects and the potential to retire other debt."
Last month, the company announced it was teaming up on plans to develop a multibillion-dollar resort on a man-made island in the United Arab Emirates that calls for 1,000-plus rooms, a high-end mall, restaurants, lounges and more.
First casino deal
In a news release, Realty Income said the deal with Wynn marks its first acquisition in the casino industry.
The 671-room, $2.6 billion Encore Boston Harbor, located in Everett, Massachusetts, opened in June 2019.
Realty Income owned just over 7,000 properties as of Sept. 30 with an occupancy rate of 98.8 percent, according to a securities filing, which indicated the vast majority of its buildings are single-tenant properties.
The sale-leaseback follows several similar deals involving Las Vegas casinos over the past few years.
MGM Resorts International sold Bellagio in 2019 for about $4.2 billion to New York financial conglomerate Blackstone and leased it back. Blackstone also partnered with MGM's real estate spinoff on a $4.6 billion deal in early 2020 to acquire MGM Grand and Mandalay Bay and lease them back to MGM Resorts.
Moreover, Blackstone bought the Aria and Vdara hotels for nearly $3.9 billion from MGM Resorts last year and leased them back.
Additionally, Caesars Entertainment sold the Rio to New York investor Eric Birnbaum for more than $516 million in 2019 and leased it back for at least two years.
Even Las Vegas' pro football team got in on the action.
In early 2020, the Raiders sold their Henderson headquarters and practice center — which was under construction at the time — for $191 million to Chicago-based Mesirow Financial and leased it back.
Net Q4 loss
Wynn continued its quarterly losing streak despite a 53.5 percent increase in revenue for the fourth quarter, the company reported.
The quarter that ended Dec. 31 marked the ninth straight quarter the company reported a net loss as the coronavirus pandemic affected operations in Las Vegas, Boston Harbor and Macao.
The company reported a net loss of $256.4 million, $1.54 a share, on revenue of $1.05 billion for the quarter. That compared with a net loss of $310.2 million, $2.53 a share, on revenue of $686 million for the same quarter a year earlier.
For 2021, the company reported a net loss of $1.01 billion, $6.64 a share, on revenue of $3.76 billion, which compared with a net loss of roughly $2.33 billion, $19.37 a share, on revenue of nearly $2.1 billion in 2020.
Billings said the company still had "an absolute stunner of a quarter" because of high cash flow.
He also clarified that the company's planned integrated resort in the United Arab Emirates would have a casino, even though Islam, the official religion of the UAE, prohibits gambling.
"In any new jurisdiction, there are three things that need to happen to have an integrated resort with gaming," he explained. "The first is enabling legislation. Is gaming legal? The second is regulation. How will gaming be conducted? The third is licensure, who can operate a gaming establishment? With respect to this project, no further enabling legislation is required.
"We're not looking at a multiyear process for legalization like we have seen in some other markets," he said.
"Regulations are well-advanced, having been modeled on those in Singapore and the United States. The tax rate and license structure are very reasonable. And finally with the regulatory framework taking shape and the regulator in place, we will be licensed to conduct gaming in Ras Al-Khaimah. In other words, we're a go with this project."
Wynn Resorts is beginning master planning now and will start mobilizing architecture and design "in due course," Billings said. "I expect our ultimate design will be one or more iconic buildings that both take advantage of the pristine beach location and also show respect for the unique cultural aspects of the region. We're big believers in the potential for Ras Al-Khaimah to be an amazing tourism and hospitality destination. "
The UAE project is the first transaction in which Wynn Resorts is being paid for its know-how and service excellence via a management agreement, a detail that bodes well for the future, according to gaming expert David Schwartz, a UNLV ombudsman and gaming historian.
"If it's successful, it could lead to a lot of other projects like that," Schwartz said. "We've definitely seen that happen in other parts of the world. I think a lot of people will be watching that carefully."
Wynn Resorts shares, traded on the Nasdaq exchange, closed up $4.20, 4.6 percent, to $96.26 a share in volume slightly above the daily average. After hours, shares fell $2.76, 2.9 percent, to around $93.50 a share.
Contact Richard N. Velotta at rvelotta@reviewjournal.com or 702-477-3893. Follow @RickVelotta on Twitter. Contact Eli Segall at esegall@reviewjournal.com or 702-383-0342. Follow @eli_segall on Twitter.
Review-Journal staff writer Colton Lochhead contributed to this report.
Wynn Resorts Ltd.
Fourth-quarter revenue and earnings for Las Vegas-based Wynn Resorts Ltd., which operates Wynn Las Vegas and Encore Las Vegas, three properties in Macao, and Encore Boston Harbor. (Nasdaq: WYNN)
Revenue
4Q 2021: $1.053 billion
4Q 2020: $686 million
Change: +53.5%
Net income/(loss)
4Q 2021: ($256.4 million)
4Q 2020: ($310.3 million)
Earnings/(Loss) per share
4Q 2021: ($1.54)
4Q 2020: ($2.53)