Certificate of occupancy secured for Allure Las Vegas
January 7, 2008 - 10:00 pm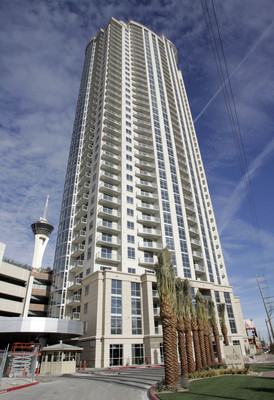 Chicago-based developer Fifield Cos. has secured the initial certificate of occupancy for Allure Las Vegas, a $150 million luxury condo tower on Sahara Avenue, two blocks west of the Strip.
Residents began moving furniture into their units last week, just in time for New Year's Eve fireworks.
At 41 stories, Allure is officially the tallest residential building in the city of Las Vegas.
Built by general contractor Bovis Lend Lease, the project features 428 units with 15 floor plans ranging from 671-square-foot studios to 4,400-square-foot, two-story penthouses. The remaining 20 units are priced from the mid-$500,000s.
Fifield Senior Vice President Alan Schachtman said the completion of Allure is part of the shift in development to the Strip's north end. It started with expansion of the Fashion Show mall and building of Wynn Las Vegas, Hilton Grand Vacations and Sky Las Vegas.
MGM Mirage bought 34 acres of vacant land across Sahara from Allure for $535 million and plans to do a CityCenter-type project in partnership with Kerzner International, owner and developer of the Atlantis resort in the Bahamas.
Aspen Highlands Holdings purchased the former Holy Cow casino and brewery site, once planned for the Ivana Las Vegas condominium tower, for $47 million.
The Sahara was purchased by SBE in March and is slated for a $300 million renovation. Publishing and Broadcasting Ltd., an Australian media and gaming company, put a 20 percent cash investment into Fontainebleau, a $3 billion development by Turnberry Associates at the former El Rancho site.
The Stratosphere was purchased by Goldman Sachs Group's real estate funds, along with 17 acres, with plans to redevelop the property into a resort-casino with a convention center.
"It's kind of what we always predicted would happen in that area," Schachtman said. "That was a logical expansion. People talk about the Strip ending at Sahara (Avenue). You're going to see a push from the Strip toward downtown, an integration of downtown with the resort corridor. I think that's inevitable."
Allure's amenities include an outdoor pool deck with private cabanas, fitness center with locker rooms, media center, conference room, catering kitchen, business center, Wi-Fi in all public spaces, resident storage, 24-hour security, concierge service and valet parking.
Fifield has developed more than 50 projects in the United States worth some $4 billion. The company is working with land owner Andy Fonfa on a second phase of Allure and has a piece of land under contract for an upscale apartment project, Schachtman said.
"We still like the Vegas market," he said. "It's a thriving market and a strong economy. You still have entertainment, dining, job growth. The key to it is figuring out what works in what locality."
BUSY FALL: Las Vegas-based Crisci Builders completed tenant improvement work for Buffalo Wild Wings on Las Vegas Boulevard and Warm Springs Road and interior remodeling of Spanish Trail Clubhouse.
The 5,600-square-foot Buffalo Wild Wings is the sixth restaurant Crisci has completed for the chain. The project's value was $650,000.
At Spanish Trail Clubhouse, Crisci renovated the bar, dining room, kitchen, locker room and pro shop, as well as coffered ceilings and custom finishes, for about $4.5 million.
Crisci is near completion on the interior build-out of three retail stores at Palazzo, the new tower at The Venetian. Women's fashion Diane Von Furstenberg and women's luxury shoe designer Christian Loutboutin spent about $600,000 and $800,000, respectively, for interior finishes on 1,500 square feet for each store. Elton's Men's Store spent $1 million to build out 2,000 square feet.
Arizona-based Vertical Holdings has contracted Crisci to build Tule Springs Village, a two-story, 56,000-square-foot retail and office complex at Durango Drive and Farm Road, for $5.2 million. The anchor will be Tuesday Morning, a discount home accessories and gift store.
NEW RETAIL: Las Vegas-based retail developer Territory is adding three new tenants at Centennial Gateway, a 350,000-square-foot shopping center at U.S. Highway 95 and Ann Road.
Sportsman's Warehouse signed a 15-year lease for 55,465 square feet; 24 Hour Fitness also signed a 15-year lease for 45,000 square feet plus an outdoor pool; and Fresh & Easy Neighborhood Market signed a multi-year lease for 14,000 square feet. All three tenants will open in the fall.
Second-phase construction of Centennial Gateway is scheduled to begin in March with expected completion in the fourth quarter. The project is a joint venture with Schwartz Development and Olympia Development.
Contact reporter Hubble Smith at hsmith@reviewjournal.com or (702) 383-0491.
MILLION-DOLLAR HOME SALES Luxury Homes of Las Vegas reported the following million-dollar home sales last week: $1.33 million, 3 bedroom, 3.5 bath, 4,678 square feet, golf course lot, canary palms, hardwood and travertine floors, gourmet kitchen, four fireplaces, panoramic balcony views, Southern Highlands. $5.8 million, 8 bedroom, 9.5 bath, 11,500 square feet, gated 2-acre estate, five-car garage, theater, master wing with workout room, library, two balconies, city views, 2-bedroom casita, Southwest.